MYteamFX review

MYteamFX seems to be a brokerage founded in 2019, which requires us to take a completely different approach to this MYteamFX review.
Due to the low availability of experienced traders from this platform, it's hard to base our review on existing stories and correspondence with customers. Because of this, we have to base our assumptions on the way this broker delivers information or makes it available.
We will not only be taking a look at the legality of operating MYteamFX but also comparing them to their competitors in the EU and outside EU markets.
MYteamFX license and regulations
According to the website itself we can see that MYteamFX claims to have three licenses overall. These three are from the Cyprus Securities and Exchange Commission, the Mauritius Financial Services Commission and the Vanuatu Financial Services Commission.
After thorough research though, we found out that none of this information is correct. All of the claims made on the broker's website are false as their name cannot be found on the regulators' websites.
This would have been an immediate confirmation of the MYteamFX scam, but we'd like to take a look at their offerings and see if they resemble any past scammy offerings we've seen over the years.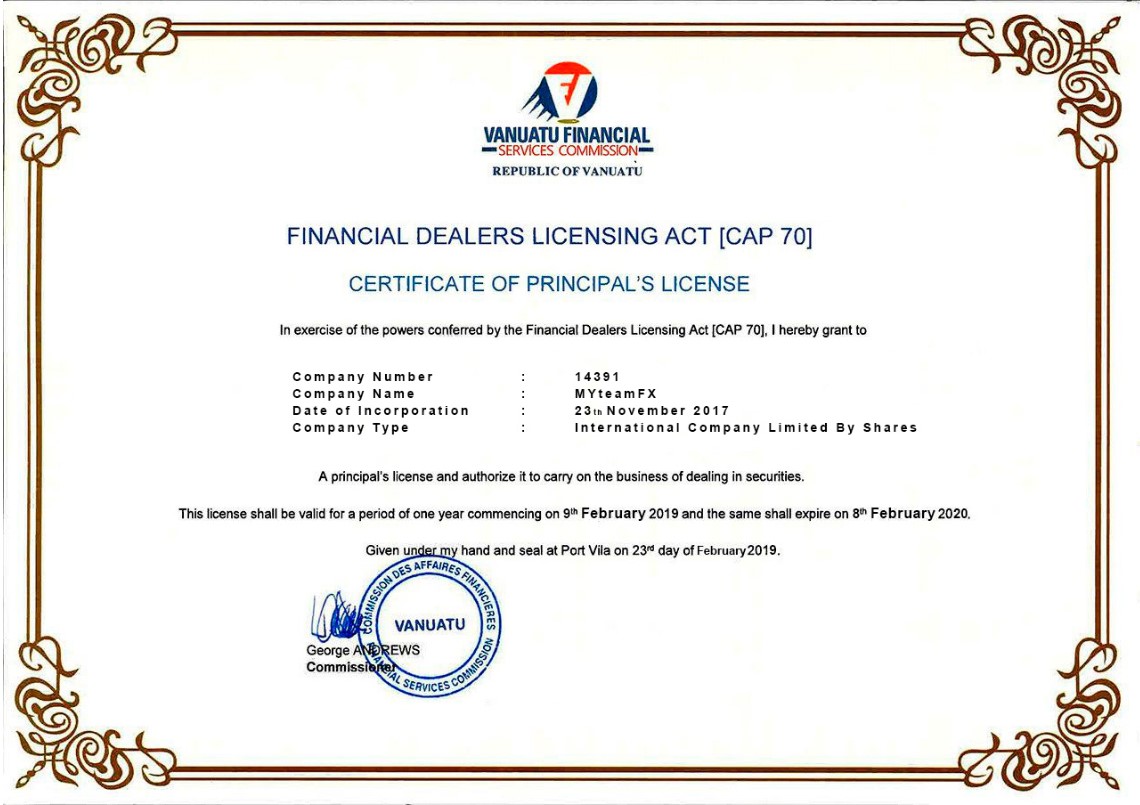 In order to determine this, we need to take a look at things such as leverage, spreads, account types, and withdrawal options, but due to the scarcity of information, it may be a bit harder to pinpoint the accuracy. But, regardless, we're going to give it a shot right now.
Is the MYteamFX fraud a reality?
The first case we found about the similarity of MYteamFX of previously confirmed scam operators is the vague nature of their website. It's extremely hard to confirm the legitimacy of the information provided as it requires a full-on registered account.
Considering that the minimum deposit is $500 for a beginner's account, it was really hard to confirm it. Therefore, we're forced to believe that the information provided on the website is indeed correct. So, can MYteamFX be trusted? Is their lack of license just an unfortunate coincidence? Let's find out.
Leverage & Spreads
The leverage and spreads are an amazing way to determine whether or not the broker wants their traders to succeed and reach new levels as fast as possible. Although the leverage may be quite high, if the spreads are not supportive of those levels, it's going to be very hard for the trader to calculate their profits, or to profit at all.
In MYteamFX's case, the maximum leverage is 1:500, but the more actual one is 1:100 which is for the beginner's account. As for the spreads, the broker does say that it has floating spreads starting from 0.1 pips, but based on the experience we can easily say that the spreads aren't going to go below 0.7 pips on major currency pairs such as EUR/USD.

A 0.7 pip spread on 1:100 leverage is already disadvantageous, as traders have to pay quite a large chunk of their profits that they can't increase too much due to the limited leverage.
Consider that we're focusing on the beginner's account, as that's the most popular for new traders. And considering that the broker has just been established, 100% of their customers will be new traders.  So, is MYteamFX legit with its trading conditions? Well, not really so far. The lack of license paired up with these conditions is less than satisfactory.
Withdrawals
Much like any other Forex broker review, we need to focus on the methods that people can withdraw from MYteamFX platform.
Unfortunately, though, the information was locked behind a fully-fledged account, and therefore, there was very limited information on whether or not withdrawals had any kind of fee attached to them.
But considering that the MYteamFX fraud has failed almost all tests we've had for it, it's easy to assume that the only available options are through Wire Transfer and Credit/Debit card. Although these are nothing to consider as a disadvantage, the waiting time and possible fees are not the best case either.
Account Type diversity
Thankfully, the MYteamFX platform has more than one account type. In fact, it has the industry-standard three types which are designed for beginners, slightly experienced traders and veterans as well.
The minimum deposits range from $500, $1000 and $10,000 respectively. Considering the industry standards on minimum deposits, it's easy to say that MYteamFX is asking a bit too much for the conditions it's ready to offer.
Furthermore, it's almost always the case with a scam brokerage to require a large minimum deposit.
Is it worth it to trade with MYteamFX?
After such a rich review, we need to finalize it with a satisfying rating and final opinion. As things stand right now, MYteamFX is definitely not the best choice to go for regardless if you're from the EU or outside of it.
The broker has clearly lied about its possession of both CySEC and FSC licenses as we checked with the regulators' websites and there was no result.
The beginner-friendly nature of MYteamFX is simply nonexistent, meaning that you can only make it worth it if you deposit the maximum $10,000 but even then it pales in comparison to already existing options.
Overall, this MYteamFX review concludes that the brokerage is not worth it and definitely not trustworthy.