London Capital Group Review

Are you looking for a honest FX broker and want to start trading with the one that is based in the United Kingdom? Today we present you one of the London-based Forex brokers. It is not the new player to the market, but rather the broker with long history. Feeling like it can be your trading choice? Go through our detailed London Capital Group review and see if it is the perfect fit for you!
London Capital Group Broker at a Glance
This Forex broker is owned by the London Capital Group Holdings Plc (LCGH Plc) that was founded in 1996. As it has been already told, it is based in London, United Kingdom. It has been found out by the LCG Review that this broker started to offer capital spreads in 2003. Also, it holds FCA license number 182110, which can be checked on the Financial Conduct Authority website.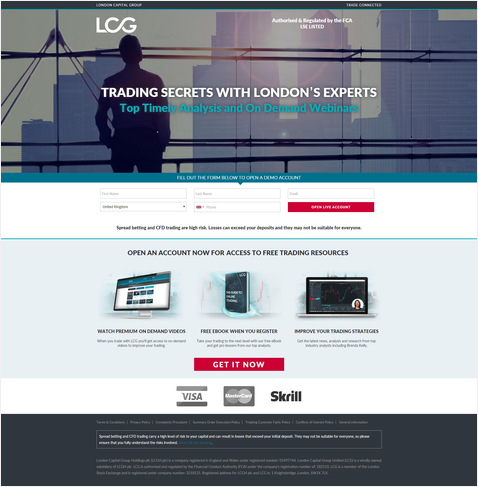 Furthermore, London Capital Group review found out that this Forex broker was recently financed by the Charles-Henri Sabet led GLIO Holding for 17.5 million British Pounds. This investment forced rebranding process of the LCG and opened new possibilities for this broker, so now it is changing its' focus into providing traders with premium type of services only. Additionally, the owner of this Forex broker is listed on London Stock Exchange, which shows that it is definitely not one of the scam brokers but rather well-developed company with quality services.
London Capital Group Trading Accounts
Account choice remains one of the most important feature of the best Forex brokers. This is why Top Forex Brokers digs deep into the details of the account offers, so you can be sure which services will the broker offer to you. Having its focus on the best quality services, London Capital Group offers two different account types to its clients. They are:
Spread Betting Account
This is the basic account type offered by the LCG Forex broker. With this account you will be offered the choice of two desktop platforms as well as mobile trading solution. Additionally, you will be allowed to make spread betting on more than 4,000 instruments and receive market analysis from the LCG analysts team. The best part of this account is that it does not have minimum deposit amount, so even if you decide to start with small trading amount – you will be provided with this type of account.

CFD Trading Account
This account is positioned as premium account offered by London Capital Group. In order to be granted with it, you will be required to deposit at least 25,000 GBP. It will allow you to tighten spreads, get analyses and news from LCG team. Furthermore, you will receive market insights from the London Capital Group.

If you you are ready to get a trading account at LCG, London Capital Group review encourages you to sign up with this broker!
LCG Reviews of Trading Platforms
As it has been mentioned before, this Forex broker offers you two desktop trading platforms. At London Capital Group you will be provided with standard Forex trading application MetaTrader 4. Additionally, if you do not want to download and install any applications, you will be provided with LCG Trader web-based platform.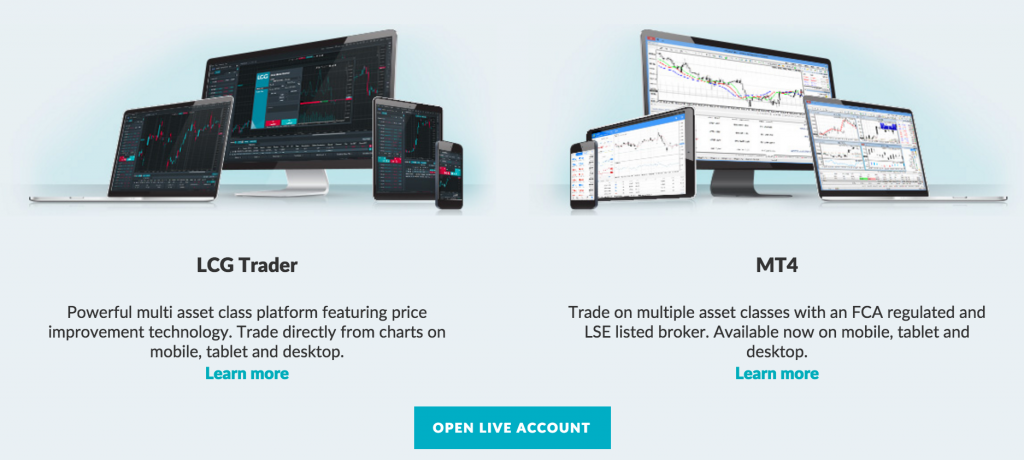 As for LCG Trader, the platform feels intuitive and comfortable. All instruments are available at few clicks and order execution is easy. Overall, the LCG Trader is fast and some of the Forex newcomers will definitely prefer it over MT4. Additionally, no errors of this platform were spotted during London Capital Group review.
Furthermore, LCG broker is offering LCG trader for Android and iOS for those, who prefer to trade from their mobile devices. If you are one of those traders, you can go to Apple Store or Play Market and download LCG trader for your device now!
London Capital Group Review of Deposits and Withdrawals
Being one of the premium service providers, London Capital Group assures that your deposits can be made only via safe payment options. This is why you will be able to transfer money to your trading account via standard wire transfer, Skrill or you credit and debit cards. Be aware that this broker does not allow payments via some international Visa Electron cards and American Express. It has been found out by the LCG review that you can also add your credit card to account without making a deposit. But, in such case, 1 pence will be deducted in order to verify details. The commission for plastic card payments equals 2% of your deposit.
Unfortunately, when you decide to withdraw your profits from the LCG, MasterCard payments will not be an option. If you made a deposit via such card type, your profits will be transferred directly to your bank account. There is a limit of at least 50 GBP on withdrawal, if you are not closing your account. Additionally, you will be charged with 20 GBP per withdrawal for any amount lower than 1,000 GBP.
LCG Reviews of Customer Support
Since this broker is trying to offer only best services, customer support should be one of the strongest points of this broker. If you would like to contact LCG, you will be able to do it via live chat, email or telephone.
Live chat and telephone support are available 24/7 so every problem should be solved quickly and without any  inconsistencies.
More to that, London Capital Group provides address details on their website. So, if you are in London and are not sure if you should open an account at this broker, you can go directly to their office and discuss everything there.
London Capital Group Forex Review Conclusion
As can be seen from London Capital Group review, this Forex broker is one of the solid FX providers that has been in the market for more than 20 years. It provides you with good support and reliable trading platforms. Additionally, it does not have minimum deposit amount, so even if you decide to start trading with 100 GBP, you can choose this broker. For all its positive sides, LCG review gives this broker 4 out of 5 stars!