InvestLite broker review – Everything you need to know about it

Forex trading does not cease to grow in popularity, and it continues to attract millions of people from all over the world, both those who seek to use it as a source of additional income and those who wish to use it as a substitute for a full-time job.
While it is true that trading Forex is, indeed, full of opportunities for profit, it is also quite a risky financial endeavor. For that reason, one should be extremely careful about choosing the brokerage that is right for them. Making a mistake at this stage would ultimately cost you your profits, and, sometimes even the hard-earned funds that you deposit.
But how does one go about choosing the broker that best suits their trading needs? A short answer to that is conducting extensive research, however, that in itself can encompass many different things. One way to approach it is by studying the broker reviews issued by reliable resources.
Below you will find a detailed overview of the InvestLite broker, the main safety features and perks that it has to offer, as well as terms and conditions of trading with it and much more.
We recommend that you read this guide until the end, to create a full understanding of whether or not this broker is capable of catering to your individual needs in trading.

First impression
At the first glance, the InvestLite broker looks very much like a legitimate one. The website is very user-friendly and easy to navigate, and, with all the relevant information being available in the open, it does really seem like the brokerage has nothing to hide from its potential traders.
As our review of the InvestLite has found, the broker is licensed by the Belize-based regulatory body called International Financial Services Commission (IFSC). Although this brokerage has only been established in 2020, it has already managed to earn the trust of this regulatory entity, which goes a long way to show just how qualified and trustworthy the trader is.
When it comes to trading opportunities, one can also see that there are plentiful. There are hundreds of options of assets that you can choose from, the leverage that this brokerage has to offer is pretty high, and the commissions are very low.
Overall, our general InvestLite opinion is that it seems like a legit brokerage, full of advantages that traders can utilize. However, we will now go deeper into the analysis of the brokerage and see if our initial opinion was right.
So, is InvestLite actually legit?
The single most important question that any trader seeks an answer to when looking for the brokerage to join is whether or now it is actually legit – and rightfully so. Before trusting a broker with the hard-earned funds and the potential profits one has to be 100% certain that the brokerage can be trusted.
When it comes to this particular brokerage, our InvestLite review has determined that it is definitely legit, however, do not trust our word on that, and let us tell you exactly why.
The InvestLite Forex broker is an official licensee of the IFSC, which means that the brokerage has already demonstrated its ability to meet strict requirements of the regulatory body, and is still closely monitored by it to prevent any illicit activities from occurring.
Moreover, it is clear that this brokerage is very committed to customer protection, as it offers some additional measures to ensure your safety and the safety of your funds:
Account segregation – the operational funds of the InvestLite broker and your personal trading funds will be kept separately, in order to prevent the brokerage from misusing them and to make sure that they are not frozen or lost if the brokerage goes bankrupt.
Negative balance protection – should you choose to trade with the high leverage that the InvestLite broker offers, you can be confident that you will not end up indebted to your broker, as the protection of the negative balance means that you will never lose more then you have initially deposited.
Customer compensation fund – this measure is an additional layer of security, that will be issued in case of unforeseen circumstances. The fund will then be used to repay traders for the damages that they might have been subjected to.
Having seen the level of regulation and the additional security measures in place, we are confident that you too share our InvestLite opinion and realize that it is, indeed, a broker that can be trusted.
Which trading options does InvestLite offer?
As mentioned earlier, our review of the InvestLite Forex broker has determined that there are a lot of different options for the trading instruments available to the traders who will choose to join this brokerage.
There are over 350 instruments to trade with, and the list includes:
Commodities
Metals
Cryptocurrencies
Shares
Indices
Currency pairs
With such a vast variety of diverse alternatives, a trader can always be sure that their portfolio is reverse, and is, therefore, protected from the market fluctuations and any unexpected developments that can result in some devastating losses.
On top of having a lot of alternatives accessible to its traders, the InvestLite broker offers some beneficial features that can be used in trading the aforementioned assets. Among those is the leverage of up to 1:500 that this brokerage provides, and which can, ultimately, boost your profits by x500 times of your initial deposit.
If the leverage is something that you feel wary of using, then the negative balance feature will, surely, offer you some peace of mind. With that in place, you will never lose more than you have originally invested.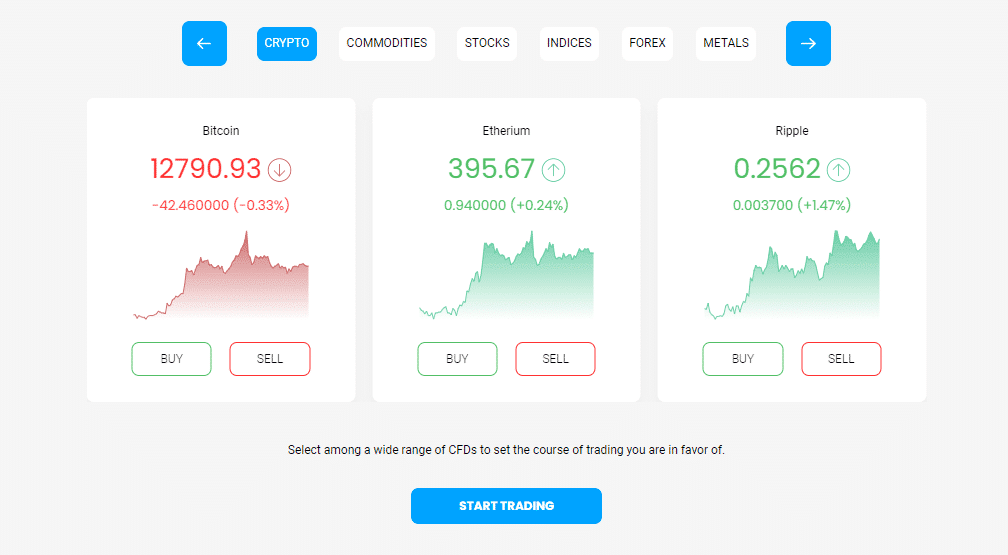 Does InvestLite offer any bonuses?
We are well aware of the fact that many traders are specifically looking for the provision of bonuses and promotions when looking for a brokerage to join. For that reason, in conducting a review of InvestLite Forex broker, we did specifically check on whether or not such bonuses are available with this brokerage.
What we found is that the InvestLite does not provide any bonuses, and, instead, focuses on perfecting the real tools of trading, that are much more likely to significantly boost your trading sessions – the leverage that this broker offers is a good example of one.
Moreover, the lack of bonuses is yet another demonstration of just how efficient this brokerage is, as it does not need any additional promotion in a form of a financial token – its customer is built upon the benefits of the tools that the brokerage offers, and the success rates of its respective traders.
What kind of accounts are available with InvestLite?
One of the best ways to assess whether or not the brokerage is sufficiently qualified and with signing up is via the diversity of the account options that are available to the traders. The more alternatives you get, the more likely you are to choose what best suits you and your trading needs.
This InvestLite broker review determined that there are three main account options that one can choose from:
Silver will give you access to 0.07 pips for spreads and the leverage of up to 1:200, and the minimum deposit for this one is 250 USD
Gold comes with 0.05 pips for spreads, a leverage of up to 1:400/500, and the minimum deposit for it is also 250 USD
Platinum also requires a minimum deposit of 250 USD, and the features that come with it are 0.03 pips for spreads and up to 1:400/500 leverage
On top of the account options discussed above, this brokerage offers demo accounts that you can use for educational purposes before diving deep into the actual trading session. Moreover, if you are a Muslim, you will be able to have an access to a swap-free account, which, in a nutshell, means that you can conduct overnight trading interest-rate free.
InvestLite commission rates
In an ideal world, a broker will be changing no fees at all and will operate for the sole purpose of catering to the needs of its traders. However, our world is not ideal and very much materialistic, and the brokerage is just another form of business that is also looking for profits.
Now ask yourself, if the brokerage is not asking for any commission, where does it get its profits from? The answer will most likely upset you and will lean towards the direction of scam schemes. Thus, the best approach to the broker's commissions is finding the one that suits you best.
Our InvestLite opinion, in general, is that the commissions that it requires are very affordable, and, even relatively low compared to that of the other brokerages available on the market.
For example, unlike other brokerages, InvestLite does not require any additional fees on deposits or withdrawals, and the only non-trading fee that you might be charged with is the inactivity fee of which you can easily get rid of by simply deactivating your account.
If that was not enough to convince you, let us tell you that this broker does not charge any commission for the usage of instruments or account maintenance, and the only trading-related fees that you should expect are the overnight spreads and the bid/ask spreads.
What are the depositing and withdrawal process like with InvestLite?
Since we have already started discussing funds-related features of this brokerage, let us address examine how the process of making the deposit and withdrawing the funds works with it.
Our InvestLite broker review determined that there are a variety of payment methods that the trader can use to both deposit and withdraw money, and, for your convenience, we have listed them down below:
Emerchant pay
Orange Pay
Wirecard
DECTA
SSL
Skrill
SafeCharge
Neteller
VPay
PaySafe
Credit/debit cards (Visa, Mastercard, Maestro)
MIR Limited
Payvision
Wire transfer
As we have mentioned earlier, the InvestLite does not charge any additional commission for making a deposit or withdrawing money. Moreover, the overall procedures for both are pretty swift – our experts found that the deposit is processed immediately, and the withdrawal will take a maximum of two days to appear on your bank account.
InvestLite's trading software
According to our InvestLite review, there are two main pieces of software that you can use to trade with this brokerage.
The first one is the WebTrader, which is basically a mobile version of the world-famous MetaTrader4. The latter is well-known for its efficiency and reliable functionality and is currently used by almost 90% of the brokers worldwide.
When it comes to this brokerage, you will find that using WebTrader will provide you with a number of benefits, such as the comprehensive analytical framework, an archive of all the trades completed in the past, and automated stop-loss/take-profit orders.
The second software is the Mobile Trader, which is basically the mobile version of the MT4. This particular platform is very convenient for those who always want to stay up-to-date and be able to react to the relevant market developments swiftly.
The software comes with some unique features, such as the availability of the market news and analysis, a customizable trading environment, and many more, and it can be downloaded on both IOS and Android.
What educational materials does InvestLite offer?
For many traders, and especially those who are only just beginning to get into trading, it is of crucial importance to have an access to some educational materials, especially those tailored specifically to explaining how the brokerage of their choice works.
While preparing the InvestLite Forex broker, our team of experts found that there is a variety of different educational materials that it offers, ranging from tutorial articles, video guides, e-books, and even the videos on demand. Having carefully looked through those, you will be able to build up your confidence in no time.
Moreover, experienced traders will benefit from some additional information that this brokerage issues, such as the relevant market signals, daily news digest, and both the reporting season and economic calendar.
InvestLite customer support
The efficiency of the customer support system is pivotal to determining how reliable the brokerage is, and our InvestLite opinion finds that this broker can definitely be considered as one.
Whether a general query or any difficulty that you might encounter during your trading session, the customer support will be available to assist you Monday to Friday, at any point between 06.00 – 15.00 GMT.
The customer support can be reached via the following channels:
Via Email: support@investlite.com
With a chatbox on the broker's website
Via Phone at +27108807931
Moreover, you can always consult with the FAQs section on the brokers' official webpage, as it contains some extensive information about the issues that most often interest or confuse the traders.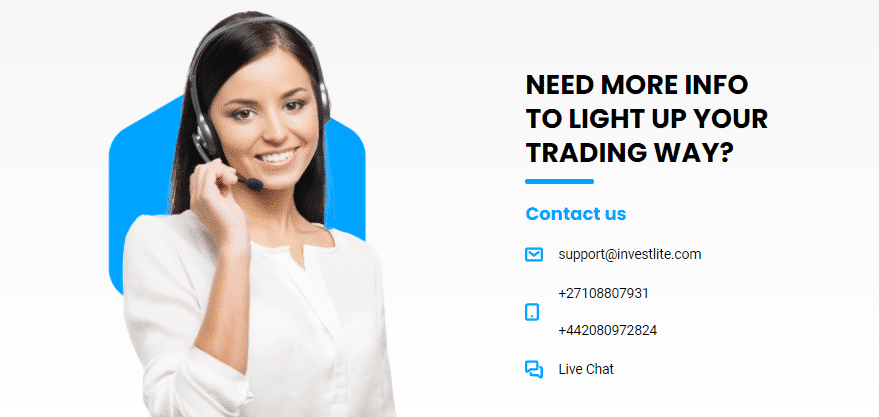 So, should you sign up with InvestLite? The final verdict
Having read this far, you are probably looking for a simple verdict of whether or not you should join this broker. Before we give you one, we would like to step back and remind you of some of the highlights of the information that we found in our InvestLite broker review.
When it comes to the opportunities for profit, there is definitely a handful of those available with this broker. First of all, one can explore a variety of assets to trade, as the InvestLite is offering a total of 350 of those.
Moreover, if you are a trader looking to boost your trading sessions, you will definitely enjoy the high leverage that this broker has to offer – and the negative balance protection will make sure that you never lose more than you deposit.
What we also found is that InvestLite is very client-oriented, and this notion is constantly mirrored in the features such as the availability of comprehensive educational materials and the efficiency of the broker's customer support.
On top of that, by choosing the InvestLite, you can be fairly confident about the safety of your funds. The InvestLite is an official licensee of the IFSC, which means that this regulatory body is closely monitoring the operations of this broker. Furthermore, with the broker's own fund protection mechanism in place, your money will be safeguarded even in case of some unforeseen circumstances occurring.
In conclusion, we can easily recommend InvestLite as a reliable and highly qualified broker, that can help you get some very lucrative profits.