Harborx Review

Since "social trading" seems to be taking momentum in the Forex market, more and more broker houses are choosing this method as their modus operandi. In other words, they offer their services and act as a middleman, leaving individual traders to find the suitable investors and follow their moves, i.e. copy their successful trades. Our Harborx review targets on such broker, and we will examine every single fact about this company and present you with an in-depth report of their operations and activities.

Harborx – general overview
Harborx was founded by a group of Hong Kong investors, and the company has two offices, in Hong Kong (tech office) and Cyprus. It seems that the statement "Harborx scam" is definitely not true since this broker is licensed by CySEC, under the number 230/14. Apart from that, it has a membership in the Investor Compensation Fund. The membership in ICF protects your funds up to 20,000 EUR in case of the broker's default.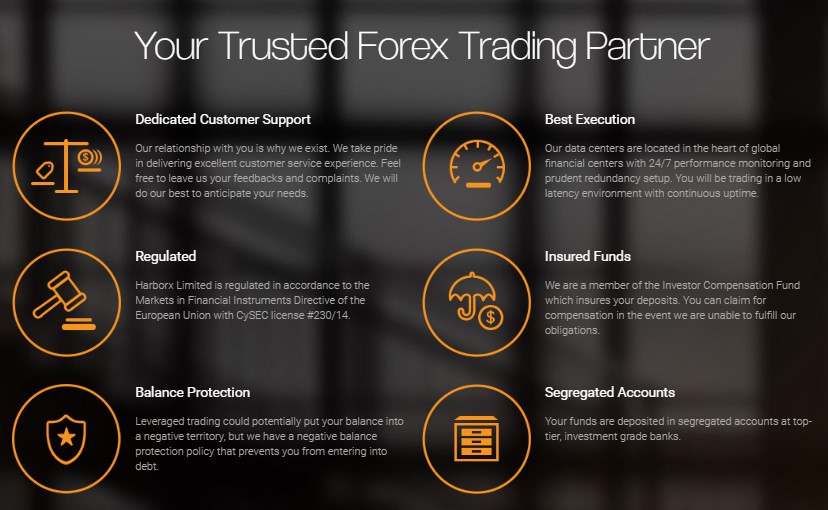 Harborx is certainly different from most of the FX brokers. The main difference is that this broker only provides access to a mobile trading platform. It helps users learn how to trade through a convenient fun interface, which makes forex interesting and exciting for users and their friends.
We can describe Harborx as the mixture of the Forex trading platform and the game, as it has missions, leaderboard, achievements and other competitions, and it allows you to compete with your friends. The majority of the reviews on the Internet are the positive ones; however, there isn't much information available in them. Well, let's explore other features of this broker below.
Harborx review of trading accounts
Harborx offers trading on Trial and Live accounts. Like with most brokers, the Trial account allows trading with virtual funds, while on Live account clients trade with real money. This is quite self-explanatory. The Trial account is only valid for 90 days, which is quite enough to understand the platform and decide to open Live account.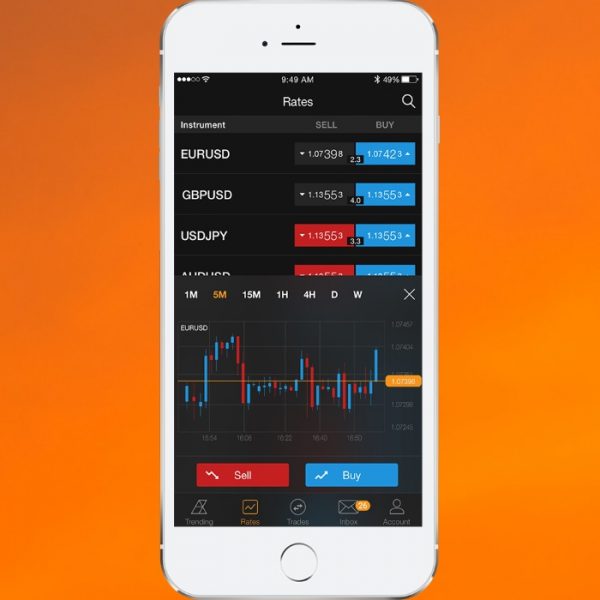 The upgrade to a Live account is irreversible, so you cannot go back to Trial from a Live account. Once you start trading live, you may no longer practice with virtual money.
Trial account users can follow Star Traders' recommendations, however, cannot fully try other app features, such as the Leaderboard competition and promo codes.
Trading platform
Harborx offers mobile-only trading solution, and its application is both professional and interesting. You can place market orders, stop loss and take profit orders, as well as pending order. You can easily view your trading history, compare your effectiveness with other traders on Leaderboard and receive weekly bonuses if you are among the top successful users. Plus, the broker's trading application offers good options for social trading – you can get recommendations from selected members of the Harborx community (Star Traders) and copy their trades.
You can also comment on Star Traders' profiles and reply to other people's comments. This is a good place to share your trading experiences and connect with other traders. The Harborx app is currently available on both iOS and Android devices, and you can register with your Facebook account, Google account or by email. In fact, the app has almost a 5-star rating on Google Play.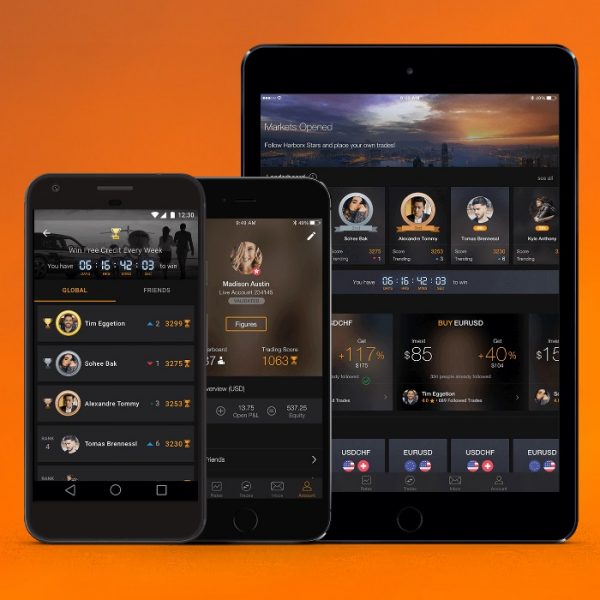 The following features are available on the platform:
Interactive Tutorial
Experienced Star Traders who can be followed
Contest of leaders with weekly prizes
Competition with Facebook friends of the user
Missions and achievements
Referral program
During the registration, users are required to provide their mobile phone number and email. It's needed for verification and security purposes.
Harborx trading incentives
Harborx runs the referral program. Once you refer a friend of yours to the app, he will be granted a $10 credit for trading and you will receive $10 too. Those bonuses are not withdrawable; however, the profits obtained from the Harborx bonus are withdrawable as long as they are higher than $25.
Banking methods
Harborx offers the standard set of depositing methods:
Credit/Debit cards
Bank transfer
PayPal
Skrill
At the moment only USD is available as an account currency. However, funds deposited in the different currency will be converted into USD.
Customer support
Harborx Forex broker provides Customer support via:
Live chat
Email
Phone
Facebook
WhatsApp
Harborx reviews conclusion
The usage of mobile devices is certainly growing rapidly, and it was only the question of time when the first mobile-only FX brokerage will pop out. From what we know, Harborx seems like the first broker to offer FX trading only on a mobile device via its custom platform. And this is a great choice for those who'd like to trade on the go.
On top of that, the broker has united trading platform with gaming features which makes it fun and addictive. From the other hand, the platform and support are only available in English, and account currency is only USD. Moreover, there is no desktop platform.
Anyway, Harborx is an innovative and well-regulated STP broker that offers trading on mobile-only platform with gaming features.