FXCitizen Review

Trading in the global Forex market can be a very lucrative activity, but this adventure can also cost you your life savings or something similar. What this means is that a lot of fraudulent and malicious operations are present in this financial sector, and you have to be wise to navigate through these turbulent waters. But, knowledge is power, and the more you learn – the better your chances of making a profit in the end. That is why you should continue reading our FXCitizen review, and this article will provide you with relevant information about this particular brokerage.
FXCitizen review at a glance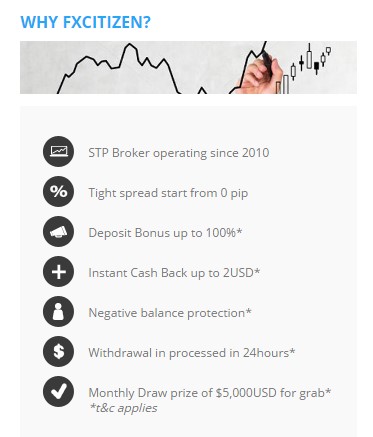 FXCitizen is, in fact, just a trading name for an STP execution platform (Straight Through Processing), and this white label company acts as an affiliate for a larger corporation. This relatively bigger company is called "IKO Forex Limited." However, what is interesting about FXCitizen is that this broker is only regulated by a regulatory body in the Republic of Vanuatu, which is an obvious sign of an FXCitizen scam being at play here. According to some information on their website, this brokerage was founded in 2010, and ever since that moment – it acted as a service promoter for "IKO." Allegedly, the license number that FXCitizen owns is 14784.
Opening an account with FXCitizen broker
If we leave the lack of "proper" regulations aside for a moment, we can proceed further and check how the actual trading process with this broker looks like. For instance, most FXCitizen reviews will focus on the types of trading accounts, and we can follow the same guidelines. When it comes to this trading provider, they will present you with four different categories of accounts, and you can choose in agreement with your trading strategy and preferences. The names of these types of accounts are CENT Micro, Standard Mini, ECN Premium, and Segregated ECN. They have different requirements regarding deposits, and you have to invest only $10 to start the Micro version of the trading accounts.
FXCitizen quality of the trading software review
Without a good trading software, no brokerage can expect good business results, and shady brokers are also using top-notch platforms when they want to lure in unsuspected traders. When it comes to FXCitizen broker, this white label provider is using a popular MetaTrader4 software. They also announced recently that they would be adding binary trading to their terminal, but for now – prospective investors can use their smartphones and desktop computers to trade indices, stocks, and currency pairs.

FXCitizen reviews of the bonuses and promotions
In our humble FXCitizen opinion, this broker is not a reliable and legitimate company, but if you fall for their charm, here are some of the trading benefits that may await you, i.e. unless they are a scam as well, which is usually the case with these types of organizations. In any case, you will be presented with a deposit bonus of 30%, and a margin booster of 100%, which basically doubles your margin. Also, FXCitizen offers a monthly draw where you could land up to $5.000, but we sincerely doubt that anyone has ever seen a penny of their winnings.
Payment options at FXCitizen Forex broker
Efficient and convenient banking methods are the foundation for any successful broker enterprise, but in most FXCitizen opinions, you will be able to read about the lack of options with this broker. Admittedly, the platform supports SSL encryption, which can protect your personal information, but it seems that VISA, MasterCard, or Perfect Money are not nearly enough in the modern trading world. The minimum amount you can withdraw on your credit card is $50, and with e-wallets, this can go as low as $10, with 2% fee per transfer.
The quality of customer support
FXCitizen Forex broker is a company that has enough experience in the business to know that customer support is also one of the pillars when it comes to client satisfaction, and that this element should be top-notch if you want to attract new investors. That is why it seems strange (and highly unprofessional) to see that their customer support is only available 24/5 and that you can reach them by Facebook and a standard contact form.

FXCitizen review conclusion
The world of financial transactions is a hectic and exciting sector, but it can be very dangerous to sign up with a scam broker. That is why our FXCitizen FX broker review is here to warn our readers about a potential risk, and we provided you with sufficient information to make the right choice in the end.