ETFinance Review – Should You Trade With This Broker?

When one becomes involved in trading, especially if it is Forex trading, the first thing they should be looking for is a decent broker. It always poses a tough challenge to find a broker that is reliable, trustworthy and has excellent service.
A choice of a good broker can increase your potential profits by almost 50%. If you manage to discover a trustworthy broker, then your revenues will be decent.
As hard as finding a reliable Forex broker may seem, considering the number of fraudulent schemes we encounter every day, there are indeed brokers that are licensed, reliable and offer decent services to their clients, that you need to be looking for. One of such notable brokers is ETFinance, which is very prominent in Europe and enjoys high popularity among clients.
This review will meticulously examine ETFinance and determine whether it can be trusted or not. We hope that the review will be instructive and explanatory.
A brief overview
Established in 2018, ETFinance offers online trading services to clients all over the world. As the official website tells us, it was created to help ambitious people to realize their financial potential in the world, providing them with essential tools and knowledge that are required to build a stable financial future.
The company has chosen award-winning platforms to navigate global markets efficiently, those being WebTrader and MetaTrader. ETFinance also offers CFD on a variety of financial assets such as stocks, currencies, commodities.
ETFinance has won several awards as well and is authorized and regulated by the Cyprus Securities and Exchange Commission.
etfinance.eu website review
The first thing when you visit the website is the simplicity of it. What is essential for any website, whether it is a broker or not, is the look. You will not have a lot of visitors if your website is overloaded with useless stuff and has features that are unlikely to be used. The visual side of the website is crucial.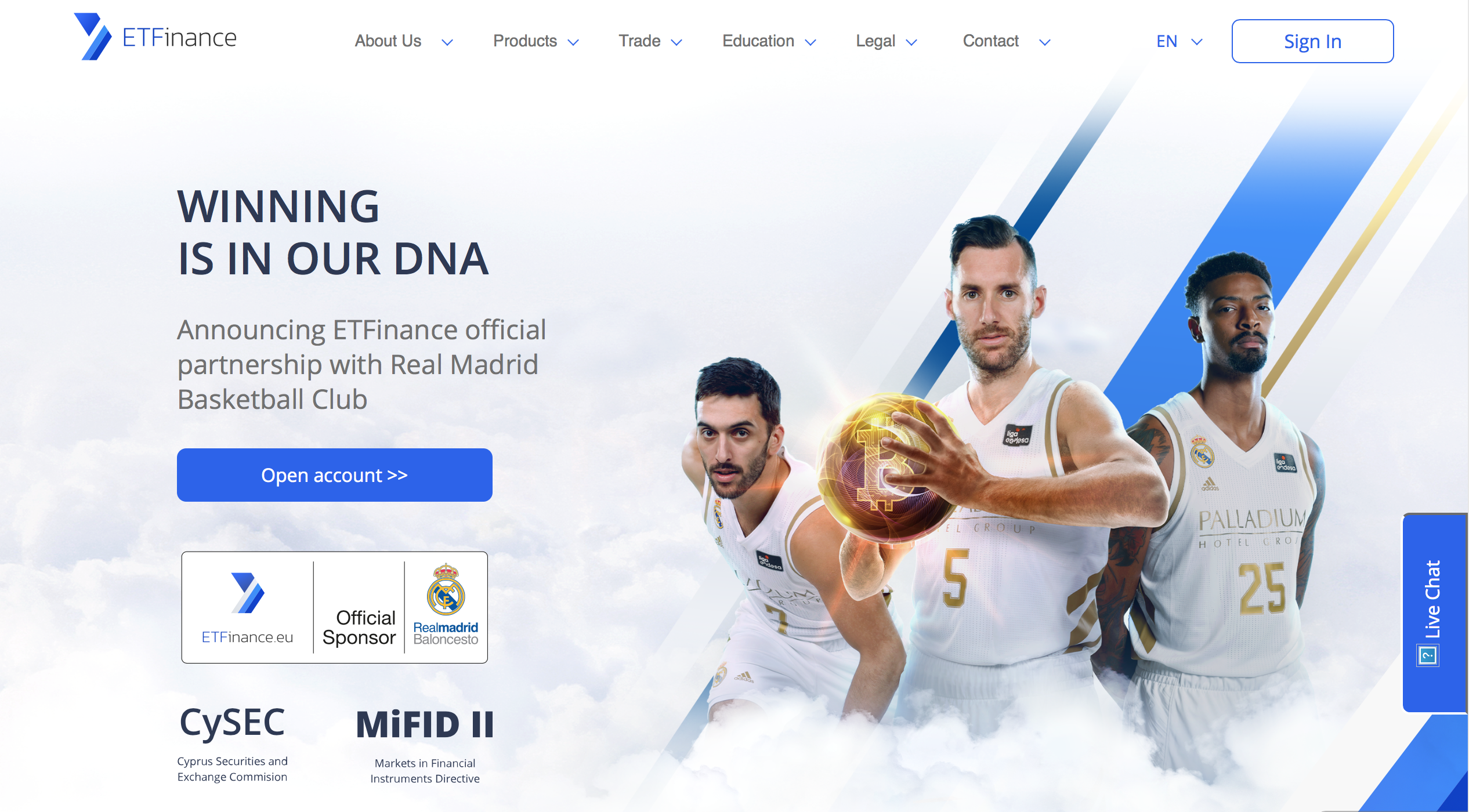 On the website, we can access useful information without any difficulty. Everything is clearly demonstrated. As soon as you open the home page of the website, six sections emerge at the top. The first section is About Us, which contains four subsections and is mainly about the company. The next section is called Products, which has ten subsections in it. This is about various trading opportunities, such as stock trading, Forex trading etc. The third section is Trade, which has three subsections about trading opportunities. The fourth section is Education, with eight subsections in it. This section is basically about courses and tutorials and is designed mainly to help newbies understand the principles of trading. The fifth section is Legal one, which, as the name itself implies, is about the regulatory side of the company. It has three subsections. The sixth and the final section is Contact with two subsections, and you can use it to address the company's support group, to find out additional information.
These are the main six sections, but on the right side of the website, you can also encounter the language bar. ETFinance currently supports seven languages, those being Spanish, German, Portuguese, Italian, Swedish, English and Dutch. Finally, there is a Sign In button, where you can log in to your account.
If you scroll a little bit, you can notice the Trade Wisely segment, where you have options to choose from stocks, currencies, and commodities. Moreover, there is a list of credit cards, which the website supports, and they range from Visa to Skrill. You can also follow the website on Instagram, Facebook, and Twitter – it is clearly shown at the bottom.
On the website, you can open a real account as well as a demo one. It is typical for almost any brokerage websites. The process registration of a real trading account is simple – you need to provide your private information, such as email, mobile phone, country of residence etc. They resemble many other decent websites.
As for the demo account, once you are registered, you are provided with $100k of virtual money, which you can use in a simulated environment. It looks like a live account, and it is designed to help you master trading strategy. It is like a training field. Note that a demo account only lasts for seven days. If you want to extend the period of using a demo account, then you should contact an account manager, who will renew the account for you.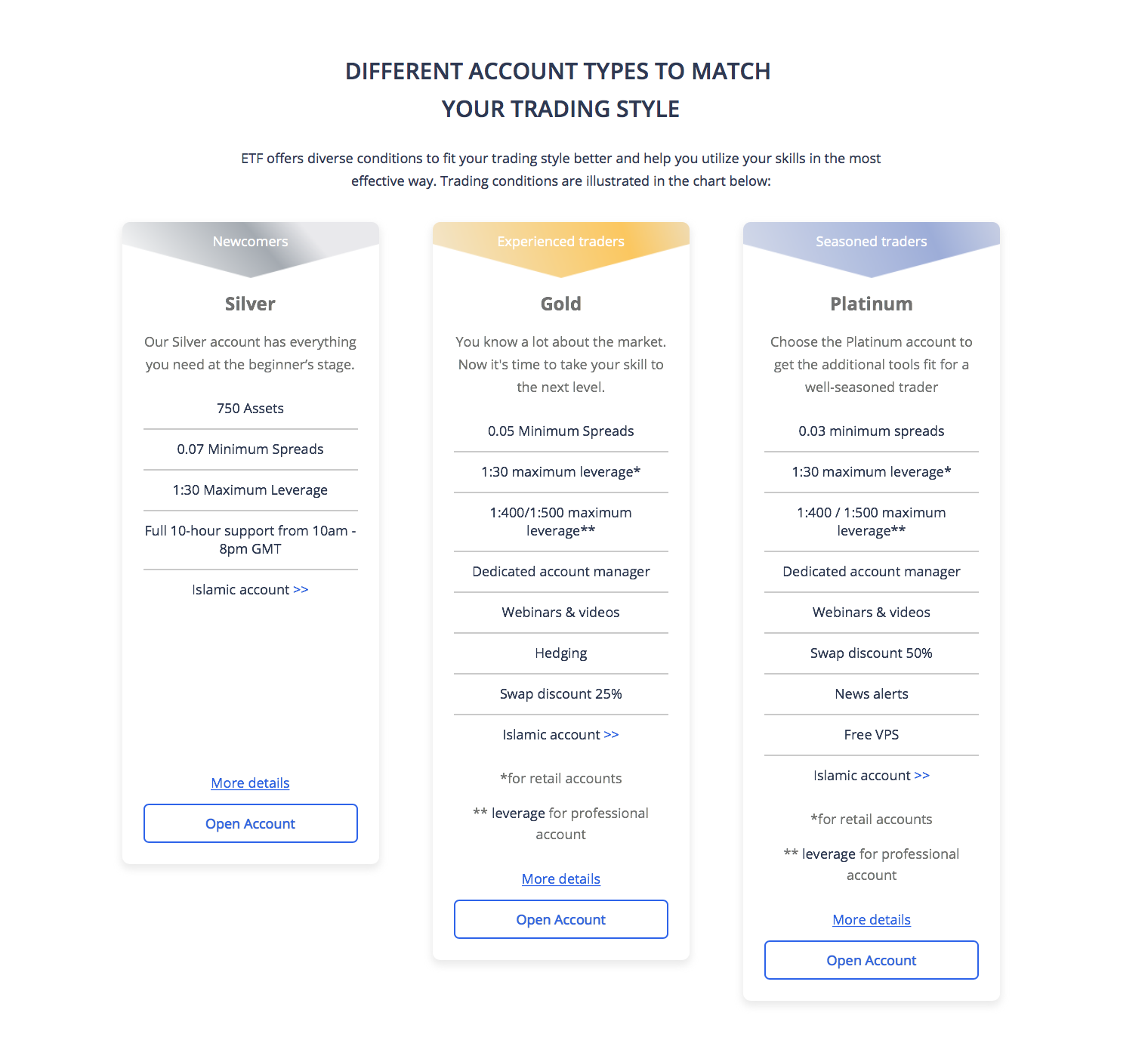 Account types
Now we should talk about account types. There are 3 of them: Silver, for newcomers, Gold for experienced traders and Platinum for seasoned traders. They vary in spreads and leverages. You can also encounter a special type, called Islamic account. You know that the Muslim faith forbids the payment of interest, so to abide by the laws of Islam, this account is completely adjusted to the people who follow this religion.
Customer support
The next crucial thing to look at is customer support. While a broker may have a decent website, it is also vital that they provide appropriate customer service to its users. On the website, you can find the Live Chat section where you can contact the supporter group, to find out the information you need. There is also an email indicated.
The website also warns visitors about the potential high risk of losing money due to leverage. Any person interested in trading should be aware of this risk and decide whether or not they are willing to undertake it.
Education
You cannot become a decent trader if you do not have sufficient knowledge. The website offers a wide selection of webinars, courses, tutorials, ebooks which you can use to enhance your knowledge further. The courses primarily concern trading strategies and trading tools.
ETFinance license review
One of the first things you should pay attention to when you are looking for a reliable broker is the license. If a particular broker does not have a regulatory framework and license, it is most likely a scam, and you should avoid using at all costs.
ETFinance, which is offered via the approved domain, is a brand name of Magnum FX (Cyprus). The latter is licensed and regulated by Cyprus Securities and Exchange Commission under license number 359/18. CySEC is a member of the Committee of the European Securities and Markets Authority and considered to be a high authority and reliable entity in terms of licensing. It offers a high level of protection and efficiency of markets.
Magnum FX is authorized in many European countries, and one of the notable things you should consider while looking for a credible firm is partnerships. The company has a partnership with Real Madrid BC. The latter is one of the best basketball teams in Europe, and it would certainly not choose ETFinance as a partner if there were a scam brokerage.
The address and number of the company are also clearly shown on the website, hence ensuring more credibility and legitimacy.
Trading terms and conditions
Now we should move to the main thing, which is the primary reason why people turn to brokerage companies – its trading terms and conditions.
As already mentioned above, the broker offers a wide variety of choices for trading. Forex trading has a lot of currency pairs available, but the most popular ones are Euro, USD, GBP and JPY. You can access the market whenever you want.
Spreads and leverage
Spread is the difference between the purchase price (ASK) and the sale price (BID) at the same moment, for the same financial instrument. The spread is dynamic and might be a pivotal factor influencing the liquidity in the external markets and competitor pricing. The minimum spread available on the website is 0.05. It is not a very low amount, although it should be mentioned that the larger the spread, the more your broker takes from your trades.
As for leverage, the maximum amount here is 1:500. It is most definitely an exciting offer.
Leverage is a tool that allows traders to borrow capital in order to have greater exposure to a particular market, thus enabling the trader to make a small deposit of his funds when opening a new order. While it is true that leverage provides a good chance to make a decent profit, it can also lead to more significant losses.

Trading platforms
The broker has three choices of trading platforms: Webtrader, MetaTrader 4 and Mobile app. We will examine them thoroughly.
Webtrader gives its users access to the global network through any device using only an internet connection and a web browser. Webtrader is an entirely user-oriented and user-friendly system that provides customers with useful tools and equipment. It has simple navigation and orientation and also offers a helpful analysis.
MetaTrader 4, which is also known as MT4, is a popular choice among beginners and experienced traders alike. Keep in mind, it is an award-winning platform after all. It has a wide variety of tools and is available on both mobile and web devices. It is one of the most popular platforms in the world.
MT4 gives control over the markets, has an advanced analysis tool and is easy to use. MetaTrader 4 is available on both iOS and Android devices, and the system is very well protected.
As for the Mobile app, you can do almost everything. With the rapid development of technologies, a lot of people started using smartphones; thus, it has become crucial to design mobile applications which can do the same operations as on the PC. The mobile app is very user-friendly, helps you manage your account or open a position. It is an extremenly convenient and fast tool.
The app is compatible with all devices, and it is free to download.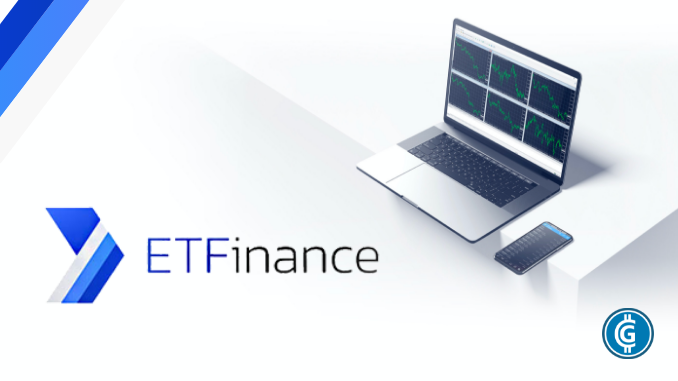 Start trading Forex with IQ Option
Deposits and withdrawals
One of the core topics that need to be examined is deposits and withdrawals. On ETFinance, the minimum amount of payment is €215 regardless of the payment method. It is not a very high amount, but the maximum deposits vary by method.
Prior to submitting the withdrawal requirement, you should provide the company with the bank or card information where the funds will be transferred. The minimum withdrawal amount for bank wire transfer is 50 Euro or equivalent. Withdrawals take several business days to process. For example, if you make a withdrawal on Saturday, the process will start on Monday.
Moreover, ETFinance reserves the right to reject your withdrawal if it suspects that something unusual takes place. The client can resubmit his or her withdrawal request.
At the moment, there are no available bonuses and promotions on ETFinance. However, as time passes, this will likely change, since a lot of broker companies try to provide their clients with some type of bonus promotions.
If you cannot find additional details about trading terms and conditions, you can view a Terms and Conditions document which will provide you with all of the information you need to start trading.
So, is ETFinance legit?
While you are reading this review, the first thing that comes to your mind is the question: Is ETFinance a legitimate company or are we dealing with another scam? Well, as the review shows, there are some specific indicators that indeed prove that the broker is a genuine one.
We reviewed the license, which demonstrated that the company is regulated and licensed by CySec, which is considered one of the top authority regulators in the world. ETFinance also has a number and address shown on the website.
We also went over trading terms and conditions. They are clearly explained, and there is no doubt about it. We also explored the informative side of the website, which has some features aimed at expanding the knowledge of beginner traders. Furthermore, there was a specific account type, besides live and demo account, which is an Islamic account created specifically for people who follow Islam.
We have also examined the spread and leverage, which also look good – not very high, nor too low.
ETFinance can be a perfect choice for people who are new to trading and is equally good for experienced traders who already have some knowledge in this field. The website looks solid, without extra features which in plenty of other websites, only overload the basic structure. Simplicity is always a brilliant idea.
The number of products is vast – from stock trading to cryptocurrency trading. It is versatile and adjusts to the needs of traders.
We give this broker 5/5, and if you want to find a credible and reliable platform, then the path is clear for you because ETFinance is the right choice.