Dukascopy Review

Dukascopy is a great broker operating from Switzerland. Not only it offers great trading conditions and support, but it also does a great job in amusing, entertaining and educating its clients. Browse below and read detailed Dukascopy review!
Dukascopy Forex Trading Broker at a Glance
Dukascopy, like the Swiss watches in its home country, is known for efficiency and reliability. Like the Swiss accounts in its home country, it is known for privacy. Its home office is located in Geneva and has branch offices in Ukraine, Hong Kong and Latvia with new offices set to open in different parts of the world.
Dukascopy follows an expansionist strategy made viable by its excellent reputation and it's one of the largest players on the market. It does not lack for licensing; it is regulated in several countries including its home country, Switzerland. It is one of the oldest brokers that offer ECN, making both individual as well as company traders prefer to trade with it.

Dukascopy Forex Broker Accounts
The different types of accounts are not named; they range from $100 – $250,000 and for larger deposits an increased number of facilities and services are available. Check below of a detailed Dukascopy Review of Accounts.


Dukascopy is a cheap and viable choice for volume traders. With a net deposit of $10,000, the commission is only $30 per one million currency pairs. To rephrase, it is possible to trade 0.1 of a lot for 30 cents. The more money you have deposited, the lower the commission prices are. These commissions decrease with the amount of money deposited. For accounts larger than $10,000,000 only a $10 volume commission is charged for one million currency pairs compared to the highest rate of $35 for $5,000 accounts. Dukascopy supports small spreads down to 0.1 pips giving experienced company traders more chances to make a profit. Such low pricing generally gives this Dukascopy review an extra point.
Dukascopy Reviews of Trading Platforms
In order to access the Swiss Forex Marketplace, many platforms are offered. Swiss Forex Trader for iPhone and Android is a competent version that offers many of the original features. The smartphone application has news feeds, analytical tools and all market orders. For people interested in automated trading or in building trading strategies based on Java applications, the JForex platform is built in-hose and is a reliable choice. JForex allows unprecedented customization, by providing a tool that lets users combine application blocks in order to build their own platform, coming up with a different solution for every trader Unfortunately, support for MetaTrader is limited, Dukascopy cannot run it directly. However, there is third-party software that makes the connection from MetaTrader to the Swiss Forex Marketplace.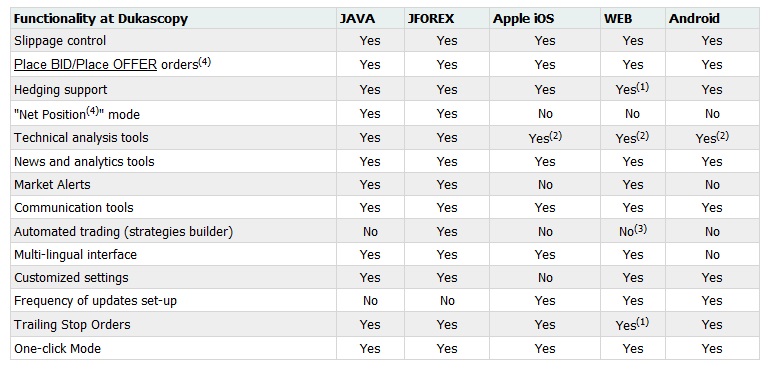 Dukascopy Review of Extra Features
An impressive number of contests and webinars are available, as well as the opportunity for social trading, making it the ideal place for beginners. Also is one of the few brokers that have a TV channel with a large number of original programming.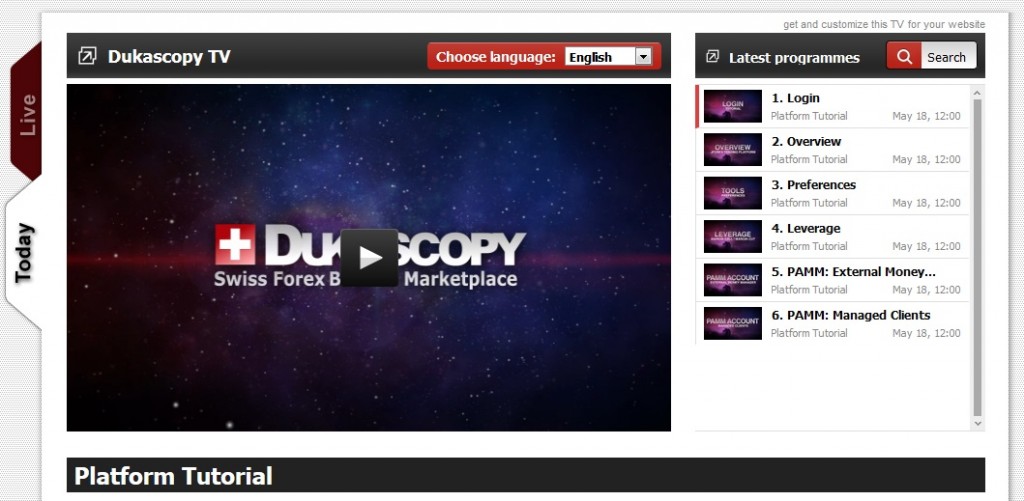 Each month, Dukascopy asks the best client trader to appear on Dukascopy Forex TV to share trading strategies and techniques. Whether or not they agree to be interviewed, the top performing traders receive a Swiss luxury watch worth 15,000 CHF. This is a great feature of the broker found during Dukascopy review. Not only it offers great services, but also makes forex engaging.
Dukascopy Forex Broker Customer Support
Dukascopy has phone and live 24 hours trading support, so you can be sure that your broker supports you throughout Forex market hours. Dukascopy Bank SA offers customer service 6 days each week via email and phone line. Reaching out to support via chat is available during working hours and Skype is also a possibility, allowing users to circumvent paying costs for an international call.
Dukascopy Reviews Deposits and Withdrawals
The payment alternatives are credit cards, debit cards, wire transfer, bank guarantee and Swiss custodian banking services for deposits over $250,000. Conversion fees are deducted in case the base currency is different from CHF, USD, EUR or GBP. This has been found at EU Dukascopy review. You might look up whether this broker has already opened its doors for the residents of other regions.
Dukascopy Review Conclusion
This foreign exchange broker tries to make a good impression by offering a lot of transparency. Dukascopy treats everybody the same and in this case it is a very good approach because the services are excellent. The spreads are low because offers from all market participants are collected in one place. Dukascopy is a suitable solution both for beginners and also for experienced, high-volume traders, because of the active community surrounding it. It is easy to see that the people behind it are very passionate and active, because of the number of contests, TV programs and features offered. Dukascopy is one of the best choices when searching for a broker and we can see why when looking at its client services and opportunities for active traders, banks and institutional traders.