Discount FX review – what are the pros and cons of trading with this broker?

Discount FX seemingly came out of nowhere in the FX market, but it turns out that it's been active for years now. The activity though is derived solely from its parent company GBE Brokers Ltd, which is located in Limassol Cyprus and has a local regulatory license from the Cyprus Securities and Exchanges Commission.
Our today's Discount FX review will focus on the circulating rumors about the brokerage being a scam. We will look into the trustworthy factors alongside the overall trading conditions that the broker offers.
Discount FX first impressions
Much like we start all of our broker reviews from the perspective of the website design, we have to focus on it with this Discount FX review as well.
In all honesty, we're not big fans of the design in any way shape or form, simply due to the fact that it's out of place. The effort that has been put into making it is obviously minimal. There's next to no information available and even worse, it's design pattern is inconsistent.
Overall, you get the point. Discount FX's website does not look like it belongs to a professional company, it looks more like a website that has been made with haste when a scammer was rebranding. But anyway, what are the trading conditions that customer can get there? Let's find out.
Discount FX features
The first and foremost feature that we need to discuss is, of course, the spread, which is heavily marketed by the brokerage. In the promotional pieces on the homepage, we see that they call it a 0 pip spread, but when should a trade be placed on one of the major currency pairs, let's say the GBP/USD, then it's quite likely that the spread will go up to 0.4 pips instead of remaining on the 0 level.
This may be classified as false advertising from Discount FX broker's part, but let's say that they meant spreads start from 0 pips and can go upwards depending on the exchange rate.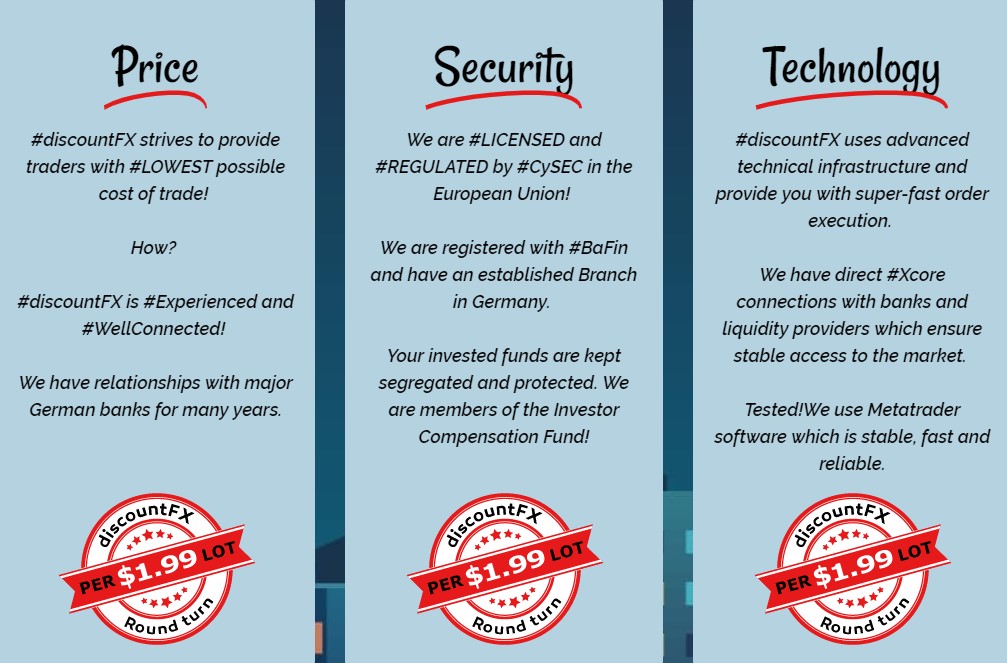 Other than that we get maximum leverage of 1:200, which is below average in our experience, but it's still passable. It certainly doesn't contribute anything to the Discount FX scam argument, but it doesn't help it in any way either.
In terms of deposits and withdrawals, traders get varying degrees of minimum deposits with the brokerage. Depending on which payment they choose, it can start off with $500 and go up to $500 + the deposit fee from credit cards or payment providers like Neteller and Skrill.
As it seems though there is only one Discount FX trading account option, as there is no information on different possibilities. This account comes with the $500 minimum deposit as mentioned earlier, and no minimum withdrawal. However, the withdrawals come with a percentage fee of 0.15%, but they can go only as low as EUR 20, which is disheartening for beginners who want to withdraw anything that doesn't have 20 EUR as it's 0.15%.
Is Discount FX a scam or not?
After discussing all of the features from the brokerage, it becomes harder and harder to distinguish it from being a scam or being legit. Sure the CySEC license provides some kind of lawful background which is supposed to be a guarantee but looking at the issues with withdrawals and the BaFin license, the Discount FX scam still manages to emerge one way or another.
If we want to review the brokerage from a completely blank page, then we have to forget all of the suspicions of it being a scam. If we look at it from that perspective, it leaves the impression of a below-average brokerage that doesn't really have that much to offer.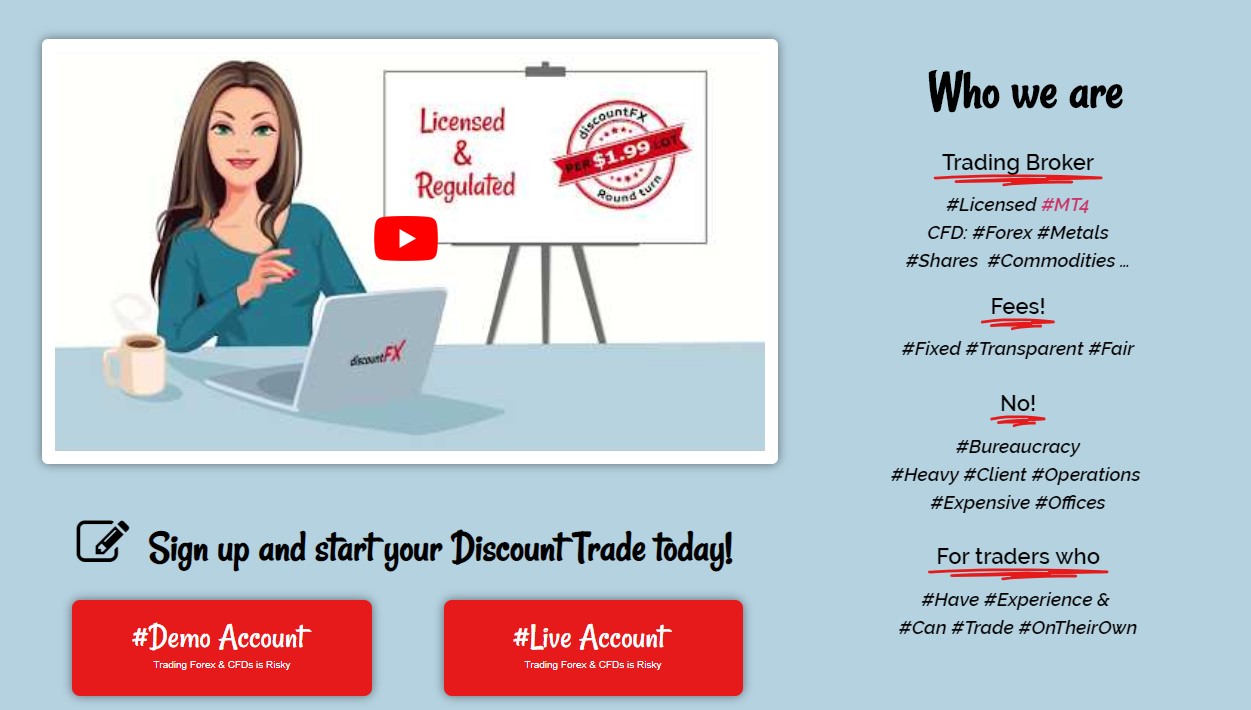 Also, try to consider that even if Discount FX fraud is not a thing, the brokerage is competing on the EU market since it has an EU license. Once we look at it from this perspective, the overall rating for Discount FX is indeed discounted. Compared to other companies available in the EU market, this brokerage does not have much to offer. Sure the spreads are favorable and can support long term gains, but the leverage being so restricted prevents any significant income in the first place.
Even if the spreads ar 1.1 pips per standard lot, other brokers can challenge the profitability with higher leverage caps. All in all, the fact that there are at least some suspicions of Discount FX scam being a real thing, we would recommend this broker to neither beginners nor veterans.