BidAsko Forex broker review

BidAsko is a Forex broker that has been in existence since 2011. Like every other FX trader, you will want to know more about the firm than just the number of years it has been around. Well, in our BidAsko review, we look into some of the features which will help you not only know whether the firm is legit or not but also help you know how safe your money is when you invest with them. Here are some of the features;
General information and License information

According to the official website of the firm, BidAsko Forex broker is owned and managed by SDT Brokerage Corp. It is registered in Vanuatu and its address is Law Partners Hse, Lini Highway, Port Vila, Vanuatu. The firm's license is #14528 and is authorized to carry out business under Dealers in Securities Act (CAP 70) of Vanuatuan law.
After reading some BidAsko reviews, you will realize that the firm is one of the numerous tax-haven off-shore FX firms that exist. This means there aren't many strict laws for the people and businesses here. However, it is important to point out now that being an off-shore tax haven firm means that your money is not really safe. Moreover, according to the official website, PayBrand Ltd which is a Bulgarian based firm is the one which processes all card transactions. In some instances, such a complex network is designed to help erase any trace of the money deposited.
The BidAsko trading platforms review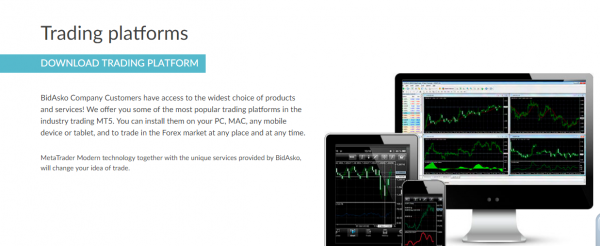 Customers of BidAsko Forex broker can trade using the popular Meta Trader 5 trading platform. This platform is easy to install on your computer or any mobile device. Even though MT5 is not as popular as MT4, it enables traders to execute trades on various financial markets through a single account. While MT5 is a reliable platform, BidAsko doesn't seem to have more options for its customers in as far as trading platforms go.
Types of accounts and promotions offered at BidAsko
At BidAsko, there are 5 different types of accounts which are Cent, Standard, ECN, Stock trading, and ECN zero. The minimum initial deposit for the Cent account is $5 and $100 for Stock trading and Standard accounts. The broker offers leverage of up to 1:1000 which is way too high, considering authorities in Japan and Europe have been pushing for such leverage to be around 1:25.

There is a BidAsko bonus of $50 which is given to new clients and which is valid for a month. A www.bidasko.com scam smells given that you are promised 100% bonus on any amount above $5000, especially because you won't have any means of crawling back your money from Vanuatu once it has left your account.
Is BidAsko legit?
The question of whether BidAsko is a scam or not should be answered once a few questions have been asked. Is the broker registered by a globally credible regulatory body? Are the license and business details of the firm clear? Are the bonuses offered designed to help the traders or simply to lure unsuspecting traders? The answers to these questions become clear once you go through the firm's website and read this BidAsko review.