A comprehensive Atecs Capital review

In a world of trading, whether it's on the Forex market or anywhere else, one of the most important challenges for any trader is to find a credible broker. Brokers are the companies that connect traders and liquidity providers to one another – some directly and some through mediation.
They also provide the necessary tools and elements needed for trading. Therefore, if those tools are properly developed and distributed, trading itself becomes much smoother and has more chances of success.
On the other hand, if the broker is a scam, the tools it offers will also be flawed. Not only will such brokerage undermine your trades, but it'll also compromise your financial stability and try to steal your account money. So, it's pretty apparent how important it is to find the right broker.
Fortunately, there are various reviewing agencies that test the legitimacy of brokers and provide every little detail about them to their readers. Today, the review will be about the Atecs Capital FX brokerage that may not be about Forex trading but we'll still put it in this list, as many currency traders are interested in CFDs.
Is Atecs Capital legit?
First off, let's see how legitimate the broker really is by checking out its registration and licensing materials. Atecs Capital is a brokerage established in the Commonwealth of the Dominican Republic and operated by the company named Altos Group Ltd. The country's financial organ has issued the FSU license that should, in theory, be monitoring the broker's financial activities.
In reality, however, the FSU license is as effective as a piece of paper it's written on. That's because the country issuing that license is not a very powerful nor influential entity that can monitor its subjects and hold them accountable for their actions.
On top of that, Atecs Capital doesn't even allow US citizens to use the platform and trade CFDs. All this leads us to believe that the Atecs Capital scam may as well be the real deal because the broker doesn't actually have an effective license. Let's move on to the next section and find some more proofs or counter-arguments to our hypothesis.
The website and software review
The broker has an okay website and that's pretty much all we can say about it. There's nothing overly exciting about its interface. In fact, it looks like someone with the most basic knowledge of web development tried to design an interface and overdid it a bit. That's because the visual decorations are a little bit too overpowered.
But that's not the biggest issue here. The thing that we're most interested and baffled by is the educational content. While from the outside, this section looks alright and seems to be including all the major aspects of trading, we cannot help but notice that the language used and the actual information included in the articles aren't overly comprehensive. It's as if an amateur content writer with a Wikipedia knowledge wrote those articles.
What does the broker offer?
Let's now move to the actual trading platform and check out the assets that are available here. On the website, we can see that the broker offers many crypto CFDs for trading. Basically, CFDs are contract agreements between the broker and trader regarding the price movement of an asset – cryptocurrencies in this case. If the agreed-upon conditions are fulfilled, the trader will either earn a profit or lose money.
Apart from crypto CFDs, the Atecs Capital promotions list also includes some cryptocurrencies themselves, including Bitcoin, Ethereum, Ripple, and some more. While we don't have anything critical to say about these assets, the features that accompany them are certainly worth further scrutinizing.
As the broker claims, the maximum leverage accompanying these assets can go as high as 1:20. In our opinion, that's a bit too high for crypto CFDs or cryptocurrencies themselves. But let's not stress too much on this aspect because we have seen far larger leverage ratios with credible brokerages.
But the claim that trading these assets can have 0 spreads is something that really baffles us. You see, the majority of brokers function and fund their services on either commissions or spreads. And since the broker has no commissions either, we're wondering, where its funding comes from.
And then there's the software support that is also very interesting. Instead of the commonly-used MetaTrader 4 or 5, Atecs Capital uses its own proprietary trading software that can be run on any web browser. We suspect that the broker made this decision to easily include some schemes in the software without being monitored by the trading community.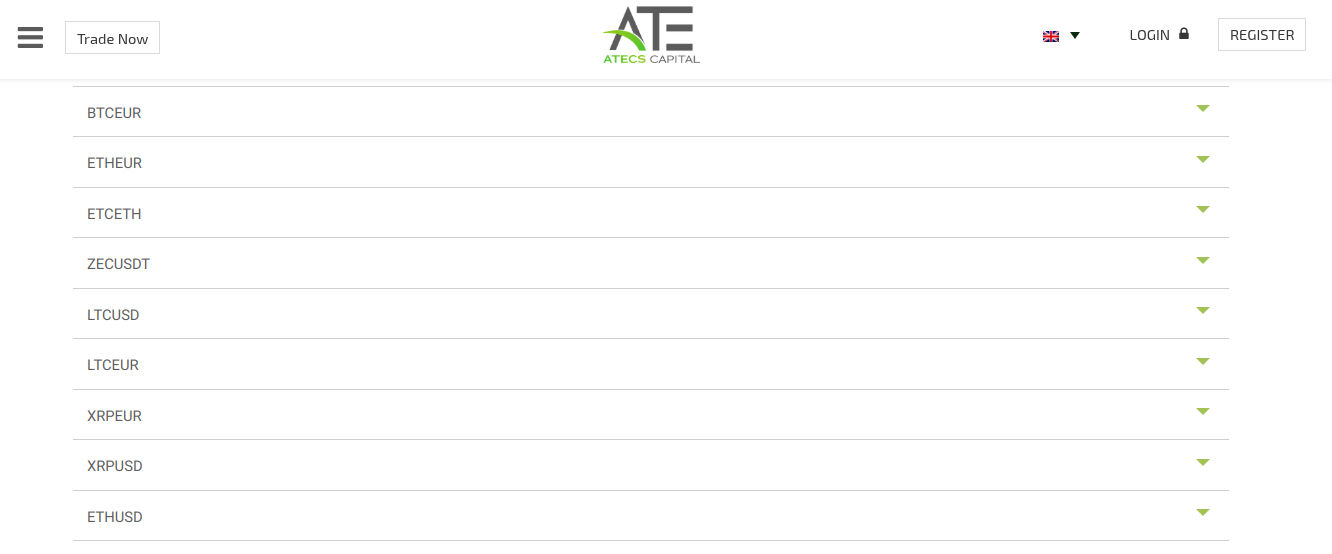 Account types with Atecs Capital
When it comes to account types, Atecs Capital offers five common and one elite package to its clients. While some people would think that these accounts fit the needs of anyone who's interested in trading, we think that the actual details reveal a more gloomy reality.
The Basics account, which should be the welcome-package for the beginners, has a minimum deposit requirement of 500 US dollars. We don't know who thinks that 500 USD is a beginner-friendly requirement but in our opinion, many people will find this sum very demanding and decide not to trade altogether.
But even in terms of the difference between the accounts, we think that they're more similar than different. Just the features like Price alerts, PIA trading signals, or 1-on-1 trading trainer aren't enough to entice traders to deposit tens of thousands of dollars just to get a Gold or Platinum account.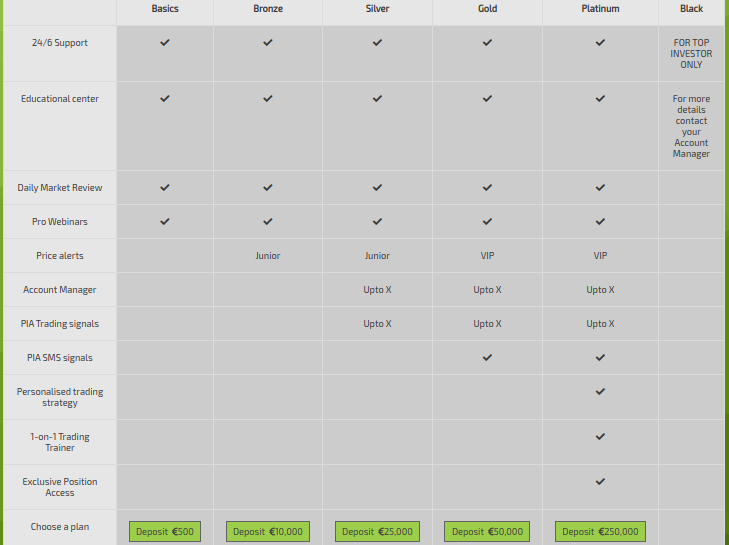 Deposit, Withdrawal & payment methods
Probably the weirdest segment of this review is the payment platforms. As we have mentioned on multiple occasions in our Atecs Capital review, the broker is a crypto CFD trading company that also features real cryptocurrencies. And when we found out that there aren't any cryptocurrency support for deposits and withdrawals, we were really astonished.
As for the existing platforms, credit cards, bank wire, and e-wallet platforms are somewhat slow and susceptible to security breaches. It'd be so much more beneficial to the Atecs Capital rating is the broker used cryptocurrencies or even PayPal for payments.
When it comes to commissions on transactions, as we have mentioned before, the broker has no fees save the bank wire transfers – 30 US dollars per transaction. And the transactions themselves often take three days to complete, which is a big downside for a trading brokerage.
Customer support
To give the devil its due, we think that the customer support department on Atecs Capital works properly and without too much delay. There are three options people can use to get assistance from the broker: they can either use a more traditional method and send an email or go a bit easier and call or contact the broker using a live chat. While the email method is considerably slower than the other two methods, it's still not very pressing considering other really important issues.
Atecs Capital review summary
To put it in a nutshell, we think that the current Atecs Capital opinions that can be found on the internet are, to put it mildly, not overly correct. This review of ours revealed so many hidden aspects of scam or other suspicious activity that we wouldn't recommend anyone to actually trade with the broker.
First, we reviewed the licensing and found out that the FSA license isn't actually an effective legislative piece and it just serves the purpose of the license for the license. Not only that, the website itself is overly amateurish and contains some unnecessary visual elements. But even more pressing issue here is the informative side of the website.
As for the trading terms and conditions, the broker mainly offers crypto CFDs but it also features the actual cryptocurrencies for trading. While the leverage is moderately high-than-average, the real concerning issue is 0 spreads.
There were other issues as well regarding the account demands, trading software, and financial platforms. Those issues combined produced the final conclusion which is this: Atecs Capital cannot be trusted, even if it's not a scam!