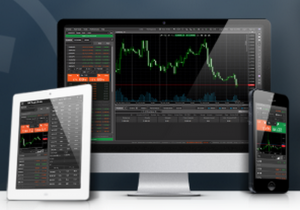 Most of traders strive to try platforms that offer increased functionality. Also, we want to get as good and as fast charting as we possibly can. But, most of the forex brokers do not offer trading applications except of MT4. However, in the recent years there has been an increase in the amount of cTrader brokers in the FX retail market.
Struggling to find a decent cTrader broker? Top Forex Brokers has done all the search for you! We inspected every detail of the deals that cTrader Forex brokers are offering and found the best one for you. So, from now on you do not have to make a research in order to find the best one! This page contains the best cTrader fx brokers in the retail Forex industry.
Top cTrader Brokers Showcase
Every quarter Top Forex Brokers searches for new brokers that offer cTrader and also reviews the deals from the existing Forex brokers that this platform. We do not stop at the comparison of the cTrader deals. We go further and take into account the quality of services that brokers with cTrader will bring to you. Furthermore, we will not show you any brokers whose reliability is questionable, since we value your deposit and do not want you to be trading with a scam cTrader broker.
Know top cTrader Brokers? Let us know [hr]
Best cTrader Forex Brokers Comparison
We have spent lots of time searching for other decent cTrader Forex brokers, but Top Forex Brokers did not manage to find any broker that is at least close to FxPro in its cTrader trading conditions. Also, some of the other brokers offering cTrader are unregulated, so we will not mention them since we do not want you to get into difficulties. As soon as there would be more good cTrader fx brokers we will bring you their detailed reviews and services comparison. Before it becomes reality, FxPro will be our choice number one for cTrader top brokers!
cTrader Forex Brokers vs MetaTrader Brokers
Most of Forex Brokers will not supply you with the cTrader trading platform. For some reason Brokers prefer MetaTrader 4 and they believe that it is enough for the traders. However, as MetaTrader 4 is not available as a web app, brokers may often try to make choose their web trading solutions. Usually these platforms have quite a limited functionality.
If your broker offers you a free cTrader account, you definitely have to check it out. The order execution speed of cTrader is a few times higher than MT4. This is one of the superb features of cTrader. Also, cTrader finds best proxy connection on its own, so you can be sure that your cTrader chart will be more accurate and will be refreshing faster.
Next to this, there are much more charting options in the cTrader platform. While creating cTrader review, Top Forex Brokers has spent the whole day playing with cTrader charts.
cTrader Automated Trading – cAlgo
When it comes to automated trading, cAlgo allows you much more possibilities in modification and creation of your own trading algorithms. If you spend enough time polishing them, they will easily make most of trades without your involvement! Providing you with such opportunities, cTrader fx brokers are definitely one step ahead of the others in terms of technology!
cTrader Level II Pricing
Furthermore, brokers without cTrader accounts will never give you an opportunity to use Level II pricing. A real Level II pricing, not just a random price generator. Such true pricing is available only on cTrader platform, so if your brokers tells you that you can get Level II pricing on MT4 and you do not need cTrader for this, you should consider changing your broker.
cTrader fx Brokers Mobile Apps
Also, cTrader has its own mobile platform for both, iOS and Android. In case you start trading with a cTrader broker, you can be sure that you will also have mobile trading possibilities available at your fingertips.

cTrader is one of the freshest platforms on the market. This is quite a successful platform designed for institutional trading. Detailed cTrader review has shown that this platform is designed with a great mind. cTrader has outstanding charting capabilities, a number of graphical objects and lightning fast order execution. While cTrader doesn't support MQL EAs, it accepts c# code. There are more and more brokers offering cTrader now, so check out this cTrader platform review to find out more about the platform.
cTrader Review at a Glance
The cTrader platform is gaining recognition and it is a serious contender for surpassing MetaTrader. The platform can be used both by brokers and retail traders. The platform caters to a wide range of traders, from beginners to advanced users, while offering them full STP access. It is possible to trade directly with global banks, so that the traders are no longer subjected to market makers and dealing desks. All the trading that is realized has an increased level of transparency in a dynamic environment.
cTrader Video Review
Being one of main competitors of MetatTrader 4, cTrader has some core differences from it. The interface looks somehow different but this does not mean that it is worse, it is not.
Also, cTrader offers you not just desktop platform but also comfortable platforms for mobile devices. So either you have Android of iOS device, you can always trade on the go.
cTrader Platform Features Review
The first thing that is noticed when looking at this platform is that it has a modern design. It is even easier to use than MetaTrader and that is an accomplishment by itself. Anyone who has used a trading platform in the past should feel right at home with it. Keep on reading this cTrader platform review to find out more!
Order execution times are one of the highlight of this platform, because those orders are filled in fractions of a second. There is also support for simultaneous order processing, so if a trader enters multiple trades at once he does not have to wait, because there is no queue. The full ranges of prices that are shown com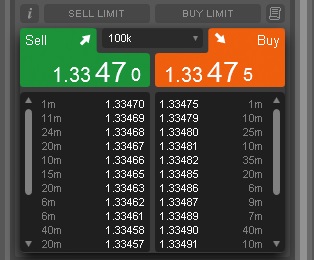 e directly from capital providers. Filling the orders is done with Volume Weighted Average Price (VWAP).
There are a lot of depth of market features built into this platform. It features three types of Depth of Market information. The first is standard depth of market that shows aggregated quotes from the capital providers. The second is the price depth of market that is a ladder system that helps traders see the optimum entry point in the market. The third is the Volume Weighted Average Price (VWAP) that allows traders to set different trading volumes and is a useful feature for users that transact large volumes. This is quite a useful feature from the cTrader review.
Orders can be entered directly from the chart itself, not being necessary for traders to switch screens as it is the case with more cumbersome interfaces. From the charts screen a wide range of actions can be taken: opening and closing orders, setting stop losses and entering limit orders. The profit and loss in pips and base currency is also displayed within the charts. There are a lot of order types available: market order, stop orders, limit orders, but also some types of orders that are not commonly encountered, such as market range orders.
cTrader Charting Review
The charting space is big and allows for easy visualization of the technical indicators and the various charting tools. The charts are customizable and multiple presentation modes, layouts and templates are available. There is a total of 26 timeframes available, suitable to the requirements of every trader, even if they trade on the short term or on the long term. There are also 6 zoom levels that can show the price evolution in detail or an overview of it. The charts are detachable and be maximized and re-sized. This generally makes this cTrader platform review to stand out from any other web trading alternative.
There is an extensive library of indicators, but traders can construct their own indicators with the C# programming language. The cTrader platform supports both C# and .NET framework making it possible to create indicators and trading robots that are similar to the Expert Advisors in MetaTrader. It can be argued that the flexibility of the programming language is not up to par with that of MetaTrader, but it has the advantage of using the C# language and there are a lot of programmers that are familiar with this language, making it more accessible than MQL 4 and MQL 5. There is also the possibility to take pictures of charts and to share ideas with other traders by using the facility ChartShots.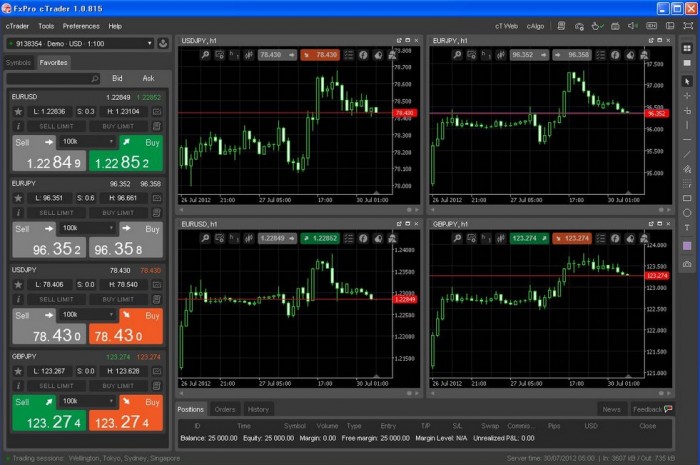 All the required tools are offered for technical analysis, such as trend indicators, volatility measures and oscillators that can be accessed directly from the chart. There is also the possibility to download indicators or to combine them in order to obtain a better and more comprehensive one. This makes cTrader review stand out from others.
There is also the possibility of trading with multiple accounts and using the Account Bar permits to easily switch between them. Another important feature of the interface is the feedback button that allows users to offer suggestions or to talk about the difficulties they have encountered. Updating is also realized automatically and takes little time. A lot of localization effort has been put into cTrader, with it being available in 14 languages. While not a big advantage, this sure adds an extra point to this cTrader platform review.
The platform is also available for mobile and tablet devices, meaning that there are versions for the Android and iOS devices. These mobile versions include much of the functionality of the Desktop version making them a viable alternative. The Proxy connection settings can bypass firewalls that are known to disrupt platform connectivity and other services.
There are a number of brokers that offer this platform to their customers, including FxPro and Pepperstone. Even if this number is not large it has every chance to increase, because the
platform is gaining in recognition.
There is support offered for algorithmic trading, with a specialized platform developed specifically for this purpose, cAlgo. This platform is not standalone, it is integrated with cTrader, so that they both work together seamlessly in order to provide effective trading. Chart templates and accounts are shared between these platforms and both are easy to switch between.
cTrader July 2015 Updates
Spotware continuously releases the updates in its suit of software, however the current update is worth mentioning separately. There are a few items released this June that would make this platform as useful as never before, let's check every each of them below.
Switching from MT4 to cTrader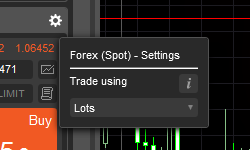 Once a person begun to trade FX, the changes that he will start on MT4 are rather high. This is why it was hard for many to get used to the volume calculated in currency units.
However, this is no longer an issue as you can easily implement Lots in cTrader's volume. This can be enabled from the Asset's settings. Top Forex Brokers would still recommend you to use the volume in the currency units, as volume in Lots is just an invention of MetaQuotes that has no practical use in the real Forex trading. Yet such a feature certainly makes switching from MT4 to cTrader easier.
One account to rule them all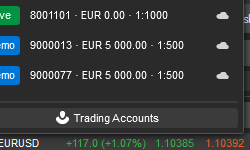 Forget the times when you had to store password of every Live and Demo account. cTrader makes multi-account management easy, as all of your passwords will be stored in the cloud. Once you have logged in to the platform with your cTrader ID, you will be granted with an instant access to your trading accounts.
Next to this, once you have signed into your cTrader ID, all of the Spotware products will be available to you. No need to sign into cTrader and cAlgo separately.
Truly full customisation
c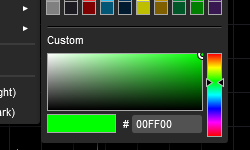 Trader has became even more flexible in terms of the design. First of all, you no longer need to choose amongst the predefined colours, there is now a colour picker available. This way you can pick up any colour from the palette or simply indicate the HEX of the desired colour. Although this feature may not be very useful for the traders, it is quite handy for the analysts that have their own blogs and would like to keep their brand colours.
In addition to the colours, cTrader lets you place a custom image on your chart background. This is also quite a handy feature for the bloggers, analysts and forum participants. In other wards, cTrader let's you place a certain watermark on your charts.
New useful functions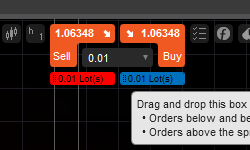 Even though this updates touches mostly upon customisation and ease of access, there are still some updates that make cTrader even more handy. Now there are 3 states symbols in the market watch – a new one is when the symbol is expanded but the DoM is hidden.
Also, trading with cTrader has become even quicker. Now, you are able to easily drag-and-drop your pending orders from QuickTrade Buttons. This works rather simple, set the volume of your trade, pick up a proper marker (depending on the direction of the trade) and drop it over the chart to create a pending order.
This July cTrader excels in the customisation, ease of access and also let's you place your favourite orders in the new way!
cTrader Review Conclusion
The cTrader review shows that the platform is the first one to challenge MetaTrader for the market leader position. That is because of the great interface that makes it easy to utilize the platform to its fullest extent without requiring extensive time to study it initially. The depth of market features are also impressive and will be positively appreciated by many traders. There is also support for algorithmic trading because of the platform cAlgo included in this version. Robots and custom indicators can be created using a programming language that is known to a large segment of users. All of these arguments sum up to confirm that this platform is one of the best available on the market. As you have read now this cTrader platform review, it is a time to choose a cTrader broker!
cMirror Review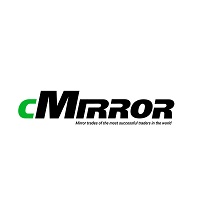 Welcome to Top Forex Brokers' cMirror review. Social trading and copy trading has been a hot topic for a few years, and even though such platforms as ZuluTrade have been quite successful in the field of multi broker platforms, unfortunately most of the other platforms have failed to make traders profit.
In 2015 the hopes of social traders will surely get restored as Spotware rolls out its mirror trader. This platform is expected to shake the world of social trading and provide a sophisticated social trading solutions for cTrader brokers. Find out more about this platform and its features below!
cMirror at a Glance
It has been 6 months since the live release of the cMirror mirror trading platform, the name may seem familiar as it is a sibling of the cTrader and cAlgo platforms developed by Spotware. cMirror is offered by any broker which already offers cTrader, i.e. FxPro. Top Forex Brokers has already reviewed the cTrader platform in detail, and this can be found here. Now it's time for a review on cMirror.
One of the key factors which made cMirror stand out to me is that any Strategy Providers and Mirror Traders are able to interact regardless of who their broker is, this means that the potential of the cMirror community is essentially unlimited.
Launching cMirror Platform
When you first launch cMirror you will Spotware's introductory video which briefly explains what you can do with the platform, it is more promotional than educational in tone. At first impression it is very striking in appearance, clean and simple with a nice color palette just like cTrader. Without being logged in I see a blank space in the left hand section of the interface, telling me to sign up or login with my cTrader ID, since I have recently watched Spotware's first Learn to Trade video I know exactly what to do here.
It is quite easy to either sign in or create a cTrader ID as you can use either Facebook or Google sign in automation, or just use your email address if you don't want to use those methods.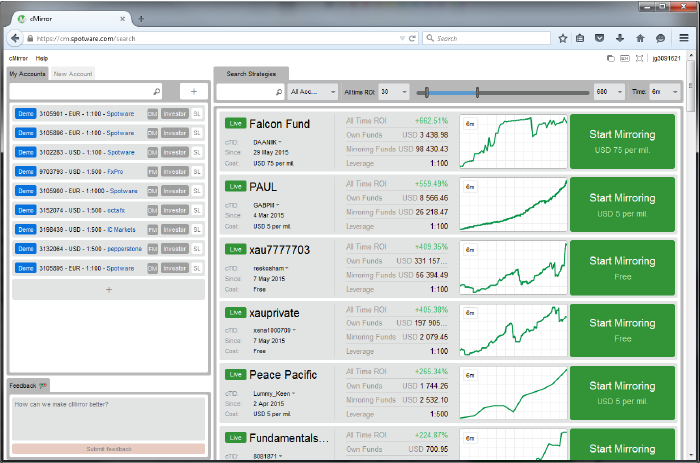 Once I am logged in I can see my list of cTrader accounts here, since I already have a cTrader ID. There is a + sign beneath my list of accounts, by selecting this I can link other existing cTrader accounts or create new demo accounts. Next to my account number and and properties (account currency, leverage, status) is the name of the broker and a direct link to their cTrader Web.
cMirror Strategies
Finding strategies is quite simple, you are shown a list of all strategies, with a preview of the performance. Strategies are displayed in order of highest All time ROI to the lowest. You can use either the handles or drop down menu to adjust the strategies which are displayed. The time period to the right does not affect what strategies are listed it just adjusts the chart which is displayed in the strategy preview. You can also filter which accounts are shown, only live, only demo or both. You can search for specific strategies if you already know the name you are looking for.
By selecting a strategy you will be taken to that strategies full profile where you are given a great deal of information to assess the performance to help you decide if you want to follow. There are 4 different charts, ROI%, ROI in USD, Balance & Equity and Volume break down which visually display a great deal of information.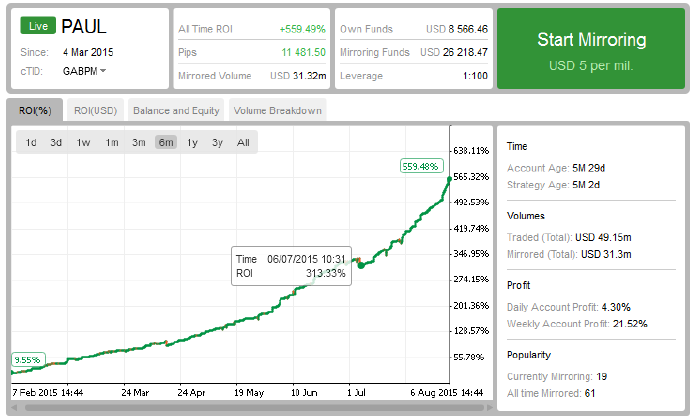 If you want to dive even deeper into analyzing a strategy's success you can view a table of the strategy's performance which shows some key factors, which can be filtered to show only a specific symbol or time period.
You can also switch tabs to see the accounts open positions and live conditions, such as Balance, Margin, Equity and Unrealized P&L as well as the account's entire history. All of this information makes cMirror incredibly transparent and provides a variety of information allowing Mirror Traders carefully to assess the factors which are most important to them.
cMirror Advantages
We really like that cMirror identifies the platform which trades originate from because this helps you to identify the type of trader they are. For example if "cAlgo cBot" is identified as the Channel it tells you that the Strategy Provider is using a trading robot or if "cTrader Android Phone" is identified as the Channel it tells you this strategy provider is trading from their mobile phone.
You can also see any Trading Commissions and Swap charges applied to a deal or open position, however there is no clear way to see the spread. From what I have seen most cTrader brokers charges are on a similar level so this factor should not cause much problem.
The section to the right of a strategy's chart shows some interesting stats regarding history and popularity of a strategy, for example how many people have mirrored this strategy, how many currently are and amount of volume which has been mirrored.
How to get started with cMirror Trading?
Once you have identified a strategy that you want to follow, simply click start mirroring and you will be presented with some options, you can choose the account which you want to use to follow and then the volume percentage you want to mirror, cMirror will make a suggestion based on the balance of the account which has been selected and the balance of the Strategy Provider. Once you are following a strategy you can change settings at any time as well as add Forcing Stop Loss and Forcing Take Profit which will overrule the strategy provider, you can even choose to mirror the opposite of what a strategy provider does.
Once you are mirroring a strategy provider, those trades will be executed in your cTrader applications, meaning you can change anything at any time if you feel that at any time your Strategy Provider is being neglectful or irresponsible with their trading.
How to Become a Strategy Provider at cMirror?
Becoming a Strategy Provider is very simple, just select one of your accounts from the left hand "My Accounts" section, give your strategy a name, choose how much you want to charge and select become a Strategy Provider and start trading from your preferred Spotware platform. Any trade you make will be automatically mirrored by all of your followers according to their volume settings.
If you find the light colour theme a bit too bright, you can switch to a dark colour theme.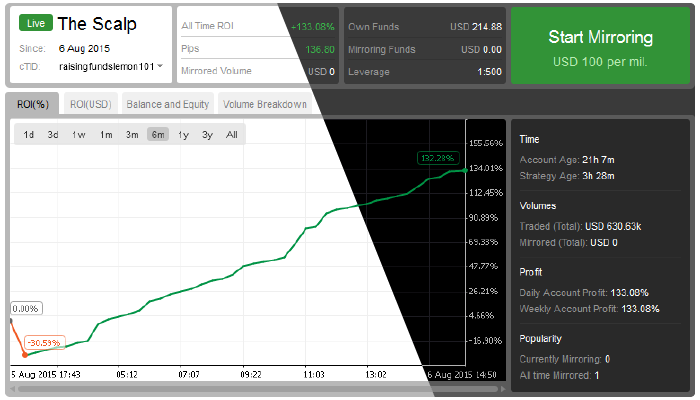 cMirror Review Conclusion
We think cMirror is the perfect compliment to the cTrader Suite, to engage and attract both new and experienced traders, we believe the key benefit for Strategy Providers is the ability to trade from cTrader or cAlgo. It is very intuitive and easy to use, delivers a high level of transparency, most of which is clearly displayed using advanced analytic charts making it quick and easy to interpret a great deal of important information. The main drawback is the lack of supporting brokers, currently there is only a handful of brokers offering this service.