101Investing Review – What a trustworthy broker should look like

When searching for a trading counterparty, you should try to look through every important detail of the broker and determine their sturdiness. This is true for the license, as well as other trading terms and conditions.
And that's what we're going to examine for our review of the 101Investing CFDs Broker: its licensing, account types, trading assets and offerings, and many more. So, let's get right to the review.
A brief look at the broker
101investing is a Cyprus-based CFD brokerage that has quite an expansive global reach and offers its services to many countries. The company is licensed to provide investment and ancillary services to registered clients within European Union, Economic Area and Switzerland. Besides CFDs on Forex, it also supports CFDs on Stocks, Commodities, Cryptocurrencies, Metals, and Indices.
101Investing is operated by FXBFI Broker Financial Invest Ltd, the company is regulated by the Cyprus Securities and Exchange Commission (CySEC). The company is subject to strict regulations and guidelines. The company policies are in line with the national and EU regulation including MiFID directive. They also work with state-of-the-art technology that ensures the safety of all clients' transactions.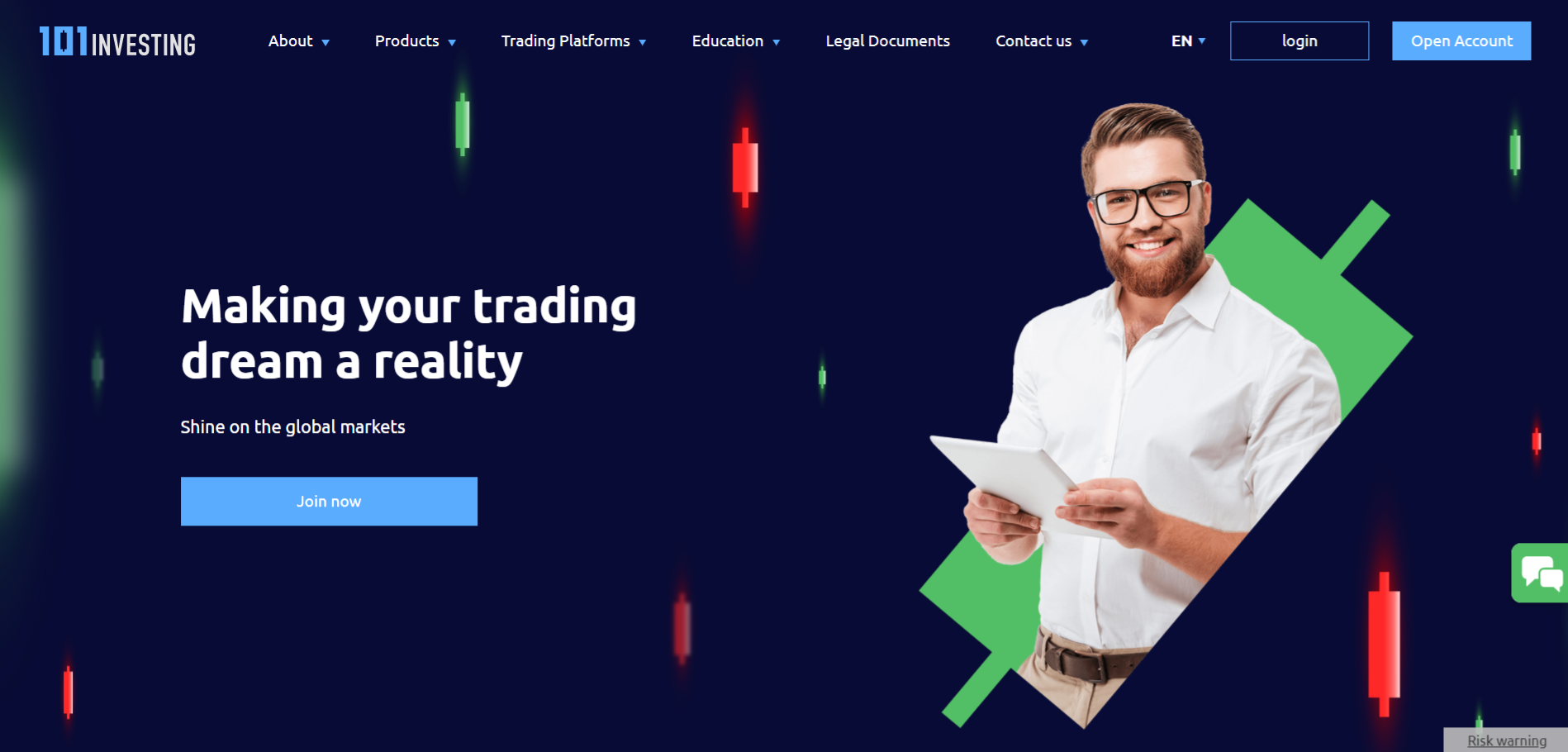 An additional advantage of this broker is that it goes without charging unnecessary fees. Every 101Investing account is commission-free, there are no fees for the actual trades, and even your deposits and withdrawals (with some exceptions) are free to make. The only stable source of income for 101Investing comes from bid/ask spreads, which are also pretty low.
For these and many other features, including educational and research materials, our 101Investing opinion is already very promising. Now, let's get to an in-depth review and find out all the details about this broker.
101investing's trading instruments and their conditions
First off, let's see which financial instruments you can trade at 101investing. As we have already noted, the broker gives access to a variety of assets including CFDs on:
Forex
Cryptocurrencies
Commodities
Stocks
Indices
Metals
In total, there are over 250 assets to trade through CFDs at 101investing. But you won't be needed to buy the actual assets and then exchange them; they're offered as CFDs, which means you speculate on the price of the underlying asset you will choose. You can make profit or loss depend on the price fluctuation of the underlying asset, and on the direction chosen Buy or Sell.
When it comes to margin trading and the maximum leverage, you can get a 1:500 leverage at 101Investing if you fall in the client category of the professional traders. However, that's only possible for the Gold and Platinum accounts. For retail clients, the maximum leverage will be locked at 1:30, in accordance with the financial regulations of the European Securities and Markets Authority (ESMA).
Can 101Investing be trusted? – The license overview
The next important segment of our review, and the one that will greatly affect our 101Investing rating, is the broker's license. As we've already pointed out, 101Investing operates by FXBFI Broker Financial Invest Ltd, the company is regulated from the Cyprus Securities and Exchange Commission (CySEC). Under the license number of 315/16.
Most importantly, they make sure client's funds are segregated from corporate accounts and are deposited in first-class and global banking institutions. What it basically means is that your money is stored on separate bank accounts, which implies that in case of any financial hardship, the broker won't use that money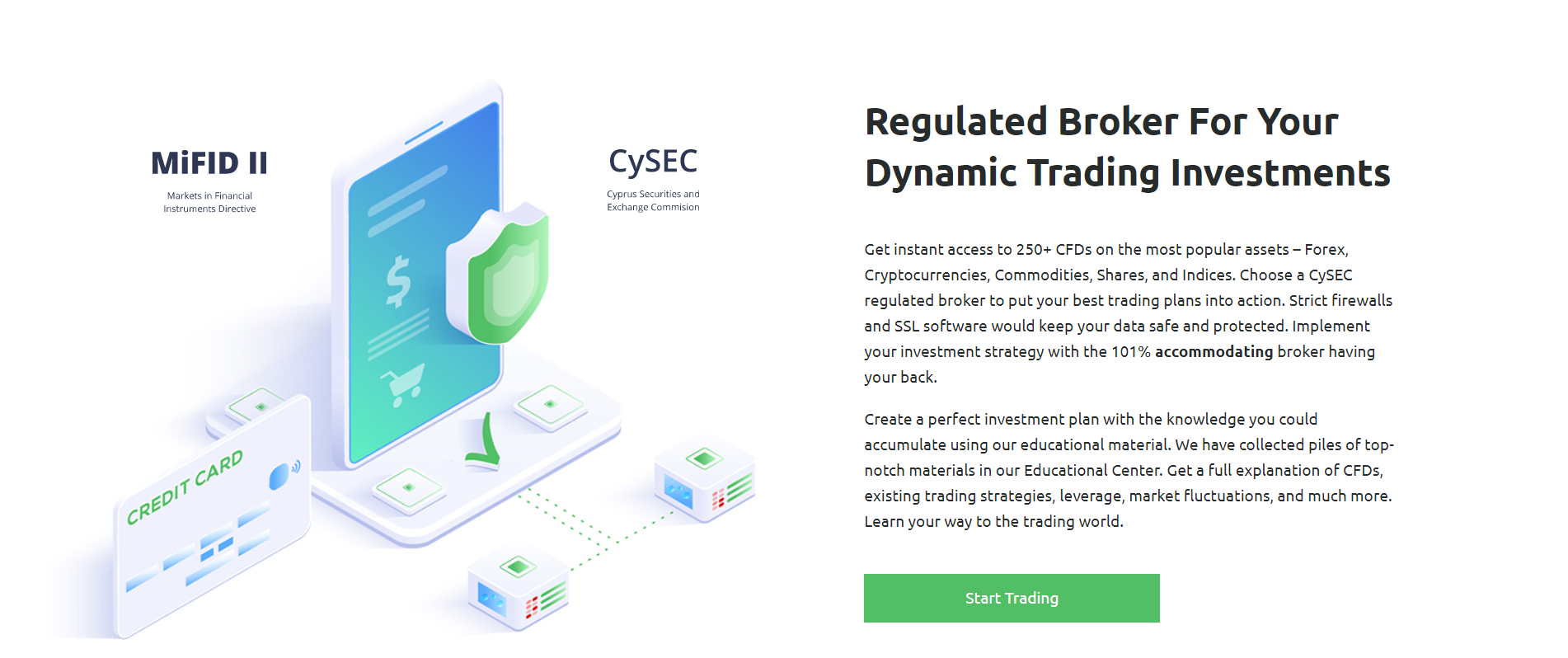 The Company is a member of the Investor Compensation Fund (the "Fund") for Clients of Cyprus Investment Firms (CIFs) under the Investment Services and Activities and Regulated Markets Law of 2017 L.87(I)/2017 ("the Law"). The objective of the ICF is to secure any claims of the covered clients against companies- members of the ICF. The main essence of the ICF is to compensate covered clients for any claims arising from the failure of a member of the ICF to fulfil its obligations towards its clients despite whether that obligation arises from the legislation, the client agreement or from wrongdoing on the part of the member of the ICF.
And then, there's also a negative balance protection mechanism. i.e. the Client's losses will never exceed the Equity per Trading Account. The negative balance protection limits the maximum losses that a Retail Client could have. In this respect, the Company's Clients can never lose more than the total sum invested for trading in CFDs.
What negative balance protection does is it closes the trade the moment you reach zero account balance, which is super convenient way to try to manage your losses.
101Investing Trading Accounts
Next up, let's take a look at which account packages you can get at 101Investing.  Each account reflects the services available to you. Choose the account that best reflects your trading budget and needs. During our 101investing.com review, our team found four different accounts types:
Silver
Gold
Platinum
Pro Exclusive
Obviously, these accounts have different features. For instance, the maximum leverage depend on the account choice, CFD asset class and the client categorisation : the Silver account has 1:200 leverage, Gold and Platinum accounts – 1:400, and the Pro Exclusive account – 1:500. The leverage level depends on the account you choose, the client categorization you fall in and as well as the CFD asset class.
As for the deposit requirement, 101investing requires you to deposit 250USD or the relevant currency equivalent as a minimum deposit. This is a very decent requirement that shows with 101investing has flexible access standards it also shows that there's some level of entry threshold that you need to fulfill.
101Investing promotions
During our 101Investing review, we tried to look for additional promotions that give you more incentive to trade on this platform. After a thorough search, however, we weren't able to find anything.
Yet this is not something that denigrates the credibility of 101Investing. The broker shows that it would rather focus on more important features, including trading terms and conditions, software, and many more, than spend its time on fleeting bonuses that don't last long.
Are you paying much for 101Investing services?
Speaking of more important features, one of the biggest focus points of 101Investing is its commissions. During the review of the website, we found that there are either no commissions or the ones that are active are quite low and accessible.
For example, when you create a live account at 101Investing, you're not required to pay any commission whatsoever. In fact, there are no commissions for trading individual securities.

The main trading fee that you'll pay to the broker will be spreads. The minimum bid/ask spread for Forex pairs can go as low as 0.03 pip, which, as you can see, is a very low trading commission.
Another trading fee for overnight trades will be swaps – the interest rate differential between the two currencies of your pairs. And depending on whether your currency has a higher or lower interest rate, the broker will either charge or credit the swap to your account.
When it comes to non-trading fees, 101Investing tries to repeat the pattern and eliminate commissions where they're not necessary. For that reason, deposits are completely commission-free, as well as withdrawals, yet some conditions for the latter will apply. For example, if your account wasn't active before the withdrawal or you had only placed one trade before, you'll be charged 50 EUR per withdrawal. Plus, withdrawals below 100 EUR are also going to be charged.
And finally, there's the inactivity fee, which ranges from 80 EUR all the way to 500 EUR, depending on how many days you've been inactive. This is probably one of the least worrisome commissions you can find on the market, simply because you can deactivate your account when you no longer want to trade.
101Investing withdrawal and deposit methods
When it comes to deposits and withdrawals, 101Investig Forex broker gives you huge flexibility as to which financial platform you want to use. There are dozens of methods for transactions, namely:
Visa, MasterCard, Maestro credit/debit cards
Bank wire
Skrill
SafeCharge
eMerchantPay
Worldpay
Solidpay
Paydoo
And many more. You can deposit, as well as withdraw money to/from your account with these methods, and in quite beneficial conditions at that. For example, we've already noted that deposits at 101Investing aren't charged a single buck, and they're usually finalized in one business day.
As for withdrawals, there will be some conditions when you'll be asked to pay an additional charge. And the transaction time will vary between the same day or the next day.
Expanding your trading knowledge at 101Investing
With 101Investing, that's exactly what we saw during this review. The broker provides numerous ways for you to educate yourself. More specifically, there are:
VOD (short educational videos)
Ebooks
Tutorials
Courses
In the VOD section, you can watch tutorial videos about four different topics: Beginners, Advanced, Terms, and MetaTrader.
There are variety of educational sources like Ebooks, webinars and articles that you can use to enhance your trading skills.
With tutorial videos, you can find out how trading platforms at the 101investing work and how you can be a different version of yourself.
And finally, there are online courses that are probably the most interactive and engaging methods of education at 101Investing. There are six separate courses that give you an in-depth look at what different strategies, social trading, and other features look like.
Trading platforms you can use at 101Investing
Now, once you have created a live trading account and have deposited a sufficient amount of money on it, then you can place your first order. And for that, you can use 101Investing's MetaTrader4.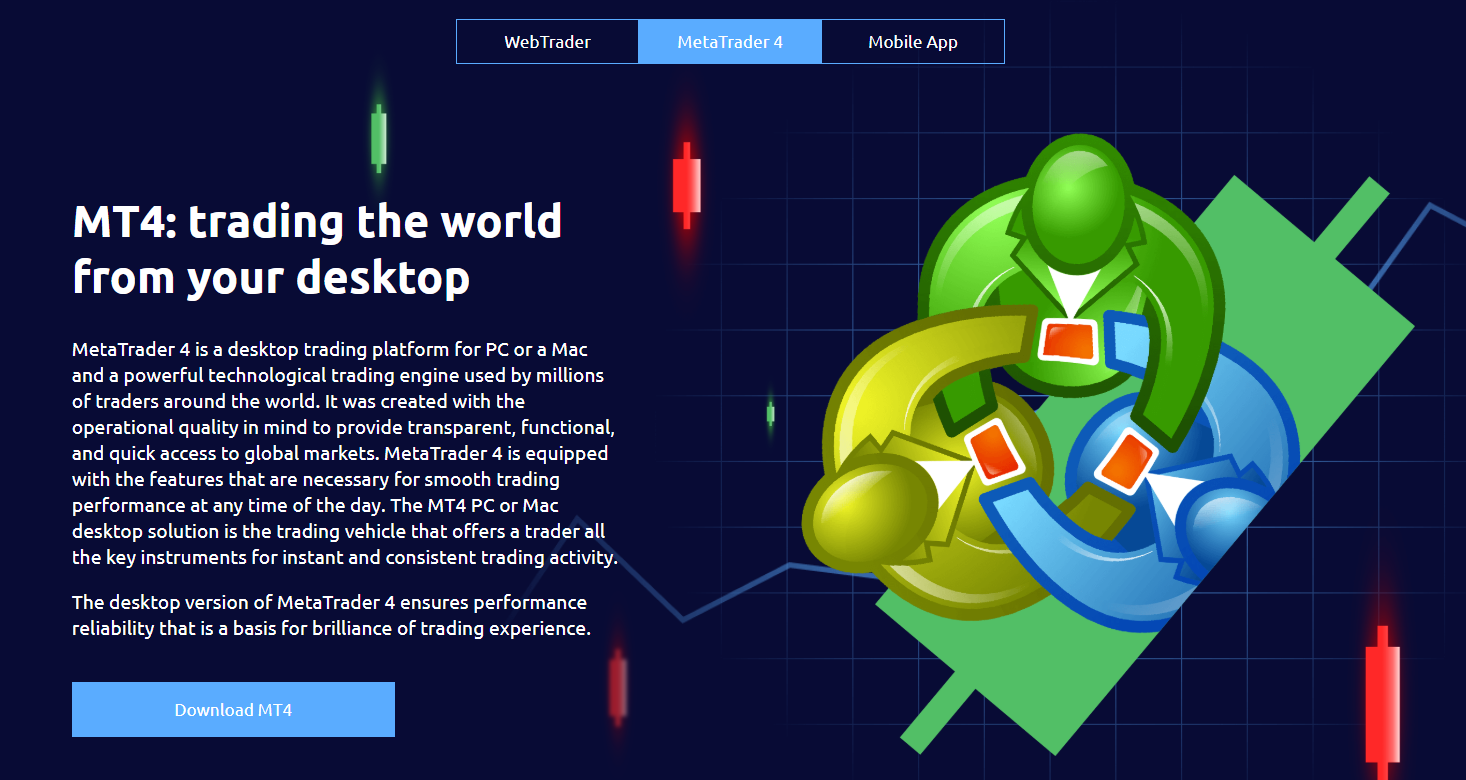 MT4 is a very popular trading software that is known to be as stable and trustworthy during the actual process as it gets. The majority of Forex brokers support this platform because it is very simple to use and allows for greater customizability.
As noted above, you can trade more than 250 different instruments at 101Investing, and its MT4 platform will handle all of your orders without a problem. Besides, the software allows you to place four different order types: market, instant, request, and exchange. What this allows you to do is use the exact order speed that you're comfortable with.
Besides, there are dozens of technical indicators, as well as drawing tools and shapes that can help you better analyze the prior price movements and make better predictions for future ones. In short, the desktop MT4 is one of the most sophisticated platforms you can get from the 101Investnig Forex broker.
What's more, you can also use the same software for your web browser and mobile platform, be it iOS or Android. This is definitely a big advantage of 101Investing as it gives you the ability to trade no matter where you are.
Is customer support helpful?
Finally, let's have a look at the customer service section available at 101Investing. Our team of reviewers found that there are three main ways you can contact the support team:
Phone number: +357 80092740
Email: support@101investing.com
Live chat
One universal similarity between all of these methods is that the operators were super-helpful no matter which method we used. However, for more immediate responses, we found that online chat or phone call is the best method to use, whereas email support gives you more in-depth answers.
Our ultimate rating of the 101Investing FX brokerage
In conclusion, 101Investing is a CFD broker eith headquartes in Cyprus and offering a bunch of variety of assets to trade CFDs with.
The company is licensed from the CySEC, as well as is legally obedient to strict regulations and guidelines.
Trading conditions, as well as commission charges at 101investing, are quite interesting: the leverage goes up to 1:500, whereas spreads go as low as 0.03 pip. The broker does not charge deposit and commission fees, but other fees are applicable as mentioned above.
As for trading accounts, trading platforms, educational materials, and other features, 101Investing manages to keep up the pace and maintain high standards, which means your funds are held by the right brokerage.
So, can 101Investing be trusted? Our answer is: absolutely!
CFDs are complex instruments and come with a high risk of losing money rapidly due to leverage.
Between 74-89 % of retail investor accounts lose money when trading CFDs.
You should consider whether you understand how CFDs work and whether you can afford to take the high risk of losing your money.