XM Group is a Forex trading company with a wide choice of trading tools and accounts to increase the features and possibilities for investors with the maximization of personalized and customized trade accounts. That is why during the 10 years of international trading experience, XM group has several account options such as XM ultra low, micro, standard, and other types of accounts.
Down below, we will outline two demanded types of accounts: XM ultra low and XM ultra micro accounts. More specifically, we will describe the features, details of the types of accounts, and their comparative analyses that give more clear illustration for those who are new or interested in Forex trading.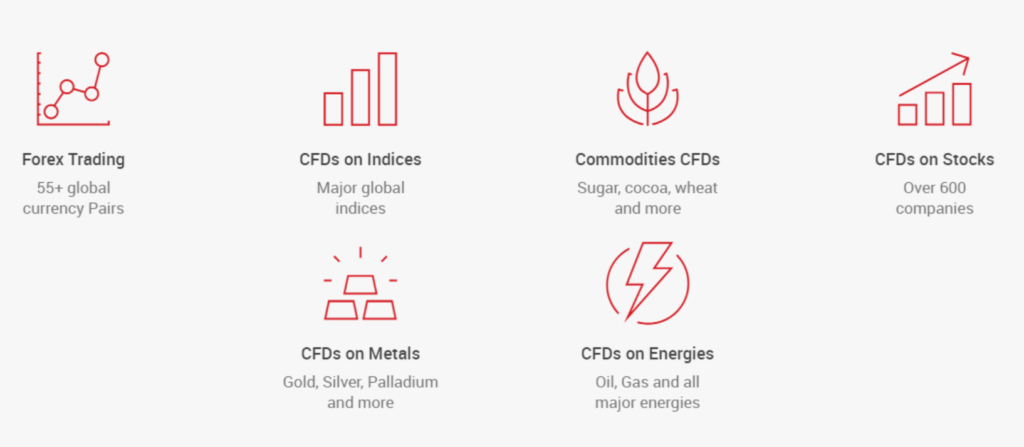 XM Ultra Low Standard Account Description
For those who want to start trading with the minimum requirements and deposit, XM ultra low standard account is the best type of option. This gives investors the possibility to use all trading platforms and functions with the minimum amount of deposit and pretty tight spread ranges.
Trading with that type of account is possible to start with MT5 or MT4 software. This software is widespread and used and known for its diverse choice of options or indicators. Account owners do not have any limitations on market access and they can easily sell the assets in different types of markets, including indices, Forex, and others. Most importantly, XM ultra low account does not require any commissions.
Main Features
XM ultra low account has the most convenient and useful features for investors. First of all, there is negative balance protection which is quite significant and this feature is included in other types of XM accounts. Without any kind of commission, there are the maximum pending orders with 300 positions and the account has unique currency options for users. The following features can be considered and listed as the advantages of choosing XM's low standard account.
The minimum Deposit
XM ultra low standard is special with its low deposit requirement. The amount is affordable and convenient for most investors and equals 50 USD.
Currencies
XM ultra low standard suggests the customers' wide range of base currencies that includes the main general ones such as USD and EUR, but also ZAR, SGD, and AUD. The opinions are the most optimal compared to other types of XM accounts. These currencies are most popular around the brokerage market which creates more convenience for users.
Contract Size
For XM ultra low standard account users there are several contract sizes available. They are personalized by financial companies and vary according to asset type. XM ultra low includes two types of contract sizes. The first is Micro Ultra where 1 lot amounts 1 000 and Ultra-Low where one lot amounts to 100 000.
Spreads
Ultra low standard XM has a better offer with spread compared to other types of accounts. Here is the tightest spread on all majors from 0.6 pips. Because spread is one of the ceratin ways how brokers earn money, the investor should pay attention to its changes.
Leverage
The leverage level for XM ultra low standard account starts from 1:100 and finishes with the maximum ratio of 1:200. The ratio changes according to the capital and used financial instrument.  We need to mention that the leverage ratio of 1:100 is a great opportunity for those who want to act with a low-risk ratio and for those who are new and inexperienced investors. This is the way to increase progress and improve trading with low risk.
Open XM Ultra low standard account today!
XM Micro Account Description
XM ultra low micro account is a great option for developing trading skills.  As with other account types from XM, the micro account does not require any starting commission and has active negative balance protection. With the minimum trade volume, it starts from 0.01 lots while using MT4 which changes to 0.1 with MT5. The following described features are the advantages sides of using a micro account from XM.
Contract Size
Traders always need to pay attention to contract size since it plays an important role in the planning part. With Micro account XM, 1 lot amounts to 1000.
Available Currencies
This type of account suggests to investors a wide range of currencies including the most used ones and fewer spread ones too. Specifically, you can discover general currencies such as USD, CHF, JPY, EUR, and GBP. AUD, PLN, ZAR, SGD, HUF, and other currencies are also available.
Leverage
XM in micro accounts includes similar leverages as in other types of accounts. Because of financial instruments' role for XM micro account, the leverage starts from 1:1000 and continues with 1:200. The maximum leverage is 1:888 which is the way to multiple returns.
Open XM Ultra Micro account now!
Spreads
The spread for a micro account is 1 pip. This is the difference between the asking and bid price, and once again, it is important for you to check the spread levels before you start trading.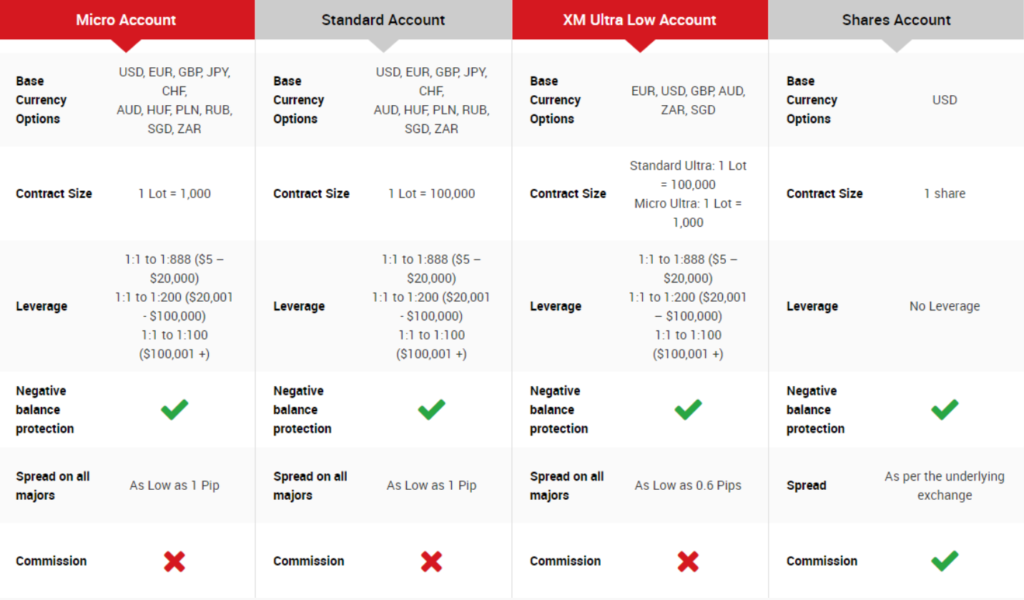 Comparison: XM Ultra Low Standard VS Micro
Similarities
XM ultra low standard and micro accounts have similarities connected to the general features. First of all, it is needed to mention that both types of accounts are concentrated to make the most affordable and convenient conditions for every kind of trader. That is the reason why none of these account types have starting commission and offer customers protection for negative balances.
Also, the similarities are in leverages, which start from 1:100 and the maximum is 1:888.  Also, the minimum deposit of 5 USD is the same for both accounts. The maximum positions that clients can open are also the same with 300 positions for each. On the disadvantages side, none of these accounts offer non-EU users protection which is featured for all types of accounts from XM.
Differences
We discovered more differences than similarities between mico and ultra low standard accounts. First of all, a micro account offers the users more wide range of available currencies whereas the ultra low XM account only suggests the most speeded general currencies and not the ones such as HUF, PLN, or RUB.
Another difference is in contract sizes. Specifically, the ultra low account suggests the users two types of sizes, standard ultra, and micro ultra ones, whereas the XM micro account only has one size of contract with 1000 per lot which is the micro ultra size of contract.
The difference is also in spreads. For example, in the micro account, it is equally as low as 1 pip compared to the ultra low standard account where it equals 0.6 pip. On the other hand, there is a difference between lot restriction per ticket which is 100 lots for the micro account, and with the ultra-low standard account is added standard ultra lots with 50 per ticket.
FAQs On XM Ultra Low Standard VS Mico Account
Which type of trader can choose XM Ultra Low Standard account?
What are the main pros of XM micro account?
Which is better: XM micro or Ultra Low standard account?