VideForex Broker is an online Forex broker, which claims to be the industry's one of the most successful Forex brokers. According to them, the advantages of using their service include guaranteed withdrawals within 1 hour, the possibility to trade over weekends, and 100% secure trading with data protection.
We decided to re-check if the facts stated by them were true. In this review, you will find out all the necessary information that might influence your decision-making process. The most important part when dealing with such brokers is whether they are regulated or not. As the main webpage of VideForex suggests, they are regulated, but there is no further information about the details.
What this means is that they are not regulated, do not hold a decent license, and you can not trust them with your financial assets. Generally, fraudulent companies try to provide you with only one piece of information, hoping that you won't check other credentials.
The leverage offered by VideForex FX Brokerage is up to 1:100 which is quite normal for the market. As for spreads, they are not fixed and move somewhere between 3 to 5 pips for the most popular currency pairs. This company provides its customers with Web and mobile platforms, giving them the ability to stay connected with the global market and never miss a good trading opportunity. However, we were not able to find traces of MT4 or MT5 platforms, which are the most used platforms by the majority of reputable brokers.
The minimum deposit amount is set to $250, meaning that you will not be able to start trading until you deposit at least 250$. Minimum deposit requirements might even go up, depending on which type of account you decide to use. The promotions section of VideForex is quite rich, as there are contests, referrals, and giveaways available for all kinds of traders. One can open a Bronze, Silver, or Gold account. With each of these, it is possible to trade Forex and CFD products.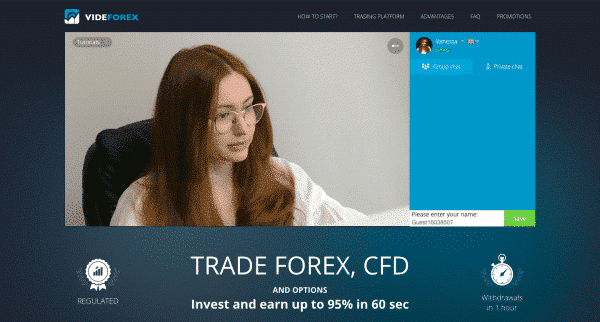 VideForex has 24/7 available customer support on their website, which can be accessed by a video chat feature – that is quite innovative and comfortable, meaning that you can resolve all your problems in a matter of minutes with the help of a professional customer support team. Other than that, you can also contact them via the phone number, email, or a web contact form.
Is VideForex Legit?
No, VideForex is not a legit Forex broker, as it owned and operated by The Financial Group Corp (FGC). FGC is a company that is located in Vanuatu – that is an offshore location not controlled by any financial regulatory body. Generally, offshore zones are home to scammers and fraudulent companies, so that it is already a red flag.
What's worse is that the advertisements made on their main website say that they are regulated, which is definitely false information, aiming to trick customers into their system. Customers using unregulated brokerage companies are at high risk of losing money as if something inconvenient happens (e.g they steal your money), there will not be a financial regulatory body that will take necessary actions to protect you as a client. We advise you to always choose regulated broker so you don't have to worry about money or privacy issues.
VideForex Review – Trading Conditions
In order to evaluate whether this broker is worth your time, money, and attention, we decided to provide you with further information on trading features, so you will not feel like you are missing out on something. There are a lot of important indicators that one should keep in mind before choosing a Forex broker, so let's take a look at all the important features that VideForex has to offer.
Leverage & Spreads
As we already mentioned earlier in this VideForex review, the maximum leverage available for customers is up to 1:100, which can is actually quite normal. In fact, it is a little higher when compared to the regulatory framework of countries of EU, Australia, USA, and many others.
In addition, trading costs do not look very nice and they do not help low-risk trading, as spreads are quite high and excessive. The spreads are somewhere between 3 and 5 pips which is not competitive at all compared to the other reputable Forex brokers that we have come across in the past period.
Account Types
If you decide to sign up for VideForex, you will have a free choice to choose from one of 3 types of accounts including bronze, silver, and gold. Each of them comes with its own specifics and requirements. Let's take a look at the most popular type of account – Silver. What Silver features are 24/7 live video chat support, withdrawals in 1 hour, 50% bonus, first 3 risk-free trades, etc. With the gold account, customers have the ability to take advantage of a 100% bonus and have a personal success manager.
The good news is that the website has a demo account option available, giving you the possibility to test out its financial services for free without actually risking any of your financial assets. However, it is important to note that a demo account is only available for verified users that are actively making deposits – this can be a minus, as the majority of FX and CFD brokers have a free demo account available instantly, without additional requirements.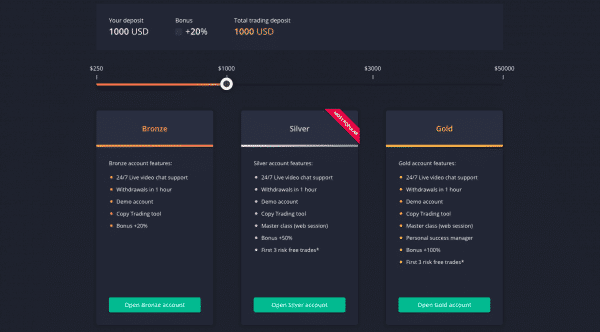 Once you start trading, you have multiple funding and withdrawal methods available at your hands. Transfers are supported by popular providers such as Visa, Mastercard, Bitcoin, Ethereum, and Perfect Money. The majority of them come with no transfer fees and funding time is instant. Withdrawals might take up to an hour for all types of payment methods. Withdrawals also come with no additional fees except for Visa and Mastercard – they have a 5% commission for transactions.
Minimum Deposit
The minimum deposit requirement is set to 250$ and it can go up to 3000$ for a gold account. This amount is not very high compared to the industry's standard (which is somewhere between 50 and 100 USD), but there are a lot of other brokers that have lower requirements, and going for them might be a better idea.
Bonuses
Bonuses are not very common in the Forex industry, as the majority of financial regulatory bodies restrict brokerage companies to attract new customers through promo codes. Since VideForex is not regulated, they have the ability to have promotional offers available on their website. The promotions section is quite rich – there are multiple giveaways available offering different kinds of rewards including Apple Watch, iPad Pro, etc. In order to enter the giveaway, one has to activate the giveaway promo offer in my promotions section and fund account. Once the deposit is made, it is possible to be part of the giveaway contest. Currently, an ongoing trading contest is available for both – experienced traders and newcomers, giving them the possibility to win a prize fund of 20000$.
The separate bonus for a Bronze account is 20%, while the gold is up to 100% – these are offered to new account holders, however, it is important to note that bonuses always come with trading conditions that might not always be in your favor, meaning that it sometimes prevents you from withdrawing your money until you have traded a minimum required volume.
All in all, we can say that some trading features might look attractive to our readers, for instance, the presence of bonuses might be a plus as the majority of forex brokers do not have them, but this alone, is not enough for you to trust VideForex. Other indicators, such as spreads and leverage (which are one of the most important features) do not look very attractive and along with minimum deposits do not correlate with the industry's average.
VideForex – Final Verdict
We believe that VideForex has some good features including innovative customer support, attractive bonuses, and the choice to trade more than 150 financial assets. But all of these do not have much value when you know you are dealing with a broker that is not licensed, lies about it, and tries to position itself as something that it is not.
Other than not being regulated, the trading conditions offered by VideForex need improvement, and the trading platforms are not as competitive as other popular platforms used by the majority of Forex brokers (such as MT4, MT5). Once again, our kind advice to you is to go for a brokerage company that is fully licensed and regulated, so you don't have to worry whether your funds are in safe hands or not.
What are the requirements for withdrawal at VideForex?