SotFX Forex Broker is a trading company that gives both – newcomers and experienced traders access to different financial markets. As this brokerage claims, they are mainly focused on bringing the world of trading to new generations. The most important part about any of such platforms is whether they are licensed or not, as you are going to trust them with your financial assets. Unfortunately, we could not find any valuable information about licenses on their webpage, and the "about us" section does not provide such info as well. This is the first red flag because if something inconvenient (e.g stealing money) happens, customers will not be able to do anything about it.
The broker mentions that the leverage offered by them goes up to 1:500, which is quite high compared to the industry's average and may cause traders to lose a decent amount of money. As for spreads, the spread of EUR/USD is 0.5 pips. The SotFX FX brokerage uses the MT5 platform which is a good sign, as it gives customers access to 500+ markets. Right now, assets offered on the website include Cryptocurrency, Stocks, Trade Forex, CFDs, Metals, and Indices. Sadly, we could not find any information about minimum deposit requirements. Hiding it may have several reasons, they are either very high or the company is a scam.
As the platform mentions it is possible to trade 215+ markets from 3 types of accounts including a standard account, demo account, and agent account. SotFX currently does not have any active bonuses or promotions which is quite strange as such offers are quite common in the industry and this is another red flag – adding extra value to your current bankroll is never a bad idea.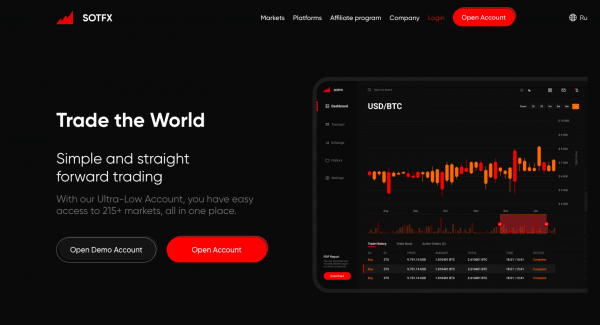 Is SotFX legit?
Considering the fact that SotFX is based in an offshore region – Marshall Islands means that it does not have any financial regulator. Generally, offshore regions are home to scammers and frauds, but it is completely up to you to decide. Not having a license means that brokers will not face any negative legal consequences for their wrong actions. So, we think it is very clear by now what SotFX is an unregulated broker, and trusting them with your money might not be the best idea. We advise you to do your research before choosing a forex trading platform.
SotFX Review – Trading Features
In order to find out whether this platform is trustworthy or not, we decided to provide detailed information about trading features in this SotFX review, so you are aware of the risks that might be involved with using this website.
Spreads
As we already mentioned, the spread on EUR/USD currency pair is 0.5 pips, which is quite competitive, as it matches the industry's standard. However, this alone is not enough for us to believe that this platform is legit and trustworthy, because other indicators should be on point as well.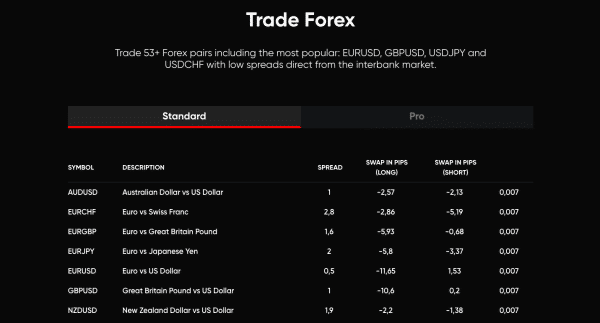 Leverage
SotFX says that they offer leverage as high as 1:500, which is above the industry's average and might be a little risky for a beginner trader. As for the experienced ones, this is quite normal but might still involve the risk of losing money while making trades in different markets.
Account Types & Minimum Deposit Requirement
Account types offered on their main webpage include demo, standard, and agent account, however, there is no additional information about them. Having a demo account is already a plus, as it gives customers the ability to try out their trading services for free, without actually risking actual money. It would be better if SotFX would mention something more valuable about the benefits of using each account as well as providing minimum deposit requirements, but unfortunately, we were not able to discover it which means that they are either very high and unbeneficial, or the company is hiding something else. Either way, this is definitely bad news.
Bonuses
The site does not say anything about promotions or bonuses, which automatically means that they do not have them. Having bonuses is an unspoken rule for such platforms, as it is a great way to attract new customers as well as keep loyal ones. Once again, this is suspicious and gives us the possibility to think about whether SotFX is a scam or not.
All in all, we could say that Leverage & Spreads are quite normal and correlate to the industry's standard, however, this alone is not enough as the provider failed to give its customers valuable information about important trading features that might influence their decision. That's why we would not recommend this platform.
SotFX – Final Verdict
Not being regulated is already a sign that the broker is not worth your money and time. Nowadays, a lot of websites are trying to trick new customers into their system by creating an attractive website and offering some benefits that might catch their attention. While it is true that the website has some good qualities, there are several red flags that we already mentioned – it leads us to believe that this offshore website might be a fraud.