The broker you choose for your trading endeavors should be trustworthy. It's a piece of common knowledge that every successful Forex trader knows. They have realized – some in a very hard way, – that overlooking this task and failing to find the right brokerage for your needs can lead you to a financial disaster.
Unfortunately, the internet is full of scam brokers, as well as reports from scammed clients from those brokers. It is incredibly easy for such fraudulent entities to set up a brokerage company of their own, paint their offerings as the most exciting and lucrative, and attract lots of new customers.
However, there are also those brokers that care about their clients and their financial security. And finding them is not necessarily difficult, it just takes some time and effort to do research of the supply market.
Our team on Top Forex Brokers has set a goal to help people make a correct decision. That's why we regularly select different brokers and offer our in-depth review of them. Today, we'll be talking about one of the most popular brokers on the market, MultiBank.
In this review, we'll take a look at the broker's website and software support, then move to the licensing materials and determine how regulated MultiBank is, and finally, we'll assess the actual numbers on the platform. So, let's get started.
Initial MultiBank review
MultiBank FX brokerage is probably one of the best definitions we can find when we want to put forward an example of an international financial company. According to our MultiBank FX review, the headquarters is located in Hong Kong, while the company fields an impressive number of around a dozen offices across the whole world.
Offices can be found in the United States, Germany, the Cayman Islands, China, Spain, the United Arab Emirates, and many many more countries.
However, the number of offices don't necessarily speak about the quality of the broker. That much needs to be determined through extensive research of their offerings, which is exactly what we'll do in this review.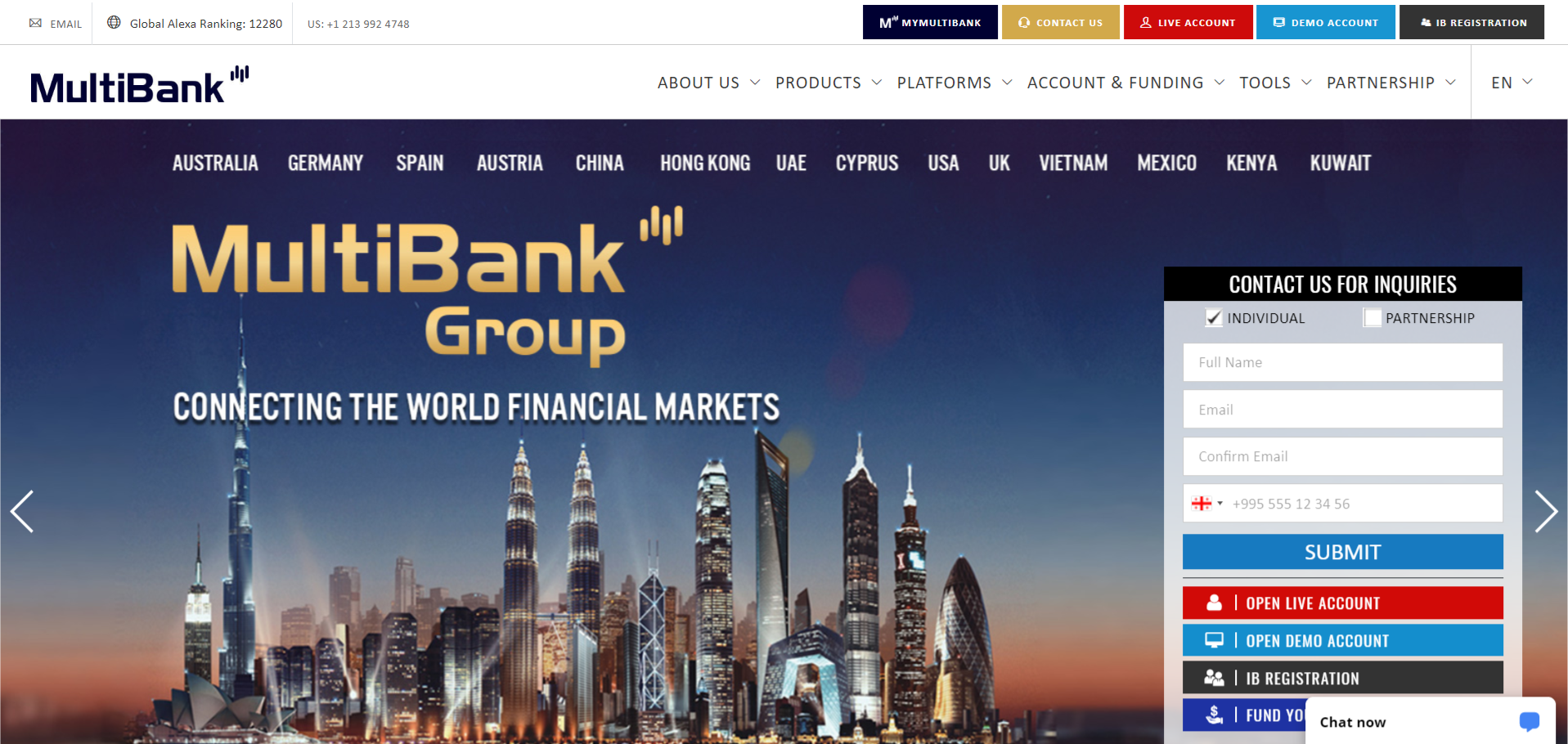 A brief multibankfx.com review
First off, let's fire off our initial overview with the website because that's the first thing the users get in touch with. In our experience with this website, we can say one thing for sure: while not necessarily the most visually simplistic website in the world but when it comes to delivering the top-notch online experience, the multibankfx.com clearly does its job very well.
Admittedly, the visual aspect of the interface is a bit overcrowded with visual decorations: heavy imagery, various transition or parallax effects, etc. However, this doesn't take away a decent experience for finding the right information about the broker. Whether you want to get the details about the license, trading terms and conditions, or the account types, this website can take you to the proper section in just a single click.
Speaking of account types, there are three types of main account packages on Multibank: Live, Demo, and Islamic. The Live account itself can be divided into three different platforms: ECN Pro, MultiBank Pro, and Maximus. All these different accounts and sub-account platforms are amazing in their own way, and we'll discuss all of them further down below.
We just want to mention that having Demo, as well as Islamic account on the platform is really thoughtful of the Multibank Forex broker and it goes to show how much it cares about all of its clients: whether they have little or no experience in trading or they come from countries that have different attitudes towards trading.
Then there is the trading software that drives the whole platform. On MultiBank, the main piece of trading software you're going to use is MetaTrader 4, which is the savviest move a broker can make these days. MT4 is a widely-used and stable platform that delivers top-notch experience across the field. And considering all the platforms we listed above (ECN Pro, MultiBank Pro, and Maximus), the software is enriched with lots of additional functionality.

The licensing
Moving on, let's now take a look at the regulatory materials the broker has. We noted earlier that MultiBank FX brokerage has many headquarters and offices all over the world, including the USA, Germany, Australia, and many more. What this inevitably means is that the broker is also licensed by all those countries through their financial regulators.
Some of the most influential licensing pieces on MulTibank are BaFin (Germany), ASIC (Australia), FMA (Austria), CNMV (Spain), and many more. As you can already see, many countries on this list are highly-developed nations that have strict financial guidelines for their subjects.
Therefore, if there's any suspicion of the MultiBank scam, it's highly unlikely that these institutions will give the broker a pass on that. And since we haven't seen any significant violation of laws reported by these institutions, we're led to believe that the above-mentioned suspicions are just suspicions and nothing else.
Are MultiBank promotions legit?
Finally, we will be taking a look at the trading conditions and actual numbers on MultiBank. As always, the first two discussion points of this segment will be the leverage and spreads. On MultiBank, there are five levels of leverage traders can choose: 1:100, 1:200, 1:300, 1:400, and 1:500. This level of diversity, as well as the maximum ratio of 1:500, elevates our MultiBank opinion even higher and leads us to believe that the broker is actually the real deal.
Then there are spreads. With this broker, the Forex pairs can have as low as 0.1 pips on the ECN platform while the Maximus platform has 1.5 pips, which is still a great trading condition. This means that the bid-ask price difference that benefits the broker against the trader is minimized as much as possible.
Then we move to the bonuses available on the platform. And there are lots of bonuses MultiBank offers to its clients: a 100% bonus, 25% bonus, Imperial bonus, and Refer a Friend bonus. All four of these promotions are enriching the trading experience on MultiBank and take your positions to the next level.
Finally, we will take a look at the minimum deposit requirement and payment methods available on the platform. Currently, the minimum deposit that a MultiBank user should make is $50, which is surprisingly low considering what other Forex brokers charge their customers.
To make that deposit, there's a huge selection of financial platforms available to the users. When setting out to fund your account, the broker will give you a choice of which branch you want to trade with. Depending on your choice, you will either get an ASIC-regulated branch or the ones with FSC or RAK licenses.
And one of the main differences between these branches is the support of financial platforms. All of them have bank wire, credit cards, Neteller, and Skrill, but the latter two also support Bitcoin, Ethereum, and USD Tether payments, which is really impressive to see on a Forex broker website.
Now that we've reviewed these points briefly, let's delve deeper and examine all of those details more closely.
A detailed review of the website
As noted earlier, the multibankfx.com is a very functional website that provides all the information about trading conditions to the users. Unfortunately, we cannot say the same thing about its design: it is filled with lots of images, visual effects, and fancy fonts, which, to be fair, would be nice for another type of website but definitely not for a Forex broker.
Moving on from the visual overview, let's check out the informative aspect of the website. The whole platform is divided into six different segments: About Us, Products, Platforms, Account & Funding, Tools, and Partnership. All of these segments contain important information about the broker itself, which licensing materials it has, what are the trading terms and conditions, and a lot more.
Not only that, given that MultiBang FX broker is an international financial entity, but its website also supports 9 different languages, apart from English.
Diverse account base
The next important point we have to discuss is the account packages. On MultiBank, you can choose from three different accounts: Live, Demo, and Islamic. The live account contains three different platforms on its own: ECN Pro, MultiBank Pro, and Maximus.

We need to specifically mention the ECN platform because it's one of the most sophisticated and lucrative trading platforms in the industry right now. ECN stands for the Electronic Communications Network and it allows traders to directly connect to the liquidity providers, the companies that actually provide various assets to traders, and get price quotes from them.
This means that whenever a trader wants to open a position, they can directly negotiate with the provider itself and not have the broker get in the way, which usually makes things more complicated and prices much higher. Therefore, the bid-ask spread with ECN is much lower than with the regular platform.
In short, we can safely say that the Live account sub-segment has a lot to offer to the MultiBank customers. But there's more: there's also a Demo account, as well as the Islamic account available on the platform. This way, people can start trading and gain more experience without losing anything or use the Islamic account that is free of swaps and interests, in accordance with the Islamic sharia law.
Trading software
During our MultiBank FX review, we found out that the broker has, in total, five available options for trading. There are three live accounts that we mentioned before, as well as one Demo and one Islamic account – five in total.
And traders will have the opportunity to get their hands on the MultiBank FX MT4 software, which has different options depending on their choice of preference. But regardless of these differences, MetaTrader 4 has some universal benefits that fit to all of these options: Expert Advisors (automatic trading), lots of technical indicators, market news, and many more.
On top of that, traders will also have access to variations of the company's very own MultiBank platform, which we will classify as both Web and Mobile trading software. Normally we don't consider custom made software as an advantage as a shady company may tinker with the algorithms, but with MultiBank it's safe to say that it's legit. And the next chapter will explain why.
Can MultiBank FX be trusted?
As already mentioned, just because MultiBank FX has multiple offices scattered all across the world, it doesn't mean that it can be trusted in any sense. However, what makes it trustworthy is its collection of licenses from various regulators in the countries it has an office in.
For example, some of the big names include:
BaFin (Germany)
ASIC (Australia)
FMA (Austria)
CNMV (Spain)
RAK (UAE)
FSC (Virgin Islands)
CIMA (Cayman Islands)
In all honesty, they already had us at BaFin. There is absolutely no chance of MutliBank FX scam being a reality. There may have been a mishap with one regulator not noticing the company's shady background, but having seven financial institutions recognize you as a trustworthy broker is a feat in itself, which we wholeheartedly commend MultiBank for.
It is official then, MultiBank FX is indeed a legit brokerage.
But now, we need to determine if they are worth the time to trade with, and whether or not their trading conditions are as good as their collection of licenses all over the world.
MultiBank FX review – what are the trading conditions?
Trading conditions are comprised of multiple aspects, things like leverage, spreads, bonuses, deposit and withdrawal conditions, and various other details. All of this we have researched and will deliver to you on a "comparison" basis to the market they are trying to cover. So, without further ado, let's start with the leverage.
Leverage and margin
The maximum leverage available with MultiBank FX is 1:500 on major currency pairs, which is much higher than most of their competition on the market. Sure there are some that offer 1:1000 or near this number, but considering the average offering of around 1:300, MultiBank FX brokerage manages to satisfy the needs of both veteran and beginner traders.
Naturally, though, this review is very FX focused and does not consider their offerings on things like stocks or commodities, although it does have industry-standard leverage there as well.
But when offering this much leverage ratio to the clients, MultiBank still realizes that there are many dangers associated with this tool. It can pretty easily increase profits and losses at the same time. That's why the broker has set some strict rules on its margin.
The stop-out level, which starts closing the open positions automatically, starts at a 50% margin level when the leverage is below 1:300 and at 100% if the leverage is more than 1:300. This way, the broker will be protected from the negative account balance, which pretty often leads people to financial catastrophe.
Spreads
Regardless of how good leverage may be, it doesn't really satisfy the goals of our MultiBank FX review. We absolutely have to pair it up with the spreads available with the brokerage in order to determine the overall profitability.
However, we're happy to report that the spreads on major currency pairs on this platform are some of the lowest ones that may find on the whole market. Depending on which software and account type you're using, you're going to get a corresponding spread range.
The lowest spread we've seen for the EUR/USD pair is 0.1 pips on the ECN Pro platform, and the highest is 1.5 pips on the Maximus platform. These two platforms will depend on your choice in the grand scheme of things as they all have different requirements, which we will get to in the next paragraph.
MultiBank promotions
Next up, let's talk about all the different bonus promotions available on MultiBank. Having a decent trading platform with lucrative conditions is one thing and enriching that experience with even more exciting bonuses is completely different.

Having realized how beneficial such bonuses can be to the trades, the broker has decided to offer four different bonus packages to its clients:
the 100% Bonus, which only works on the Maximus platform and doubles the initial deposit made by a trader;
the 25% Bonus, which is available to all platform users and adds an additional 25% to the traders' deposits;
the Imperial Bonus, which is divided into different deposit steps and varies from the $40 bonus for deposits between $200-$999 and goes as high as the $5,000 bonus for deposits more than $50,000;
the Refer a Friend Bonus, which gives out an additional $100, $200, $300, or $400 to the traders who invite their friends to the MultiBank's platform.
All in all, these promotions are all very exciting and promise lots of rewards to the traders. That's why our MultiBank rating is so high.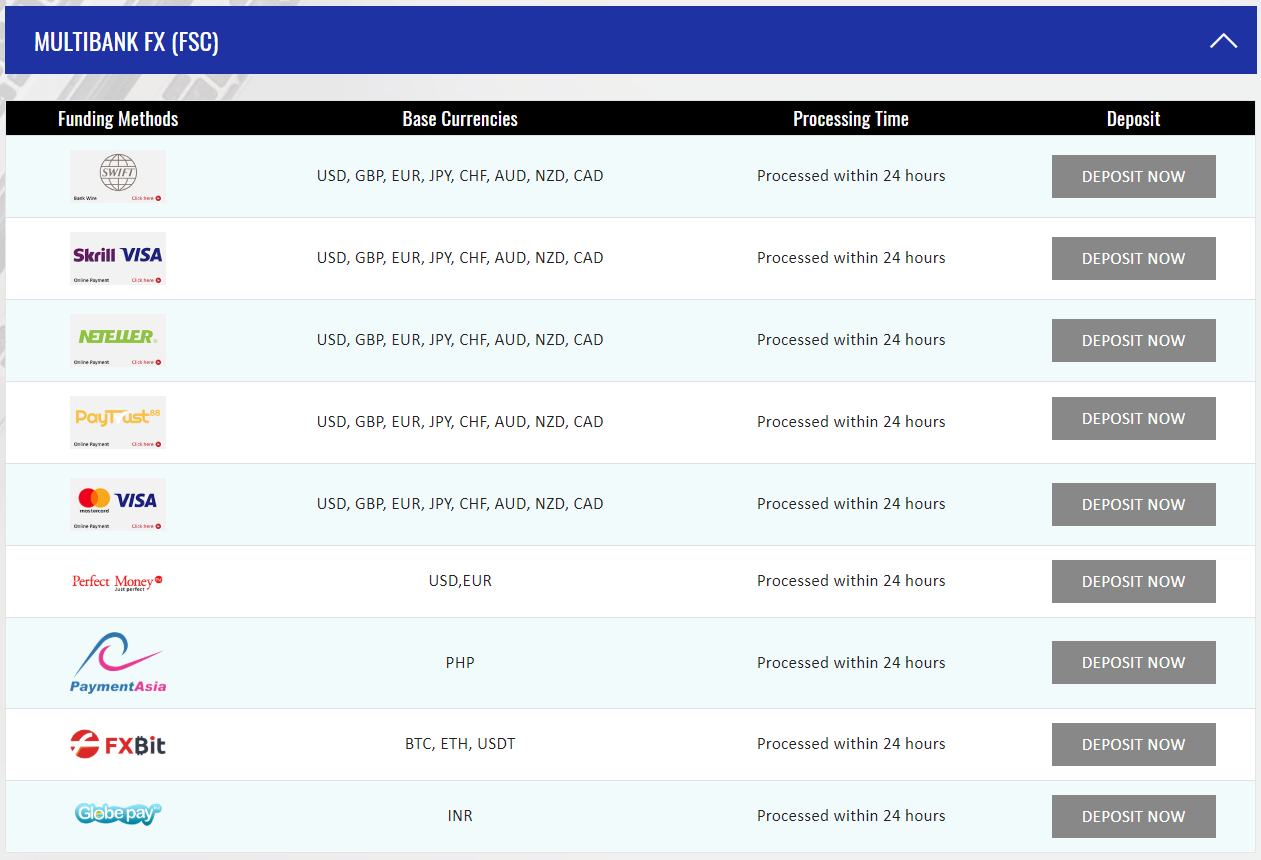 Deposits and Withdrawals
When it comes to deposits, as already mentioned, the whole thing is varied between the account types.
For example, the minimum deposit with ECN Pro is $5,000 which is quite beefy for a beginner, but attainable for a relatively experienced or a veteran trader.
The MutiBank Pro account is a bit different. It has a minimum deposit of $1,000 which is more than attainable even for a beginner who wants to get all of the benefits. Furthermore, considering the markets this broker covers, it's definitely not an over-the-top "price".
And finally, we have the Maximus account which is most definitely something designed for beginners, where the minimum deposit starts at $50. However, considering the allowance of hedging and scalping, it's one of the best beginner accounts we've seen so far.
When it comes to withdrawals, it doesn't seem that MultiBank FX has any type of fees attached to the process, which gives us even more comfort as a trader. Should the MultiBank FX fraud been real, we'd have encountered a fee in the percentage for larger accounts, and a fixed fee for smaller accounts. This is used to drain as much as possible from the traders, but in this case, it's completely safe.
Withdrawals are possible through Wire transfer, SWIFT, Skrill, Neteller, Credit/Debit cards and PayTrust. The good news is that there are around a dozen currencies that funds can be withdrawn in.
These currencies are USD, GBP, EUR, JPY, CHF, AUD, NZD, and CAD.
As for other fees or anything, the only thing a trader may encounter is the "inactivity fee", which is activated if an account had not been active for 13 consecutive months. Once that condition is met, the trader will be billed $10 for every month the account remains inactive, but that is still a very forgiving policy.

Is MultiBank FX legit? – review conclusion
We've had quite a journey reviewing this brokerage. We've learned about their licenses, trading conditions and funding options. One of the most important things we did conclude is that the MultiBank FX scam is totally bogus. It does not exist and has no way of existing simply based on the broker's licenses in trustworthy jurisdictions.
First off, we started our review by taking a look at the broker's website. While we admitted that the interface doesn't look as streamlined and simplistic as we'd like it to, we still think that the informative side of the website far outweighs this drawback.
The broker offers three different account types: Live, Demo, and Islamic. All of them are beneficial for specific user types. The live account will be extremely lucrative for those who want to start trading right away and yield big profits. The demo account will allow beginner traders to gain more knowledge and experience in the field, while the Islamic account will make trading more acceptable to those who abide by Islamic sharia laws.
Then we moved to the broker's licenses and found lots of them from different countries: Germany, Australia, Austria, Spain, and many more. These countries and their financial institutions are more than capable of restricting the broker's actions and making sure that there's no MultiBank fraud going on.
As for the trading conditions, we can easily say that MultiBank FX covers all of the industry standards and in some cases surpasses them. With its 1:500 maximum leverage, spreads as low as 0.1 pips, impressive bonuses, and many other offerings, MultiBank is one of the most lucrative brokers you can find on the internet.
Therefore, our final opinion about the broker is this: MultiBank deserves all the appraise from us and we recommend it to all of our readers!
[RICH_REVIEWS_SNIPPET category="page"]
[RICH_REVIEWS_SHOW category="page"]
[RICH_REVIEWS_FORM]