Every financial activity is associated with a certain amount of risk; it's a piece of knowledge that everyone – planning to invest money in one way or another – should realize. And when it comes to trading, the risk becomes exponential.
For one thing, the market fluctuations can just as easily make someone rich or put them in a dire financial situation. But market fluctuations aren't the only threatening facets of trading Forex, stocks, or other securities.
Service providers themselves, also known as brokers, pose a serious threat to the traders' financial security. You see, whenever a person gets into the business of online trading, they expect to get a service that has all its elements fully disclosed. For example, traders expect that spreads and leverage offered by their broker are legit and nothing hides beneath them. The same goes for all of the other trading conditions as well.
Unfortunately, we know many instances where the broker hasn't exactly been honest to their client; instead, they have tricked them with flashy trading conditions and made them believe their legitimacy. Meanwhile, the broker slowly robbed the client of their whole account deposit.
So, it goes without saying how important it is to find a legit Forex broker. It also shows how much more valuable such brokers are. And while the internet is full of scammers, it still doesn't imply that the trustworthy brokers are nowhere to be found.
You have most probably heard about Global.ITRADER by now. Global.ITRADER is a brand name operated by Bayline Trading LTD, a subsidiary company to Bayline Global World LTD. The online Global.ITRADER reviews and opinions seem to be mixed, while its offerings seem quite solid. Interested in finding out more? Keep on reading this review!
Global.ITRADER Review at a Glance
Established in 2017, Global.ITRADER is a brokerage that has become pretty popular on the internet. On the one hand, people point to the broker's fraudulence and advise other traders not to do business with it. On the other hand, we also saw lots of positive reviews that praise Global.ITRADER's website and software supports, legal materials, and trading terms and conditions.
Realizing how one can easily be misguided by either of the two opinions, we decided to delve into the platform ourselves and find out, which claim is true: is Global.ITRADER a scam or are its trading offerings the real deal? First off, let's list all the important aspects that we'll talk about in this review.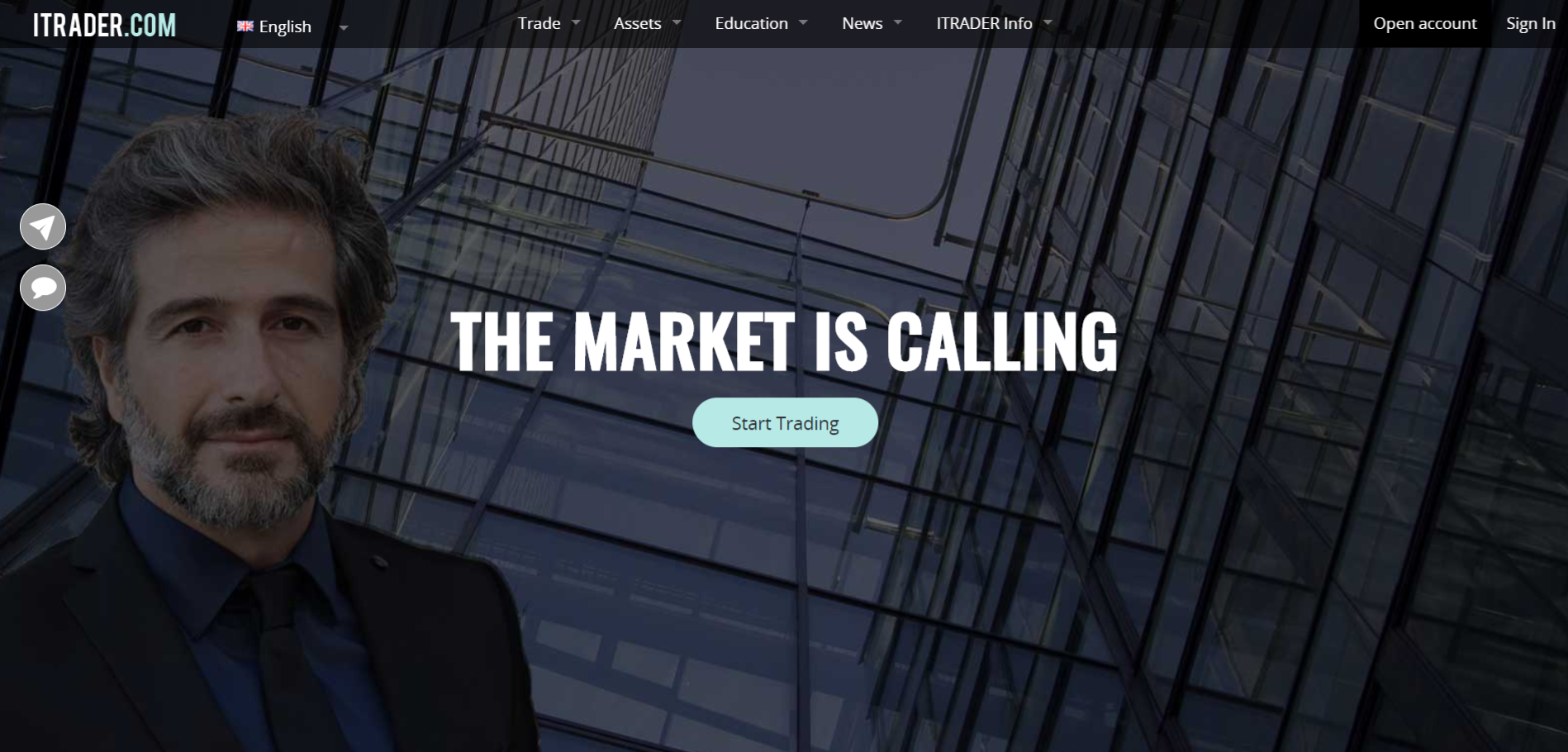 The website
Global.ITRADER's website is a pretty regular online platform that doesn't necessarily stand out among other websites. Yet in our opinion, this is the broker's strong suit: by opting for the website that is plain and offers all the information about the broker, the users get to know the Global.ITRADER promotions more easily.
Besides the ease of navigation, the website doesn't lack the informative side either: five section tabs that separate the interface contain valuable information about trading terms and conditions such as spreads and leverage, as well as trading accounts, and many more.
Speaking of trading accounts, Global.ITRADER has three different live accounts: Silver, Gold, and Platinum. All of those accounts are special in their own way and fit the needs of traders with different experience levels. On top of that, the broker also offers an Islamic account, which is yet another advantage of Global.ITRADER. As for the downside, the broker doesn't have a demo trading option, which would be really nice for the beginner traders.
The next important aspect of this review is trading software. Global.ITRADER, knowing how important a stable and easily-understandable trading platform is, has chosen MetaTrader 4 as a main driver. However, if traders prefer other platforms, they can just as easily go for WebTrader or smartphone apps. In short, the functionality and diversity is definitely the broker's strong suit in trading platforms.
The license
The next important segment of our review will be the broker's license. As we mentioned earlier, Global.ITRADER is operated by the company Bayline Trading LTD, which incorporated under the laws of Belize and bearing the registration number 136374 from IFSC (International Financial Services Commission).
Yet while the IFSC license is the main regulatory material for this broker, it certainly isn't the only one extending the political oversight on Global.ITRADER. Bayline Trading LTD itself is a subsidiary company of Bayline Global World LTD. The latter itself is registered in Edinburgh, UK, and adheres to the rules of the Financial Conduct Authority (FCA).
The combination of the two regulatory pieces and institutions gives us assurances that the Global.ITRADER scam may just be a rumor and nothing else.
Global.ITRADER promotions
Last, but certainly not least, the actual trading numbers. One of the commonalities of every broker review we found online is the claim that Global.ITRADER's trading terms and conditions are very exciting and promise large payouts. Yet there's a big difference between how positive and negative reviews perceive those numbers: the former deems them as legit, while the latter finds them to be misleading. We'll try to find out which one is more realistic.
First off, we'll start with spreads and leverage. As various tables and infographics show, the bid-ask price difference between currency pairs goes down as low as 0.7 pips, which is definitely a serious achievement. This means that Global.ITRADER takes less "commission" out of trades and leaves more to the traders.
As for the leverage, Global.ITRADER still doesn't fail to impress us. While the market average is somewhere around 1:250, the broker offers a 1:500 maximum leverage to its clients. This means that their initial deposits can increase as much as five hundred times, leading to larger profits. Yet we also have to note that other markets like commodities have significantly smaller leverage ratios, which also indicates that Global.ITRADER behaves responsibly where it's necessary.
As for which assets traders can exchange, Global.ITRADER offers quite a large selection of tradable securities: the platform is mainly focused on Forex pairs, yet we also have stocks, commodities, indices, and other Contracts for Difference (CFDs).
When it comes to deposits, the broker has a minimum deposit requirement of $250. In our opinion, this is a healthy amount that doesn't go too overboard while it's also not too low to make us suspicious. Speaking of deposits, there is a diverse platform of financial mechanisms used for payments.
Global.ITRADER withdrawals and deposits are powered by both traditional (bank wire, credit cards) and alternative (Neteller, Skrill) financial platforms. This ensures that traders can use whatever platform they want to deposit/withdraw funds to/from their Global.ITRADER account. None of these methods have commissions on either deposits or withdrawals, however, withdrawals can sometimes take 5 days to complete, which is a bit of a bummer.
When it comes to the bonuses or other promotions, unfortunately, we weren't able to find anything of that sort on the website. On the one hand, we think the broker misses a chance to make trading with Global.ITRADER much more exciting with various bonuses; on the other hand, though, the lack of promotions indicates that the broker doesn't spend time on superficial offerings and focuses more on the actual trading conditions.
So, the initial Global.ITRADER overview looks quite promising. It forces us to tilt more towards the positive attitude towards the broker. Now, let's go deeper into those points and examine them closely.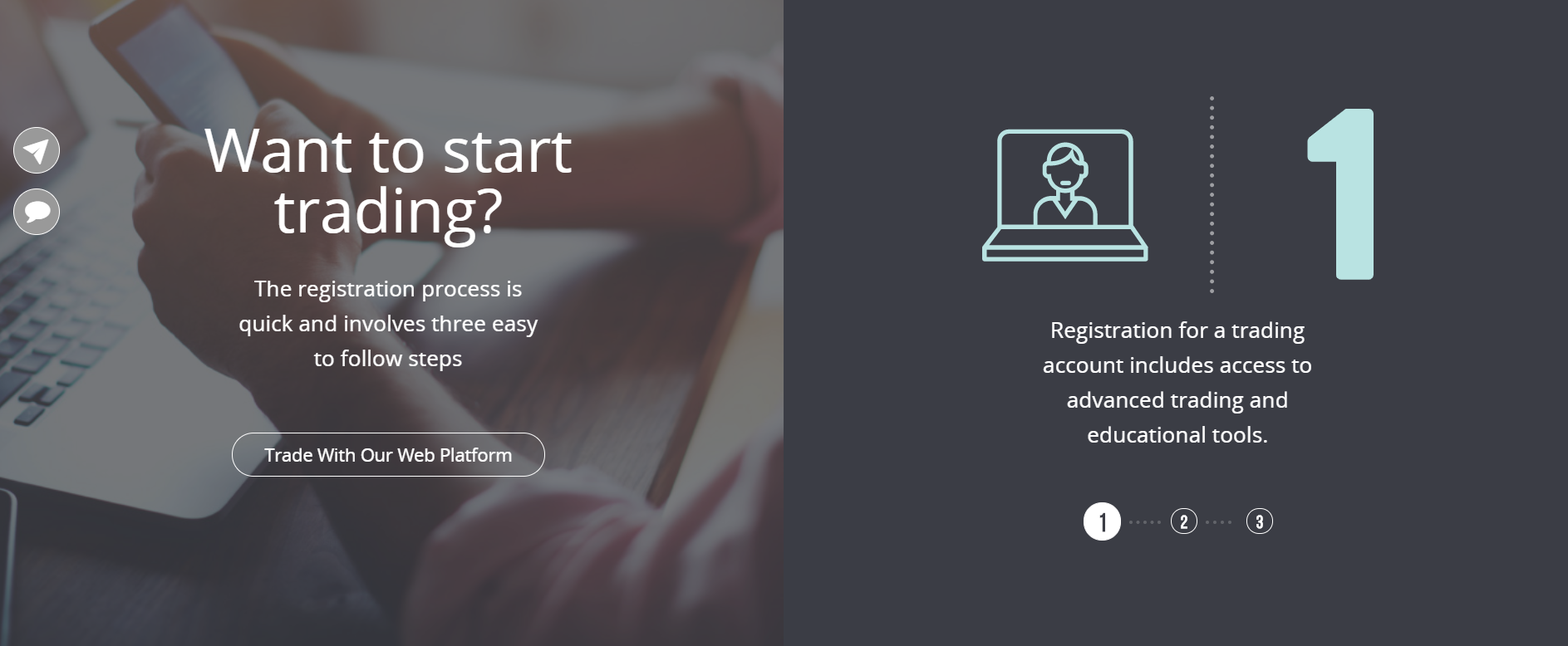 An in-depth Global.ITRADER.com review
The very first point of contact between the broker and its client is the website. The users go to the website in order to find out more about the broker's offerings, its license, and all sorts of other stuff. Therefore, it is absolutely essential to have the website as polished and streamlined as possible.
In our Global.ITRADER.com review, we found that the website is pretty regular and not overly outstanding with visual effects or decorations. The interface admittedly has few images in the background, yet they don't really strike us as the main elements of the interface.
Due to this regularity, we think that Global.ITRADER has done a great job of avoiding unnecessary design elements and sticking with a straightforward, easily-navigatable website that doesn't sacrifice its informative side.
Speaking of information, all five tabs on the website are designated to a specific job: Trade, Assets, Education, News, and Global.ITRADER Info provide users with useful information about the trading process on Global.ITRADER. For instance, the Trade section includes details about the trading platforms, as well as various tools like the economic calendar that help traders get most out of their trading endeavors.
Global.ITRADER Trading Accounts
With this brokerage, you can get access to three types of trading accounts: Silver, Gold, and Platinum. Each of them comes with different spreads; for instance, the Silver account has a bid-ask price difference of 2.2 pips for the EUR/USD Forex pair, while Gold goes down to 1.3 and Platinum to 0.7, which is the shallowest spread on the platform.
Additionally, it's worth noting that Global.ITRADER does not charge any commissions, hence the spread is the only cost you pay.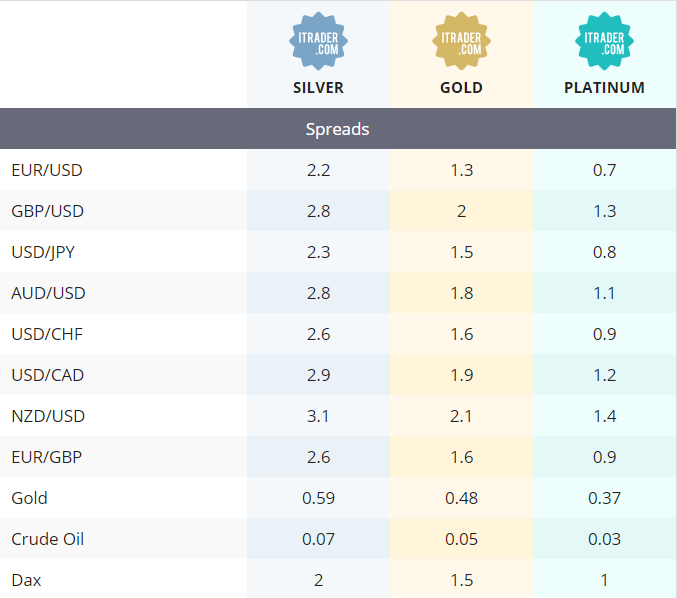 But bid-ask spreads aren't the only differing elements between these account types. There are lots of trade-related features that distinguish each account in their own way. For example, the Platinum account offers free VPS, News Alerts, and all sorts of exclusive features to the users.
What's more, Global.ITRADER also offers an Islamic account. With it, traders from the countries that adhere to the Islamic sharia law can trade without swaps or hidden commissions; even spreads are zero in this account.
In short, Global.ITRADER has delivered a spot-on account package that works for everyone of any experience level.
Global.ITRADER Forex Broker Platforms
When it comes to actually trading with Global.ITRADER, the broker lets you access the world's most widespread and the most awarded piece of technology – MetaTrader 4. Global.ITRADER MT4 was one of the first platforms that were launched for the web platform. In addition, Global.ITRADER is a broker that lets you trade Forex on your Mac in a native way. This is a strongly limited feature as most of the brokers do not offer a native app.
Finally, there is an extra sweet cherry on top. With Global.ITRADER Forex broker you can get free access to mobile trading apps for both iOS and Android. This way, wherever you are, you can fire up an app in your smartphone and start trading Forex pairs, stocks, commodities, and indices in a single platform.
With these trading platforms come various tools that complement the overall experience. Global.ITRADER offers the Economic Calendar, as well as calculations for swaps, spreads, and other trading-related features. In short, software support on Global.ITRADER is on par with its other premium offerings.
Global.ITRADER Customer Support
Global.ITRADER.COM is available in 4 languages: English, Russian, Spanish, and Portuguese. Also, Global.ITRADER supports Islamic Accounts, hence this broker may be a good fit for the traders from Gulf countries.
One of the most striking differences between Global.ITRADER and other brokers is that Global.ITRADER gives open access to the complaint form. This way we can understand that this broker is open to receive criticism on its services, while its core task is to design outstanding value for the traders. Live Chat is available plus Global.ITRADER operators are ready to sort out your doubts via phone and email.
Is Global.ITRADER legit or should you avoid the broker?
The next important aspect of every broker review is the license. We always advise to our readers to look at the brokers' licensing materials and judge their credibility from that. There is an abundance of scammers who claim to have an SVGFSA or any kind of suspicious license while in reality, their whole platform reeks of fraudulence.
With Global.ITRADER, things are far less suspicious and more straightforward. For one thing, the company that manages Global.ITRADER, Bayline Trading Limited, is registered in Belize and regulated by the country's Internacional Financial Service Commission (IFSC). Now, the IFSC license is a pretty common and legit license used by many financial entities around the world, and while we would definitely be assured of the broker's credibility with just this piece, Global.ITRADER's legal obligations don't end there.
Bayline Trading Limited itself is a subsidiary entity of Bayline World Global LTD, which is registered in Edinburgh, UK, and is licensed by the Financial Conduct Authority (FCA). If someone needs further clarification, we're talking about the United Kingdom – one of the most stable and financially superior countries in the world.
So, even though Global.ITRADER doesn't provide service to the citizens of some countries, including the US and Canada, we still don't think that it's because of the broker's fraudulence. It's simply because these countries have much stricter financial regulations and not even many legit entities fulfill those requirements. Therefore, we believe the Global.ITRADER fraud is just a rumor and has nothing to do with reality.
Global.ITRADER terms and conditions
Once you are sure that a company is trusted, the next logical step is to take a look at its offer and trading conditions. This is the field where Global.ITRADER broker seems to excel.
Review of Global.ITRADER's tradable Assets
Apart from offering CFDs on currency pairs – which is the main tradable security on the platform, this broker makes more markets available for its traders. You can choose among such CFDs on commodities like gold, silver, crude oil, natural gas, coffee, soybeans, and many others; besides, there are also dozens of European and US Stocks available for trading.
Finally, during this Global.ITRADER review we have found out quite an extensive list of available CFDs on Indices – next to such common assets as SP500, FTSE100, MIB40, and NASDAQ100, you can also trade some exotic indices that are not really available with the other brokers: India 50, South Africa 40 and China Enterprise 40.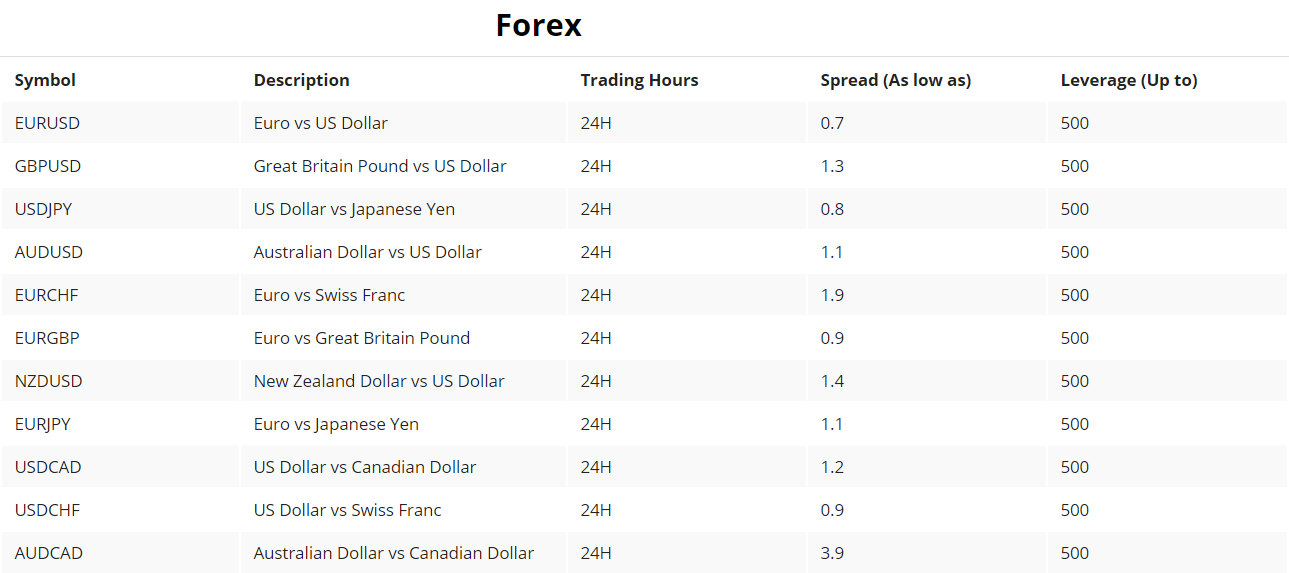 Spreads and leverage
Next up, let's talk about what conditions are there for these tradable securities. Since Forex is the main market here, we'll focus more on this market, starting with spreads. As the broker indicates in various infographics, the bid-ask spreads on various Forex pairs revolve around a pip or two, whereas the minimum spread gets as low as 0.7 pips on the EUR/USD pair.
But what does this mean in real life? You see, when you want to buy the above-mentioned Forex pair, you sell US dollars and buy euros at a certain price. Now, if you were to sell those euros immediately – that is, having no price change on the asset whatsoever, – you wouldn't be able to get the same amount of dollars back.
Instead, the price for selling euros and buying dollars for you (the bid price) would be smaller than the price for buying euros and selling dollars (the ask price). This difference between the bid and ask prices is called spread and it is used to fund the broker's platform. The larger the spread, the more your broker takes from your trades.
With Global.ITRADER, spreads are quite low, which means the broker doesn't rob its clients of their funds. 0.7 pips on the EUR/USD Forex pair means that the price difference is very shallow and traders don't lose an awful lot in trade commissions.
As for the leverage, Global.ITRADER still manages to deliver an exciting offer that increases traders' funds several hundred times. More specifically, the maximum leverage on Forex pairs ramps up to 1:500.
Here's how leverage works: when you want to open the EUR/USD position for, say, $100,000, the first logical choice would be to deposit the whole sum from your own pocket, which, as you can imagine, would be a serious toll for anyone' wallet.
But there's another option: you can deposit just a fraction of that deposit size, while the broker will lend you the money to open that same trade. This is called leveraging a position. With this Global.ITRADER promotion, you can leverage your positions at a 1:500 multiplication rate, which means every dollar of your deposit turns into a $500 position. And for the $100,000 position size, you would only have to deposit $20!

Global.ITRADER Deposits and Withdrawals
The broker does not have an awful l0t of trading systems connected, yet it does have a solid choice of the top-up methods. You can use your Visa, Mastercard or pre-paid cards, to top up an account as well as send the funds via a wire transfer. It is, also possible to deposit using popular e-wallets like Skrill or Netteler.
In order to take out the funds from Global.ITRADER you will need to send over your ID, proof the residency and a picture of both sides of your credit card, in case it was used as a deposit method.
As for the minimum deposit requirement, Global.ITRADER asks its clients to deposit no less than 250 US dollars to their account. As far as we are concerned, this is a perfectly healthy amount for a Forex brokerage – not too high and not suspiciously low. Therefore, both experienced and beginner traders can make use of the Global.ITRADER platform without spending too much money.
On top of all this, none of the transactions, either deposits or withdrawals, are charged with commission fees; the only source of income for the broker is its bid-ask spreads which, admittedly, is shallow for Forex pairs, but other tradable assets manage to bring the broker a healthy amount of funding.
One downside we have to mention is the withdrawal times: when you apply for a withdrawal, it can sometimes take 5 days for the application to be accepted. This, as you can imagine, is a bit of a bummer, yet our Global.ITRADER opinion is still pretty positive and strong due to other very impressive offerings.
Extra Features
During this Global.ITRADER review, we have found out that the trading conditions and the technology are greatly assembled for the experienced traders. However, the educational resources available at the Global.ITRADER.com website seem to be a great base for those of you that are just starting out.
This broker has a large database of educative articles, MT4 tutorials, VODs, courses, and eBooks. By signing up with Global.ITRADER, getting a demo account and putting your hands on the educational activities available with this broker, you can be fully prepared to trade on the world's largest markets.
Unfortunately, we weren't able to find any type of Global.ITRADER bonus on the website, which would be a nice little addition to the exciting offerings. However, there's a bright side to this as well: it gives us the impression that Global.ITRADER doesn't focus on offering small superficial promotions; instead, it doubles down on its trading terms and conditions and makes the actual trading process much more lucrative.
Final Global.ITRADER rating – should you do business with it?
If you are reading this review, you are drifting between two options: "is Global.ITRADER legit?" or "is Global.ITRADER scam?". We think that this is a no brainer. Considering the world-class regulation, it goes without saying that Global.ITRADER is a trusted broker. Next to this, the range of markets available with Global.ITRADER is superior compared to the rest of the brokers. Ultimately, this Global.ITRADER review has found out that the conditions of the brokerage are supreme.
At the beginning of this review, we focused our attention on the website and software support. The first apparent feature that jumped out right away was the regular outlook of the interface: it wasn't too stuffed with unnecessary visual effects and decorations, while the informative aspect was spot-on.
The account package was also pretty impressive: three live and one Islamic account make it easy for any type of trader to enjoy the Global.ITRADER platform and its offerings. On top of that, all of these accounts are based on MT4, as well as WebTrader and iOS/Android trading apps.
Finally, we examined trading terms and conditions. The broker's spread and leverage offerings assured us that trading with Global.ITRADER is as lucrative and exciting as it can get. And that's true even though there are no promotions on the platform.
Finally, we reviewed financial platforms and concluded that while we would be happy to see some other options like PayPal or Bitcoin, the existing platforms such as credit cards and e-wallets are still pretty sophisticated for the transactions taking place on Global.ITRADER platform.
So, what's our final Global.ITRADER rating? Well, based on what we've seen during this review, it's safe to say that the broker deserves five out of five on our scale!