Making sure that you're trading with a reliable Forex broker is one of the greatest favors you can do for your trading career. The online trading community is full of cases whereby a broker has scammed its client and stolen their money.
Our team at Top Forex Brokers is dedicated to helping you make the right choice. We regularly review Forex brokers, both big and small, and give you our honest take on their regulations, software, and trading features.
In today's Fortissio review, we'll do exactly that. Make sure to fully read this piece to find out if this broker is trustworthy.
Is the Fortissio license legit?
The very first thing we need to talk about is broker licensing. You may already know that a government license can be a deciding factor in whether a broker is reliable or complete trash, with some exceptions, of course.
In terms of Fortissio, it's a bit tricky, though. On paper, it says that the brokerage was established in 2017 in Greece with the Hellenic Capital Market Commission (HCMC) license.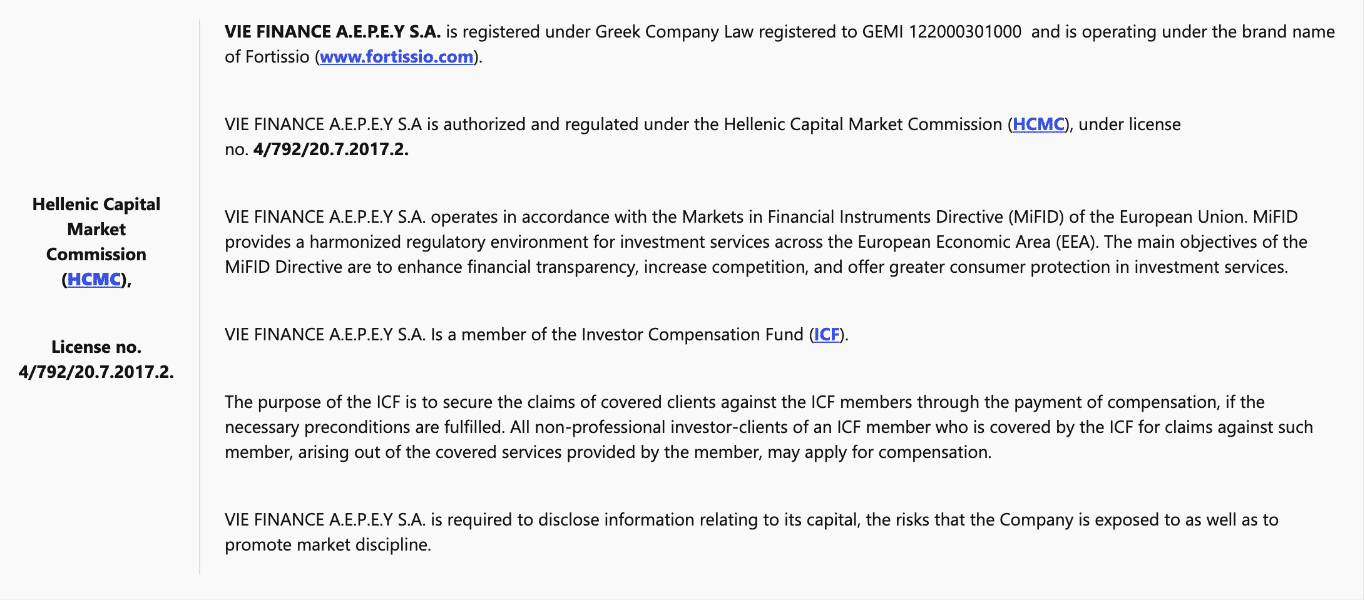 Now, as an EU-based license, you'd think that the HCMC would have all the monitoring capacity to control Fortissio and its actions, and ensure that its clients aren't threatened with a Ponzi scheme. However, the devil is in the details and we're going to explore those details right now.
First off, Greece is arguably the least responsible and chaotic EU member out of all 27 members. It has a poor fiscal policy, depends heavily on regular foreign debts, and is just not ideal for a safe financial enterprise.
On top of that, Fortissio does feature some promotions that go against the MiFID directive, especially its maximum leverage rate, which we'll explore further down below.
Finally, to round things up, the HCMC license is a very uncommon regulatory material in Forex. Pretty much no one uses it for ensuring a safe trading environment. Therefore, the Fortissio scam might actually be real, simply because its regulation doesn't have enough political or economic prowess when compared to other Tier-1 regulations.
Are Fortissio promotions legit?
Moving on, let's talk about how the trading terms and conditions stack up against the competition in the market.
As the broker's website points out, you can trade lots of different financial assets on the Fortissio platform. These assets are divided into the following categories:
CFDs on Currencies
CFDs on Stocks
CFDs
CFDs on Indices
CFDs on Commodities
CFDs on ETFs
CFDs on Synthetic Derivatives
Of course, having this level of diversity in your choice of assets is an advantage; you can diversify your portfolio by trading all sorts of different products and have it secured from drastic and unexpected market developments.
However, as our Fortissio review shows, there are a couple of pretty alarming details that come along with these instruments. For example, leverage is what makes us doubt the legitimacy of Fortissio.
As noted above, the HCMC licence is a part of the MiFID directive of the EU, which, among other things, enforces strict leverage caps. Under this directive, brokers cannot offer leverage above the 1:30 cap because of the safety implications high leverage rates have.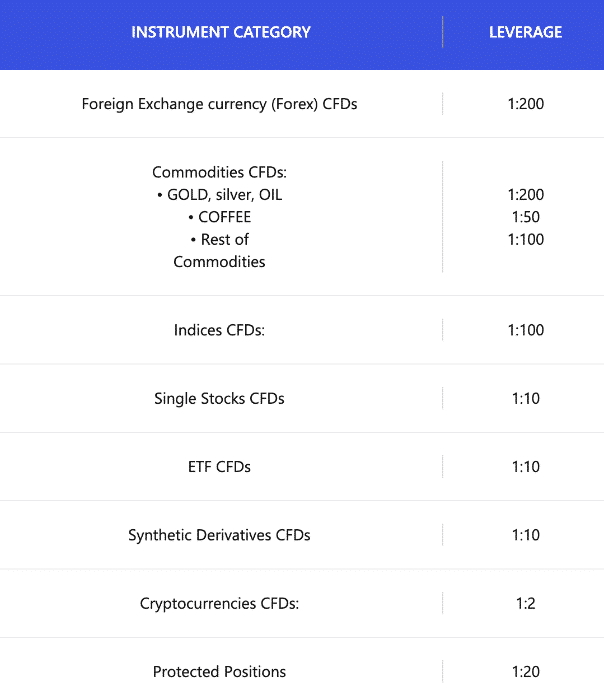 However, Fortissio completely neglects that by going for a much larger, 1:200 leverage rate. This further undermines the notion that this is, in fact, an EU-based broker.
As for spreads, Fortissio fails to deliver an impressive commission package. The minimum spread on the EUR/USD pair goes down to just 3 pips, which falls behind what other brokers have to offer at 0.1 pips or even less.
When it comes to making payments on the platform, Fortissio features a decent amount of diversity. Fortissio withdrawals and deposits are powered by traditional methods like bank wire and credit cards, as well as more alternative platforms like Skrill and Neteller.
How's the website looking?
Finally, let's focus on the website and the overall software experience to finish off our review.
When it comes to the website design, we're not really impressed with what Fortissio has done. The interface is stuffed with pretty old visual decorations; besides, it's pretty clear that the server that this website runs on is cluttered with huge chunks of data and is struggling to keep up with it, hence the laggy page loads.
As for the informative aspect of the website, we didn't have any problems finding the details about all sorts of different features, regardless of how accurate they actually were.
Fortissio features 9 (!) different live account types on its website. In our opinion, this is nothing more than an attempt to lure in new clients with an unnecessary feature. There's no need for this much diversity in trading accounts; only three would do just fine. But focusing on this feature, Fortissio manages to somehow cover up other gray areas of its platform.
Speaking of the platform, the broker has its own trading software called PROfit, which it says is one of the best platforms to use in Forex. Now, we don't know how 'best' this platform is but we'd rather see the Fortissio MT4 or MT5 to alleviate at least some of our suspicions about the broker.
Should you trust Fortissio?
So, is it worth your time and money to trade with Fortissio?
Well, as our Fortissio broker review shows, the firm has many issues with its HCMC licensing. It doesn't even abide by the guidelines put in by this regulator, therefore, we believe it to be some kind of a cover.
As for trading terms and conditions, we found leverage to be dangerously high, whereas spreads underwhelming when compared to what other brokers have in store. Finally, we checked out the broker's software and determined that it's no less mediocre as other aspects of Fortissio.
All in all, we cannot recommend trading with Fortissio to any of our readers.