EuroStandarte Forex Broker is a polish CFD provider that offers traders more than 70 assets with additional tools to make the trading process more effective. The company is relatively new and was created back in 2020, meaning that they have not been around for a long time compared to the industry's most-known forex companies. The main webpage of this company does not offer any information about licenses, which means that they are not regulated, and trusting them might not be a very good idea. Not having a license means that if something bad happens and you lose your money, you will not be able to do anything about it.
The leverage offered by EuroStandarde goes up to 1:400, and as for spreads, we could not find any valuable information on the platform, the only thing mentioned is that the spreads are tight and they guarantee a fast execution, but we don't see any reason why you should believe them. Not mentioning the actual number is already a red flag. EuroStandarte FX brokerage claims to be using MT4 which is good news. Customers can have 5 different types of accounts, and the minimum deposit varies for each other. For instance, the minimum deposit for a basic account is 250$, while a VIP account requires you to deposit 250000$.
If you are a bonus lover and love adding extra value to your current bankroll, then we have some bad news. The site does not provide customers with any information about bonuses or promotions, which leads us to believe that they don't have any. Generally, bonuses are quite common for such platforms and not having any means that EuroStandarte does not care much about attracting new customers through promotions. Customers are able to trade assets like Indices, Stocks, Currencies, Commodities, and Options.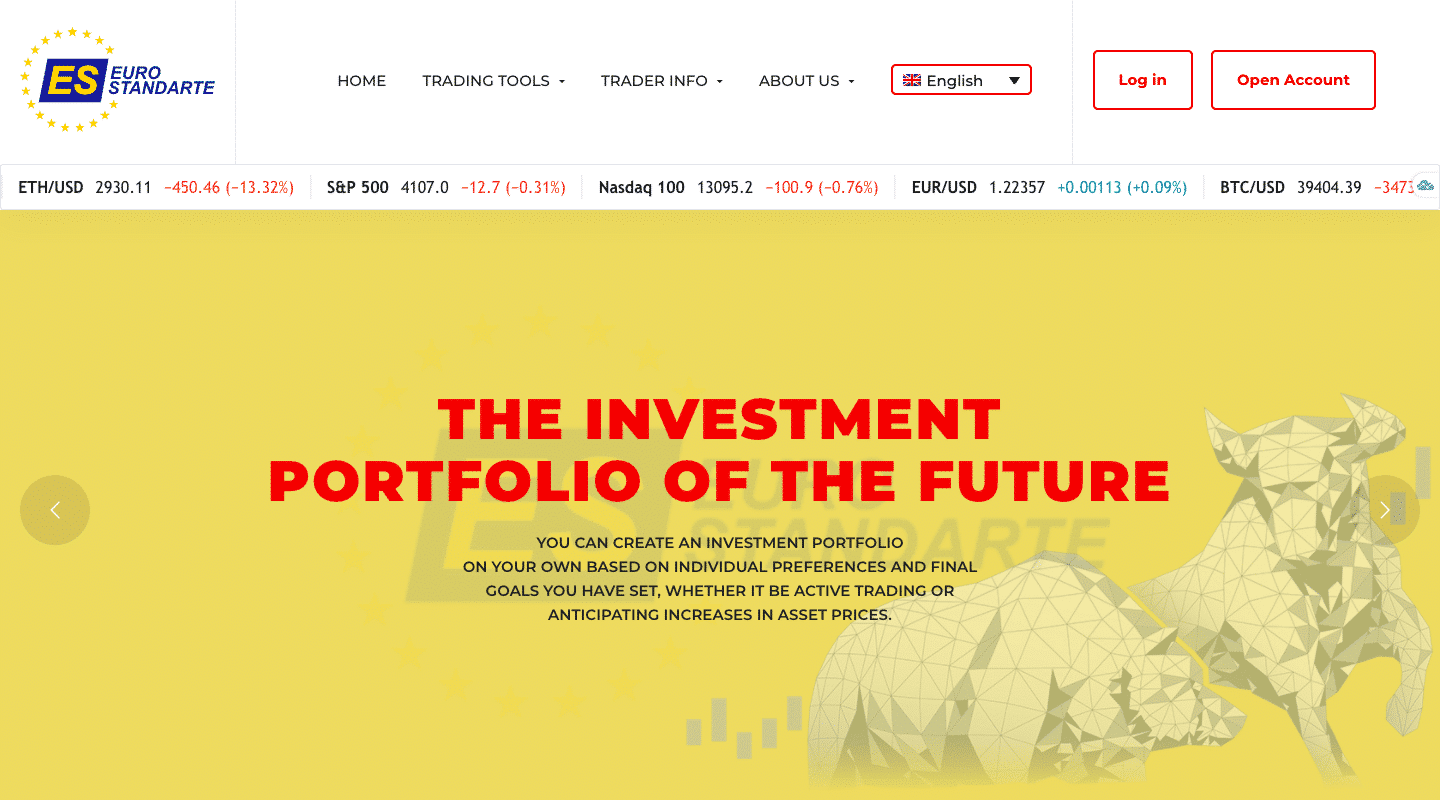 Is EuroStandarte Legit?
As we already mentioned earlier in this EuroStandarte review, the company does not hold any license and is unregulated. As they claim, they are a polish company operating in Warsaw, however, their regulatory status is hidden. The regulator company is KNF that should be holding the license, but unfortunately, they are not regulated. What this means is that your funds might not be in safe hands and in case of a scam, the company will not compensate you. That's why it is always a good idea to do your research before starting trading.
EuroStandarte Review – Trading Features
In order for you to find out if this company is worth your attention, time, and money, we decided to provide you with additional information about the trading features offered by them. Let's take a look at each of them.
Spreads & Leverage
As we already mentioned in the beginning, we were not able to find any info about spreads of this brokerage company, the only thing they mention is that the spreads are tight. This piece of information does not give us the ability to evaluate whether it correlates with the industry's standard or not, however, the fact that you can't find anything about spreads is also a red flag. That's one of the reasons why the majority of EuroStandarte's reviews are negative.
As for leverage, it seems to go up to 1:400, which can be considered high compared to the industry's average and involves risks of losing money.
Account types & Minimum deposit
There are 5 different types of accounts available on the website, which are Basic, Standard, Business, Premium, and VIP. Each of these comes with different minimum deposit amounts, which are quite high. $250 for a basic account is twice the industry's average and a high amount in general. The minimum deposit for Standard, business, premium, and VIP accounts are $5000, $25000, $50000, and $250000.
Each type of account comes with its benefits, such as a financial market guide, assigned financial analyst, weekly market review, trades insurance, and in-depth market analysis. However, considering all other things, we highly doubt the accuracy of this information.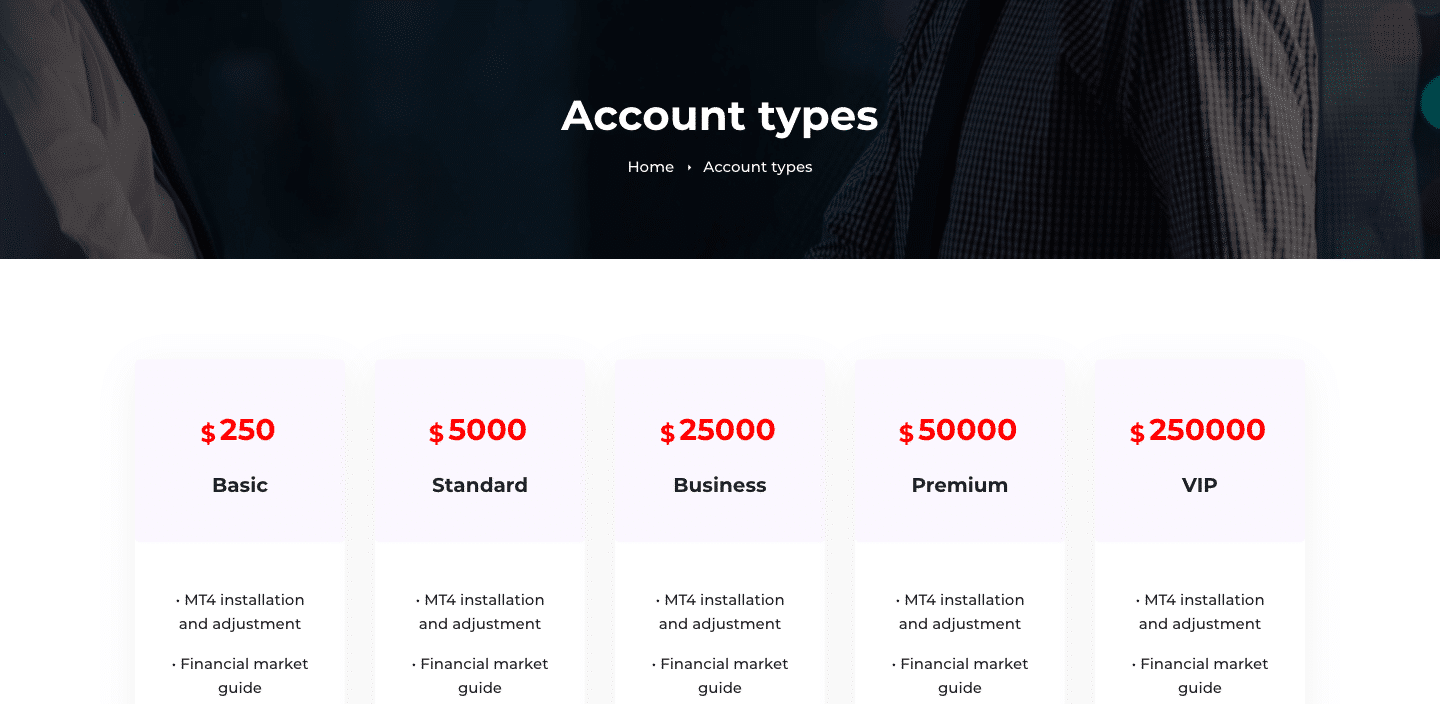 Bonuses
EuroStandarte does not offer its customers any bonuses or promotions. That is strange because having a bonus system is an unspoken rule between such platforms as this is a great way to attract new customers as well as keep loyal ones. This is another reason why we do not recommend this platform and it is up to you to decide whether EuroStandarte is a fraud or not.
All in all, all these features mentioned above do not look attractive and don't really correlate with the industry's standard compared to other reliable brokers.
EuroStandarte – Final Verdict
Finally, we think that EuroStandarde is not worth money and time for several different reasons. The most important part is that the company does not have any license which would prove their trustworthiness. Other than that, the main webpage does not give information about important features such as spreads, which might influence your decision whether you should start trading on this platform or not.