Is Clicktrades legit? Let's us find out together in this review

To start trading in the world's largest financial exchange, Forex, one has to keep in mind that this business is very risky and it is ruthless to everyone, both experienced and amateur. However, it doesn't mean that a trader cannot minimize the risks and turn things in their own benefit.
While learning new trading skills, reading up on Forex trading tutorials and other materials, and regularly observing the market occurrences is a great method of doing that, there's still a risk of being scammed by a fraudulent service provider.
Unfortunately, the internet is full of scam brokers with seemingly flashy conditions on the outside, yet shady realities on the inside. And thanks to their skill in masking the latter, the former becomes more attractive and enticing to many beginner traders.
But financial agencies like Top Forex Brokers don't sit still while scammers rob people and put them in dire financial situation. Our team works tirelessly to provide our readers with the most honest opinion about a given broker.
Today, we have chosen the Clicktrades Forex broker for a review. Out of the many brokers currently operating on the markets, Clicktrades seems one of the few reliable, if not in any way outstanding ones. In order to understand how this broker might be useful to their uses, we have decided to conduct an in-depth review, attempting to analyze the services they offer to their users, while also trying to objectively evaluate their trustworthiness and their general performance over the past year. So here is the review, hope you find it useful in your quest for a broker.
Initial Clicktrades review
Clicktrades is an online trading brokerage that was created in 2018. Based on how young this company is, it is quite easy to think that the Clickctrades scam is real and the broker is involved in some sort of Ponzi scheme. However, it's not very reasonable to assume such a thing without even looking at what the broker is offering.
And it is offering quite a lot, actually. But let's not get ahead of ourselves and keep the regular structure that we've been following.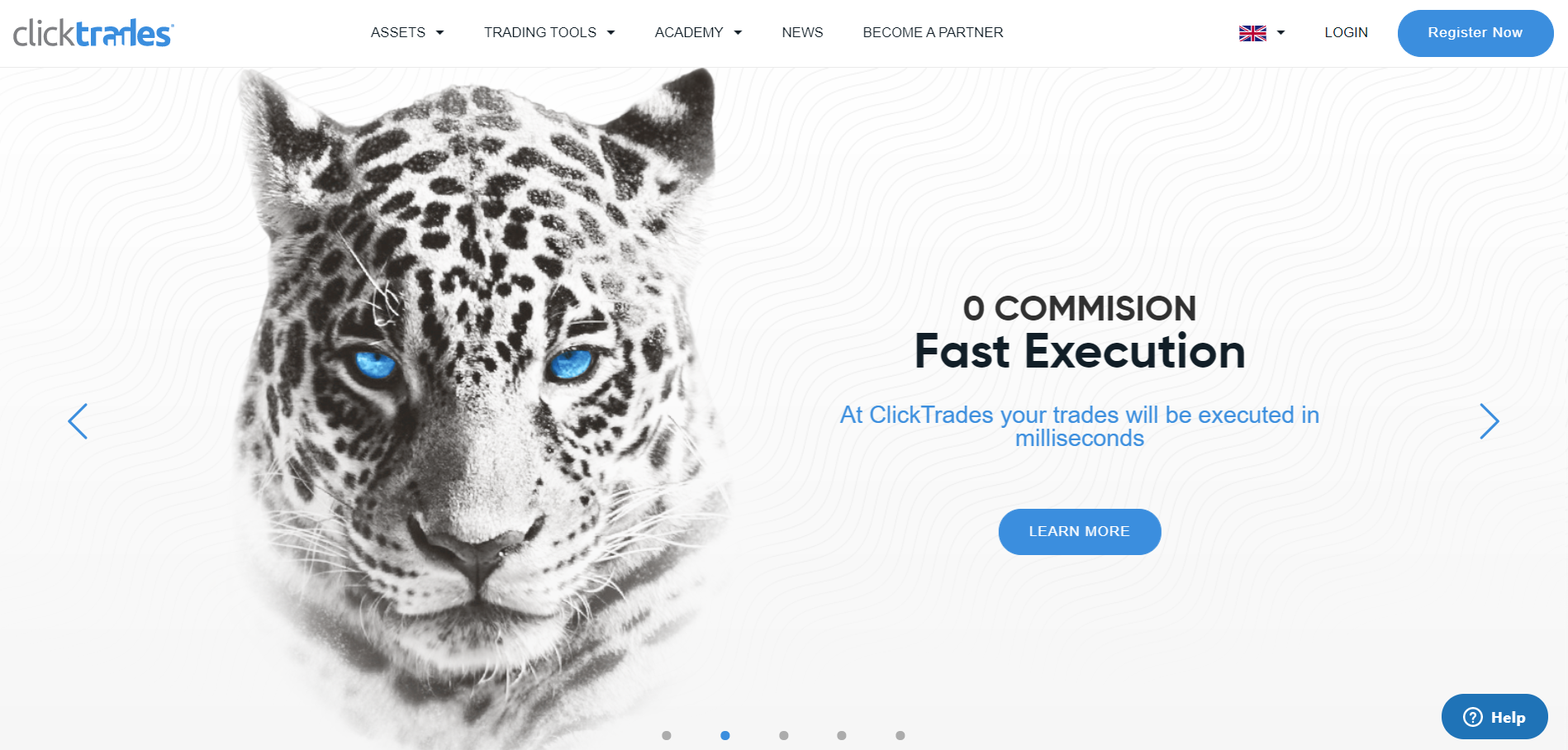 Clicktrades.com review
First, let us start this review off with a quick overview of their website. It is a cleanly designed and well-organized website that offers its users a quick and easy way to navigate. It provides all of the required information on the broker without an issue.
The website gives the users a chance to learn about the broker without too much work, directing them to pages about terms and conditions, platform and their spreads and other details quickly and without much hassle. Navigation is easy, the design is nice. What else would anyone want from their broker?
Furthermore, it seems that the broker offers a number of general services to all potential users. The first service we are going to talk about is a general dictionary that defines terms in the industry, providing an overview of everything the user will be needed when operating with the broker.
The dictionary is a welcome introduction to the broker and Forex industry terms in general, but it is not enough. The Clicktrades FX brokerage should be providing more in-depth educational services to their users, in order to effectively educate them about the industry and make it easier for them to trade in the future. And they do!
But the video guides that they advertise to be so useful to all of their current users are hidden behind an account type that is not immediately accessible to those who need these guides the most – low capital traders. But it's still not a good reason to think that it is the goal of the broker to educate their traders, but instead, to attract them into setting up an account before giving them a chance to trade efficiently – other elements that we'll talk about will prove this statement wrong!
The Clicktrades rating is enhanced though by the fact that they offer a diverse list of assets for trading to its users. The assets included in the list of available are Forex, Bonds, Indices, ETFs, Shares, and Commodities. The presence of all of these assets allows users to diversify their trading and allow them to hedge against bad trades with more stable and predictable trading assets.
So if they are making a risky trade with an unorthodox currency pair, they would be able to hedge against loss by investing in a more predictable outcome that might come from a commodity value change. This is a very positive aspect of how the broker does their trading, which makes us think that the broker does not want to limit their traders to a single asset and wants to allow them the kind of trading that they want to do, diversifying their assets and their skills.
We'll also talk about the account packages, as well as trading platforms in the upcoming chapter of this review.
The license
Now, let's take a quick look at the broker's license, as it is the single most important aspect of any broker review today. Fortunately, Clicktrades greets us with its Seychelles FSA license, which is quite popular in the industry and is known for keeping higher financial standards across the board.
Not only that, but the broker also obeys by the CySEC financial guidelines put out by Cyprus. That's because the payment methods on Clicktrades is managed by KW Investments LTD, a company registered in Cyprus. The combination of the FSA and CySEC licensing pieces makes sure that if there's a chance of scam, it's definitely not related to Clickctrades.
Trading terms and conditions
Finally, we'll briefly examine trading terms and conditions and see how traders can make deposits/withdrawals on the platform. The first important reviewing aspect is spreads and leverage. As the broker claims, its spreads are among the lowest on the market and upon close inspection, we were able to confirm that claim: spread on stocks starts from as low as 0.1 pips. However, there are some differences in terms of trading assets and we'll get to them later.
As for the leverage, the maximum multiplication rate goes as high as 1:300 on Clicktrades. Judging from the two Clicktrades promotions, we can safely say that the broker is focused on ensuring the most lucrative trading experience for its clients.
After that, we'll move to the bonuses and minimum deposit requirements on the platform. When it comes to the bonus, Clicktrades offers one of the most impressive promotions we've ever seen. When opening an account on the platform, traders have the ability to increase their initial deposits by as much as $5,000!
Then there's the minimum deposit requirement. Unfortunately, this is the point where we have to take one point away from Clicktrades because a $1,000 minimum deposit requirement for an Essential account is a bit too much for those who want to begin trading from scratch. But we're still not going to go too far with this line of thought and deep Clicktrades a scam.
Speaking of deposits, the final aspect of our review will be the assessment of financial platforms. When it comes to funding your account, you can use both traditional banking (bank wire/credit cards) and alternative e-wallets (Neteller, Skrill). The diversity in this sense is a positive aspect that allows Clicktrades' users to make payments via their preferred platforms.
Besides, both deposits and withdrawals are commission-less – the broker only takes funding fees from spreads. All in all, the whole package that is the Clicktrades Forex broker seems as trustworthy to us as it can get! Now, let's take a closer look at what we've just said earlier.
A deep dive into the website and software support
As we have noted earlier, clicktrades.com looks very sleek and modern to us. It's not too overburdened with unusable visual effects and focuses more on the actual functionality. And by doing this, the users can easily navigate through the website and find any kind of information that they're looking for.
Not only that, but the interface also offers quite useful tools and mechanisms that take trading to the next level. For example, right on the first page, you can find this investment selection tool, helping you decide which security is better for your needs. The scale goes from Low Risk, Moderate, Balanced, Growth, and High Risk, and every level gives you the percentage of every security based on their risk levels.
For example, the Low-Risk level shows that bonds may be the best option for an investment, whereas Forex and commodities are the riskiest in this sense. On the flip side, the High-Risk level shows Forex and Commodities on the top, which means that they're very dangerous to invest in, yet they also yield much larger payouts.
So, for these and other offerings, we think that clicktrades.com is a fine website for a Forex broker.
Account types
The broker also offers three account types for the use of their potential clients. The Essential, Original, and Signature accounts are basically trader levels. They each require a minimum deposit of a certain size and offer additional benefits the higher your level is. This is where the video tutorials come into play – you will only be able to access those if you are of the original level account, which requires a minimum deposit of at least 1500 US dollars or equivalent. The lowest account does offer all of the essentials required to trade with the broker, including an account representative, but it still lacks in educational resources, which we find a little disappointing.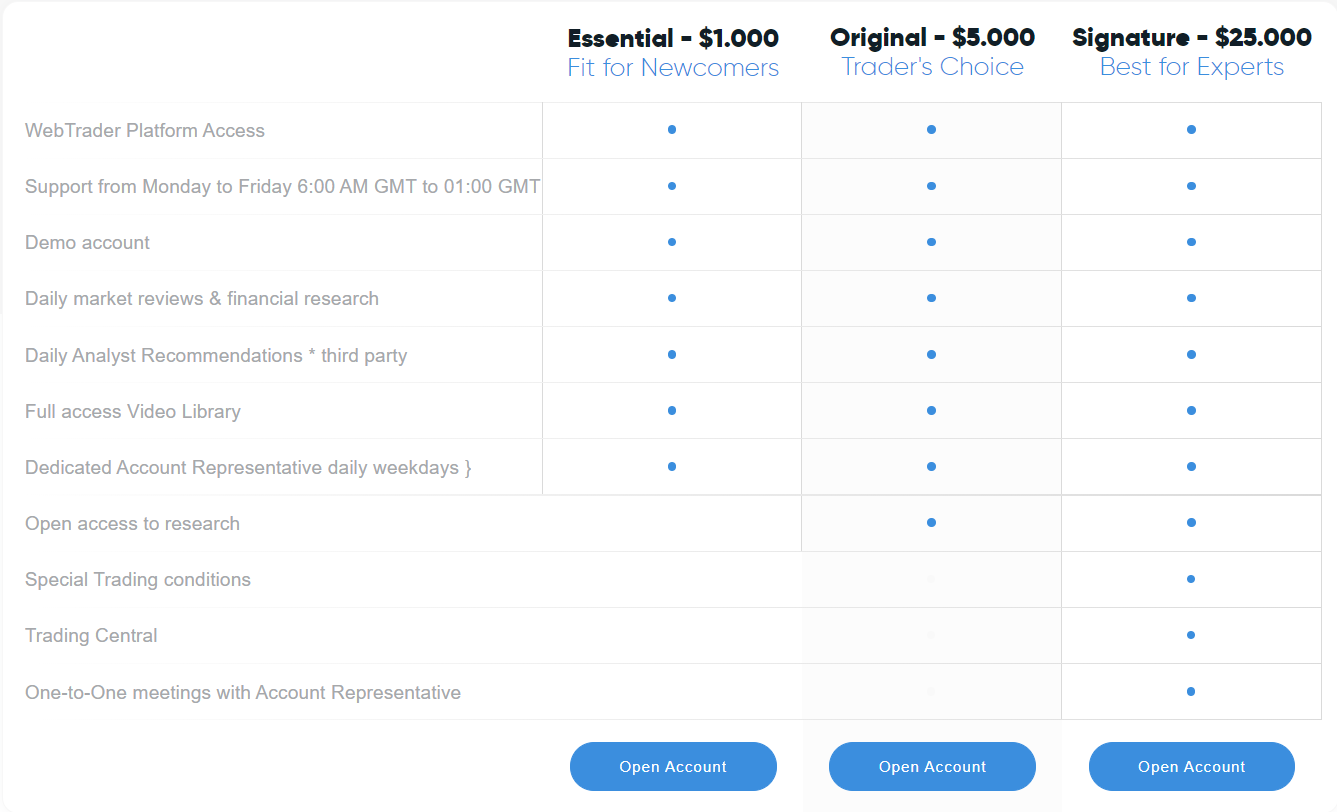 Yet besides the three live account types mentioned earlier, there's also an Islamic account that is available to the Middle Eastern customers. This account complies with the Islamic sharia law that forbids its followers from receiving or giving out interest. Therefore, there are no swaps on overnight trades.
There's one more account for beginners: a demo account. It allows newcomers to use all the features and tools available to the live accounts, open/close/modify trades, and gain experience. The only real difference is that trading is completely virtual – there are no deposits and withdrawals or profits and losses in it.
Our Clicktrades opinions of the platform
Something that we found to be a little bit of a drag with the broker is the fact that they only provide one kind of platform to trade with. There is no Clicktrades MT4 or cTrader, we only have a web-based trading platform to make use of. This is a little disappointing, as many users will find it to be an issue since they will not be able to do the trading that they are used to on their favorite platform.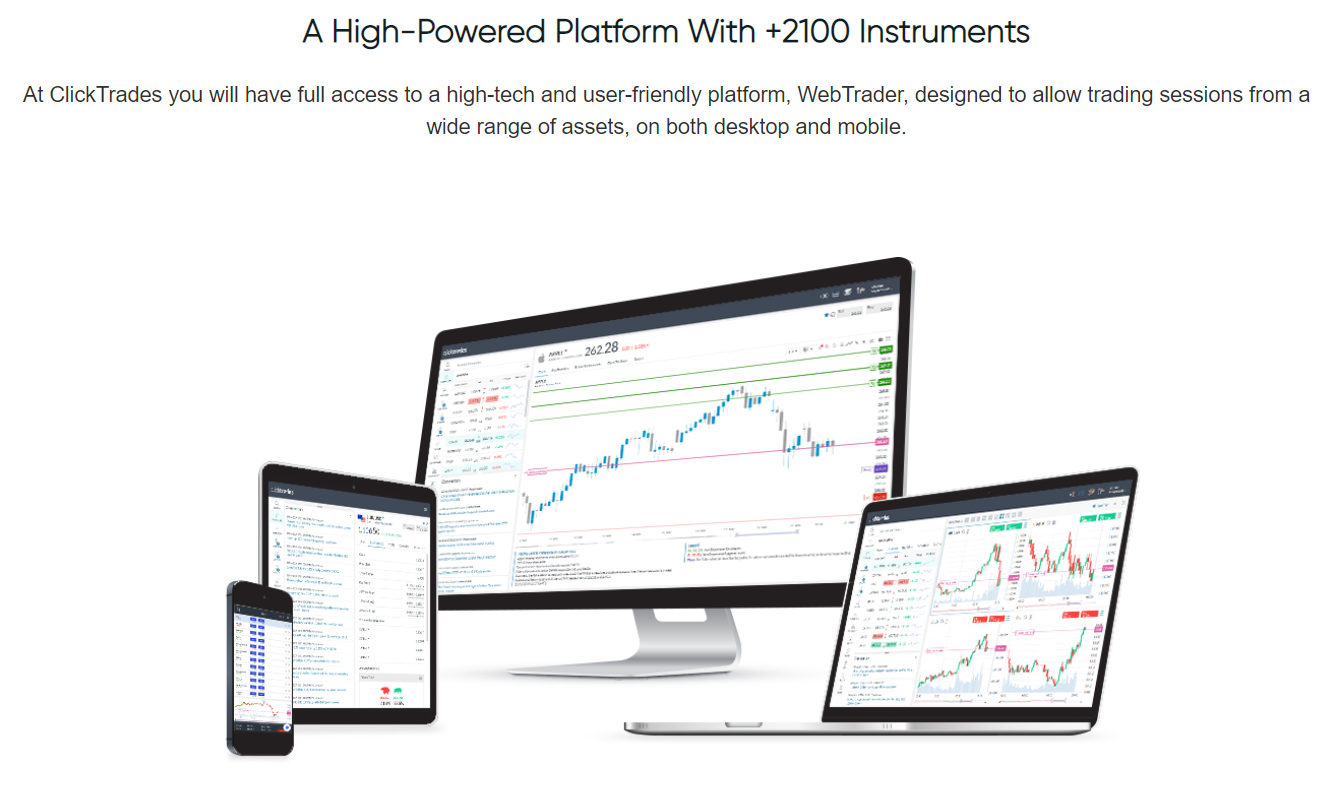 But, Webtrader is a very popular trading platform among brokers and users alike, and it's rather simple to use and allow for the same range of abilities and actions that the MT4 allows for. So while it might be a little bit of a problem for some not to see their favorite platform in the list of offered platforms, the fact that WebTrader is a highly intuitive and easy platform to use and allows Clicktrades to retain a respectable rating. Some might believe a Clicktrade scam is active because they only offer one platform, but this is simply not true, as the broker is known to be quite reliable.
Can Clicktrades be trusted with its license?
The broker has a positive reputation online. There are many Clicktrades reviews available out there, all written by users and most of them rate the broker to be nothing more than average service. The broker does not try to be too overboard, but it is reliable enough in the services that it provides and has thus earned the respect of its users. Yet we're not necessarily implying that the offerings found on its platform are in any way inferior to other offerings on the market.
But the most important aspect that can determine the credibility of the broker is the license. And we're happy to inform our readers that Clicktrades has one of the more credible licenses one can find out there. The broker is based in Cyprus and is licensed to operate by FSA (Financial Services Authority) Seychelles, a reliable financial regulatory body that originated in East Africa and has spread its name as being one of the more reliable regulators out there. This regulator is known to be very strict in how they look at their brokers, which is why they are known to be highly reliable when they provide a license.
Besides, KW Investments LTD, which is the main payment services provider for Clicktrades, is also based and regulated in Cyprus. This means that the broker has regulatory obligations to the EU's one of the most reliable licenses – CySEC. Therefore, there cannot be realistic chances of engaging in fraudulent activities and getting away with that. This increases our Clicktrades opinions from OK to definitely reliable.
Trading terms and conditions in detail
For this last part, let's turn our attention to the trading numbers and other technical offerings on Clicktrades. As noted earlier, these offerings aren't too overzealous – they don't seem like being too good to be true. Instead, they're pretty grounded and realistic insofar as they till manage to turn trades into lucrative sources of income.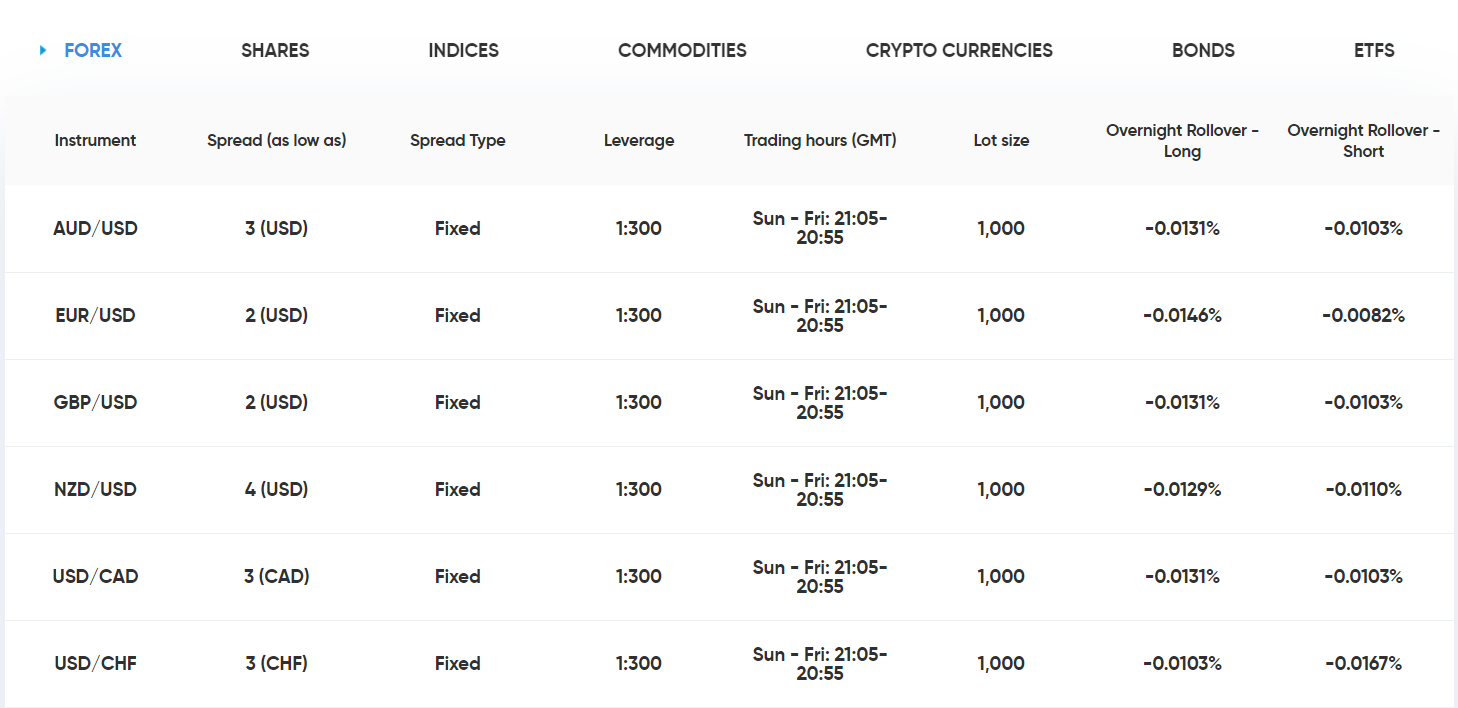 Leverage and spreads
Let's start with leverage and spreads. Leverage is a tool that resembles a loan from the bank: whenever a trader needs to open a large position, yet they don't have the necessary funds themselves to do that, they can use leverage to do that. Here's a quick example:
Let's say you want to open a trade for the EUR/USD Forex pair for one lot ($100,000), which is too much for your personal bank account. You could either forget about opening such a high position and make do with a smaller one or you could use leverage. With Clicktrades, you can use as high as 1:300 leverage, so let's use it in our example.
Based on this ratio, you can find out the margin requirement set by the broker: for every 300 US dollars (or another currency unit) from the broker 1 dollar from the trader. In our example, we'll just divide 100,000 by 300 and get around 330 US dollars. Therefore, you can open a $100,000 EUR/USD position with just $330 from your personal account.
This amount of leverage offered by Clicktrades isn't too large or overzealous when compared to other brokers (1:500, 1:800, and higher). This is actually very important because the leverage acts as a double-edged sword: on the one hand, it increases the profits received from trades, on the other hand, it also increases the losses. And having the leverage in a sweet spot is just about right!
Spreads are much less dangerous than leverage. A spread is a bid-ask price difference of an asset. Normally, people are buying assets at a higher price from brokers and sell them at a lower price to them. That's because brokers are dependent on profit and more often than not, their only income is based on spreads.
When talking about Clicktrades' spreads, we have to note that they are drastically different for various assets. For instance, for Forex pairs, it revolves around 2-4 pips, which is totally normal for this market. What's more, they are fixed in the foreign exchange, which means they cannot increase every time the market changes.
As for stocks, spreads are variable and they change according to what happens on the market. Yet, even in light of that, spreads can go as low as 0.01 for certain company shares, which is pretty impressive.
In short, these Clicktrades promotions seem quite lucrative and offer large payouts in many cases.
Bonuses
Next up, let's talk about bonus promotions available on Clicktrades. One thing to admit straight away is that the platform isn't exactly steeped with bonuses, however, those that we found are still very exciting. The main promotion on Clicktrades is the deposit bonus that increases initial deposits by a certain percent.
There are six steps in this bonus: the first step is a $250 deposit with a $50 bonus, the second – $500 base and $100 bonus, the third – $1,000 base and $250 bonus, the fourth – $2,500 base and $750 bonus, the fifth – $5,000 base and $2,000 bonus, and the sixth – $25,000 base and $5,000 bonus. So, this goes to show that traders can potentially get a bonus that ramps up to $5,000!

Minimum deposit and payment platforms
Finally, let's talk about the next obvious step after you've decided to open a Clicktrades account: fund it. Unfortunately, this is the part where we're not overly enthusiastic: the minimum deposit requirement on Clicktrades for the entry-level account is $1,000.
If the most basic account package demands such a high financial commitment, how can traders with no experience and fear of risk ever enter the platform and start trading? Sure, they can choose the demo account for gaining knowledge, but it's not enough and the real account is too expensive. In short, we were pretty disappointed by this condition.
Moving on, let's talk about which platforms you can use to fund your account or withdraw money from it. Here, we can say that Clicktrades is offering a decent service: traders can use both traditional and alternative payment platforms. Whether they prefer bank wire/credit card platforms or e-wallets like Neteller and Skrill, the broker has them all.
What's even more, there are no hidden commissions or too tiring delays when making deposits/delays. Everything happens in a snap of a finger!
But to be perfectly honest, we would be much happier if we saw some additional platforms on Clicktrades: PayPal, Bitcoin, and similar technologically-advanced payment methods are definitely the future of this industry, and if the brokers start incorporating them soon, they'll be ahead of the curve too.
Is Clicktrades legit?
In the end, we can definitely say that Clicktrades is definitely legit. They do not exhibit any scam like properties, and on top of that, they provide a highly reliable service that many users around the world (who get to use their platform) reflect on as being a very positive experience. While they could better some of their services or offer additional services for the betterment of the user experience, so far they will remain known as adequate brokers.
In this Clicktrades review, we first examined the broker's website and determined that the interface couldn't have been more streamlined. Its simplistic layout makes it easy to navigate and find information that the user is looking for. Speaking of information, the broker discloses all of the details without hiding anything, although, we'd be more content if there was any educational section on the website.
Then we reviewed account packages and trading platforms. Three live accounts coupled with the proprietary WebTrader make the trading experience superb on Clicktrades.
Then we examined the license. The FSA primary license from Seychelles makes it sure that there's no Clicktrades fraud going on. Besides, the broker also has legal obligations towards CySEC of Cyprus, making it an EU-regulated broker at the same time.
Finally, the time came for the trading numbers. The 1:300 leverage and 0.01 spread on some securities take the profitability of this platform to the next level. Although, we were disappointed by the large minimum deposit requirement of $1,000.
As for the payment methods, the broker lifted its slightly-deteriorated prestige by its diverse financial platform. Traders are able to deposit/withdraw funds via bank wire, credit cards, and some e-wallets (Neteller, Skrill).
All in all, Clicktrades is a credible and legit broker that you can definitely trust!