Capex is a CFD brokerage operating in the European Union. It boasts licenses from several large financial regulators in the region such as the FCA (United Kingdom), BaFin (Germany), CySEC (Cyprus) and KNF (Poland).
The company is a rebranded version of CFDGlobal.com, which more or less gives us a reason to disregard Capex scam in all shape or form. Capex is headquartered in Cyprus, but most likely has offices in all the licensed countries as well, but that much isn't certain.
Due to the ESMA restrictions on CFD products, Capex doesn't have too many unique features, but there are some that stick out here and there. Let's find out what they are and how the company operates.
Capex review – company features
Much like every other CFD brokerage operating in the European Union, Capex has to comply with multiple restrictions on CFD products. This includes limits on the leverage it can offer to its customers as well as any trader benefits such as bonuses and additional promotions.
On the surface Capex does indeed seem to be a competent CFD brokerage but comparing it to offshore companies, it immediately falls short because of the restrictions.
Nevertheless, this Capex review is important to showcase where the company still manages to stand out even though its full potential is limited by the authorities.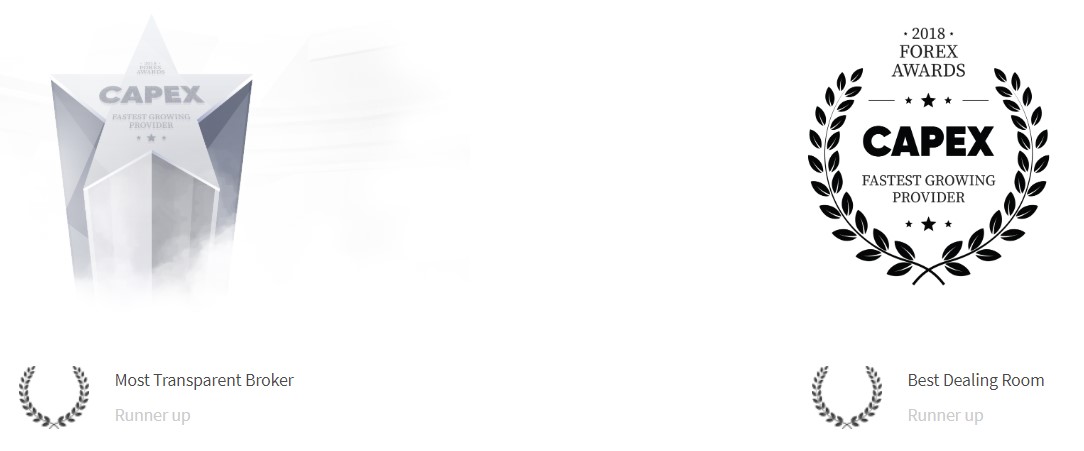 Spread
One of the most important aspects where CFD brokers can hope to shine in is the spread. If they're able to offer industry-standard spreads, meaning as low ones as possible, they have at least some method of standing out.
For Capex, spreads on the most popular Forex pairs such as the EUR/USD start from as low as 3, allowing traders to maximize their profits as much as possible. Despite the fact that it's not necessarily the lowest spreads being offered by a CFD broker in Europe, it's still an above-average feature.
Trading platforms
Thankfully, Capex CFD broker managed to stand out with at least more than one software available for trading the assets. The broker fields a custom WebTrader application with a mobile version as well, alongside the notorious MetaTrader 5 platform. It may not be the favorite of most, but it's still the type of diversity we always like to see.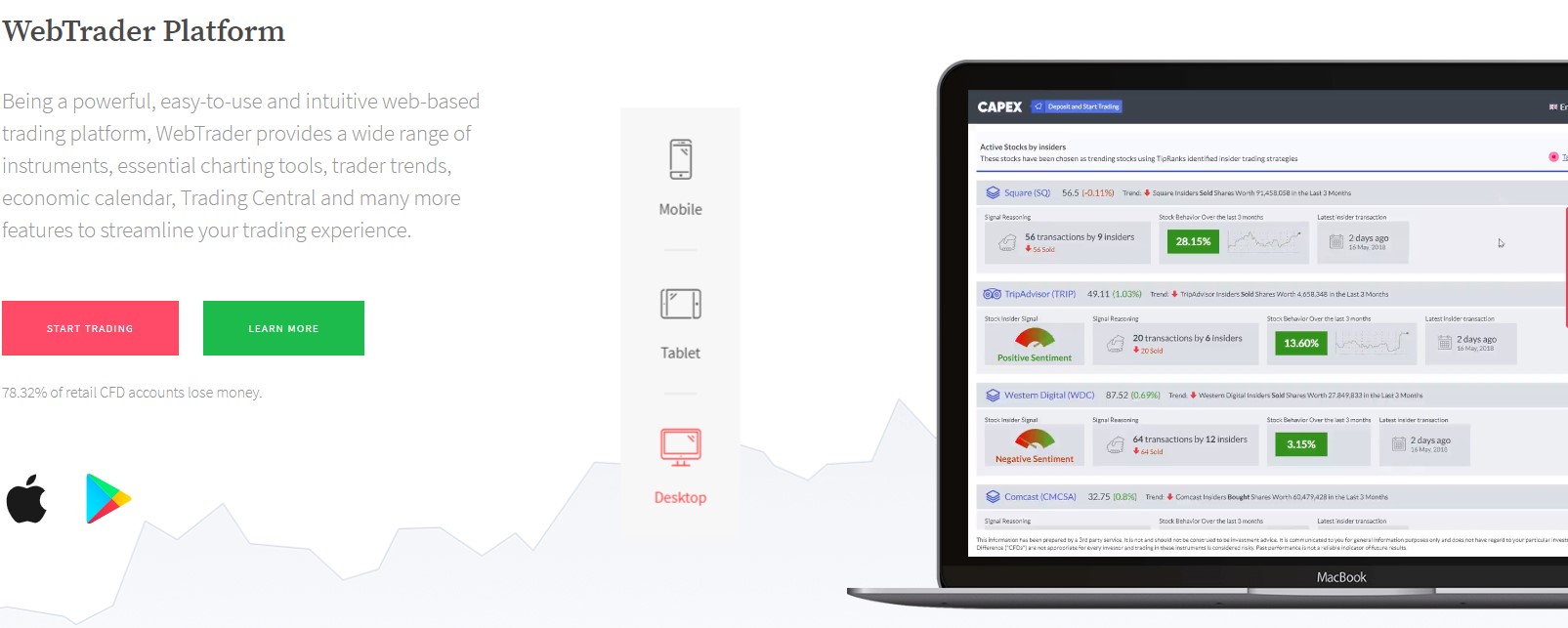 Account Types
There are three Capex Account types and they all come with their advantages and small perks. When it comes to the deposits though, the amount kind of surprised us in the beginning, but considering that Capex is a rebranded CFDGlobal it immediately became understandable.
The minimum deposits are $1000, $5000 and $10,000 respectively for the three accounts, all coming with a DEMO version, access to a library of video content as well as occasional trading signals.
Naturally, beginners are recommended to start with the $1000 deposit account due to the lower entry barrier, but in all honesty, the minimum deposit is quite steep for rookies.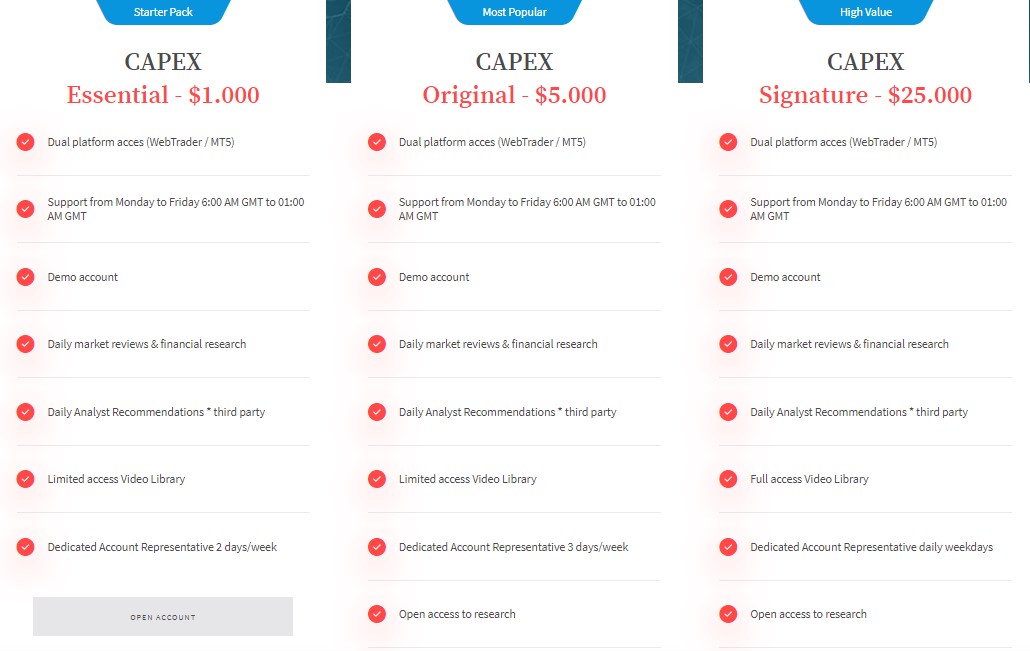 Withdrawals and deposits
The Capex withdrawals system was a bit confusing from the start as the company displays various third party payment providers according to specific regulators. But in the end, it became apparent that nearly every country can use things like Visa, MasterCard, Neteller, Skrill, Trustly and Maestro card.
According to the information on the webpage itself, both deposits and withdrawals have no fees attached to them whatsoever.
Is Capex CFD broker worth it?
With this small glance over the benefits offered by Capex, we come to a conclusion that the brokerage is indeed worthy of your attention as long as you consider yourself a slightly experienced trader. The minimum deposit entry level is a bit higher from the industry standards but the benefits such as access to educational material, DEMO accounts and etc, make it worth it nonetheless.
But is Capex legit? Of course, it is! Having several licenses under one's belt, especially ones from the FCA and BaFin immediately ramp up the trustworthiness. There is no such thing as the Capex scam, it's most likely a fabrication of several skeptic traders that didn't know Capex was the rebranded version of CFDGlobal.
In conclusion, Capex managed to pull through in the greenish area, earning itself an above-average CFD broker's title, but since it's headquartered in Cyprus, it could get the opportunity to increase the max leverage to 50:1, which would put it in a completely different league compared to other EU entities.
[RICH_REVIEWS_SNIPPET category="page"]
[RICH_REVIEWS_SHOW category="page"]
[RICH_REVIEWS_FORM]