There thousands of Forex brokers today and all of them a piece of your business. We are here asking ourselves 'is 24CM Forex broker a scam?'. Well, we will get an answer after looking through some of the features the broker has. For starters, 24CM is a broker which started operating in mid-2018. The firm is owned and operated by F1Markets Investment Limited which is an investment firm based in Cyprus.
Registration and license details of 24CM Forex broker
The offices of F1Markets Investment Ltd, the firm which owns and operates 24CM, are located along Kolonakiou Avenue 43, 4103 Agios Athanasios Limassol, Cyprus. The broker has a customer service telephone line of Cyprus. On the official website of the broker, it is indicated that F1Markets is licensed and regulated by Cyprus Securities and Exchange Commission (CySEC). The license number is 267/15.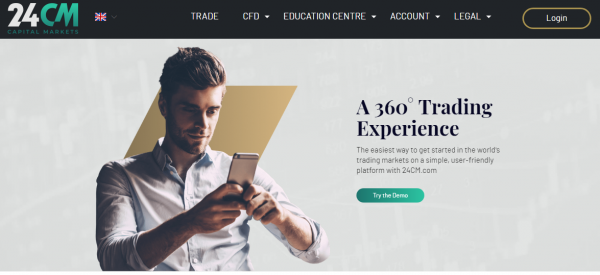 As you browse the website further, you will find that there is another company by the name IOS Investment Limited and which shares the 24CM brand with F1markets. Unlike F1Markets, IOS is licensed by the International Financial Services of Belize. This means that there are two companies which share the same brand but are related. The F1Markets is meant to serve customers who are located within the European Economic Area while IOS is for international customers.

How is trading at 24CM
In our 24CM review, we discover that the broker has put some thought in the trading platform which is designed by a company called Scipio. The platform is easy to understand and navigate. In addition to the web-based platform, 24CM Forex broker uses MT4 trading platform which is the most popular trading tool with FX traders. For the traders who wish to access the markets and their accounts using the mobile devices, 24CM has a Mobile App which is compatible with iOS and Android OS.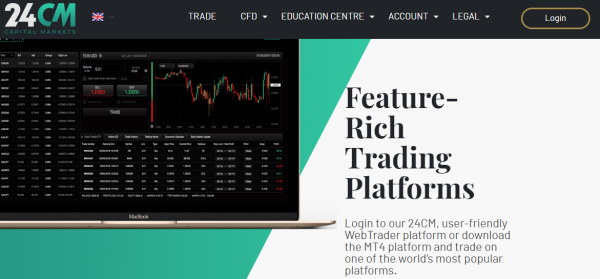 There are over 250 underlying assets which you can trade in when you open an account at 24CM. With the increase in the adoption of cryptocurrency, the firm also offers you Bitcoin, Litecoin, Dash, and Ripple among other altcoins to trade in. The leverage for these cryptos is 2:1. The broker observes the new MiFID II regulations which state that leverage for currency pairs come down to 30:1. According to the European Parliament, these rules were introduced to stop newbie FX traders from continually losing all their money.
The accounts found at 24CM
When you read many of the 24CM reviews, you will note that $250 is supposed to be the minimum initial deposit. The broker offers four different types of accounts which are Basic, Silver, Gold, and Platinum. Some of the common features with all the accounts is the 'dedicated accounts managed' and having access to a demo account which comes with at least 100k virtual money.

Is 24CM Forex broker legit?
After browsing the 24CM website, you will notice several things which are good about the broker. For example, the license details are quite clear and understandable to read. Regardless whether your account is under IOS or F1Markets which is based in Cyprus, you can rest easy and know that you are in the hands of a regulated and trusted broker. The other feature which the broker should certainly address is the omission of the minimum initial deposit requirement. Many traders want to see what are the exact requirements vis-a-vis benefits before they can commit themselves into opening a trading account.
Here you can read an old 24 Capital Markets review, please note it is outdated.
Forex trading has become very popular in the past few years, especially for the retail traders. According to the Bank for International Settlements (BIS), The FX traded volume per day was in excess of $4.9 trillion as of August 2012. The market is open 24 hours a day and traders can enjoy trading anytime from anywhere in the world. This has attracted many players among them 24CM. In this www.24cm.com review, we are going to try and establish whether this broker is worth investing in. We will also look into the services they offer as compared to what other established FX brokers have to offer.
CFD trading at 24CM
Contracts-for-Difference (CFDs) are now very popular because they enable traders to participate in instruments even without necessarily buying the actual instruments. At 24CM there are tutorials which are designed to help beginner traders get a better footing. With a reasonably low capital outlay, a trader is able to participate in CFD trading. What's uplifting about the whole ordeal with 24CM is the fact that they require a deposit of minimum $250 for this service, please note that this is done in order to keep you interested in the process. There are many Forex brokers that ask for $100 or even $50 as initial deposit. Unfortunately, as a beginner, you may find this a bit expensive, to begin with, but as an experienced trader it will give you quite a boost to check the whole calibre of the situation.

Forex trading at 24CM
Until recently, 24CM was not widely known for its Forex platform but rather for its prowess at offering the best binary options trading platform. Is 24 Capital Markets legit? This is the question that many traders who didn't know the firm's popularity in binary options keep asking. On the new FX platform, traders are able to use MT4 which is the most popular trading platform. According to 24CM, traders get to enjoy three different chart types and over 50 technical indicators. The Traders are required to download the MT4 app to their computer or smartphone. Just like CFD trading FX trading at 24CM is hampered by the high initial deposit requirement of $250 which makes it tough for many first time traders.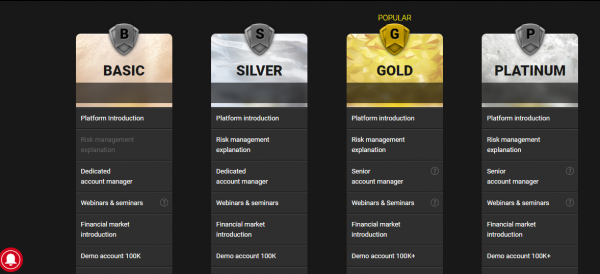 Cryptocurrency trading
Like a majority of FX brokers, 24 Capital Markets Forex broker is now offering its customers cryptocurrency alongside fiat currency, CFDs, and commodities. This means that you can participate in the speculation business of cryptocurrency whether by buying and selling cryptos directly or through CFDs. Major cryptos such as Bitcoin and Ethereum are some of the digital currencies to explore here. In order to participate in crypto trading on the 24CM platform, you will need to download the MT4 app. Just like it is with the fiat currencies, the owners of the company promises the crypto traders between 60-88% winnings. The minimum initial deposit is still $250 and residents of the USA don't have access to the platform.

Is 24 Capital Markets scam?
24 Capital Markets broker is regulated and licensed by CySEC. This is a clear inclination, that the company is trustworthy and you can honestly rest easy, by knowing that your investments are in good hands. Some of the complaints which you will find against the broker include the high initial deposit of $250. Also note that the brokers are quite insistent for you to start trading, but also know that a simple "no" is enough for them to back off. The only reason they are suggesting more deposits is that of more returns and profits for your account. If for example, a trader deposits an initial deposit of $250 and is persuaded to add another $200 by the account manager then they are eligible for way higher returns than others who refuse to add more investments. In our 24CM review, we have seen that the broker's commitment to giving traders their winnings is 100%. Consider the fact that the profits of the company are directly tied to your profits, therefore putting your best interest in their best interest.
[RICH_REVIEWS_SNIPPET category="page"]
[RICH_REVIEWS_SHOW category="page"]
[RICH_REVIEWS_FORM]