Tickmill $30 Welcome Account
In Forex, you can find tons of different promotional bonuses offered by brokers. The market is full of deposit bonuses, rebate programs, and affiliate promotions, and they promise quite lucrative offers.
But one major similarity between all of them is that they require a financial commitment from you, the client. For instance, a deposit bonus only activates when you make a deposit to your account. In the case of a rebate program, you only get cashbacks if you trade with your own money.
But there's one particular class of bonuses that don't require any deposit from you, and their name is quite straightforward as well – no deposit bonuses. Today, we'll take a look at yet another no deposit bonus from Tickmill, called the $30 Welcome Account, and show you all its merits.

Why should you get to know Tickmill first?
Now, while the idea behind no deposit bonuses sounds enticing, it should be noted that not all no deposit bonuses are trustworthy. On the one hand, there aren't too many brokers that offer this bonus. On the other hand, if you even manage to find one, there's no guarantee that it's going to be trustworthy.
Many scam brokers offer welcome/no deposit bonuses to enhance the appeal of their platforms without featuring any kind of significant trading features. Therefore, you need to be able to tell scammers from reliable brokers.
In the case of the Tickmill Welcome Account, what should be your course of action? Should you trust it and receive the bonus? Well, let's find out.
When you check out the broker's website, the very first sentence you'll read is the following: "Authorised and Regulated: FSA SC, FCA UK, CySEC, LFSA, FSCA." Therefore, the broker is monitored by five different regulators, and from those five, two are from Europe – Financial Conduct Authority (FCA) of the UK and Cyprus Securities and Exchange Commission (CySEC).
Now, what this means is that whenever you apply for the $30 Welcome Account, Tickmill won't have a chance to even think about scamming you. And if it does try to do that, the above-mentioned regulators will wipe it out from its existence, which in itself guarantees that you're trading with a reliable brokerage.
On to the no deposit bonus itself
So, since we've established the reliability of Tickmill, why don't we take a look at its $30 Welcome Account and why it's such an exciting offer?
As the broker elaborates, its Welcome Account is a risk-free promotion that doesn't request anything from you. The only thing you need to do is register with the broker and start trading with the bonus money. And, as noted earlier, you don't need to deposit money on your newly-created account.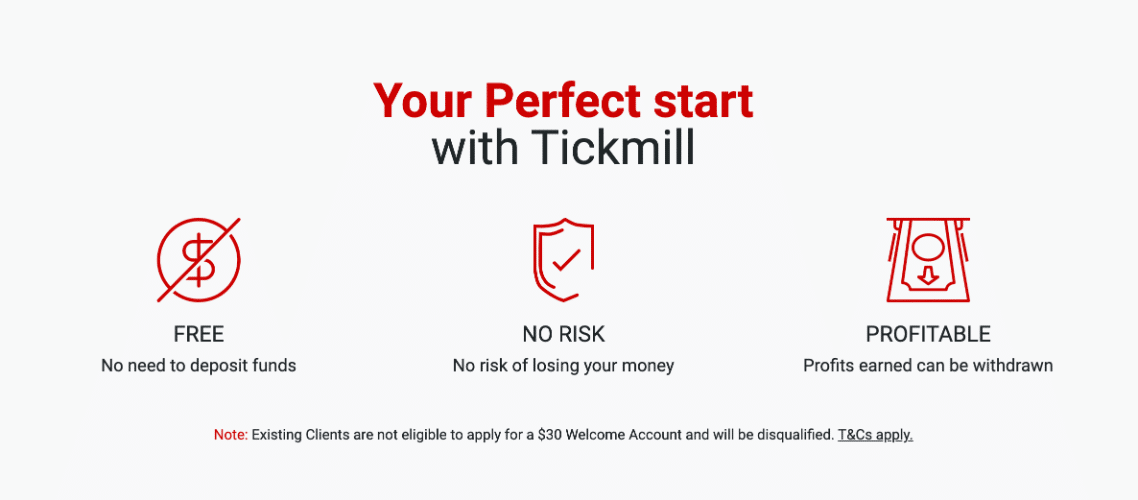 Furthermore, it's extremely easy to create the Welcome Account, and as soon as you're done, Tickmill will immediately credit $30 to your account balance – it's that easy to claim the bonus money.
Here are some of the main terms and conditions of the Tickmill $30 Welcome Account:
Only the first-ever clients of Tickmill are eligible for the Welcome Account;
You don't need to deposit any funds to get the bonus;
All the profits you earn stay with you;
Welcome Account is only available within the jurisdiction of the FSA Seychelles. Non-supported countries are: Algeria, Armenia, Australia, Azerbaijan, Belarus, Bulgaria, Columbia, Georgia, Hong Kong, Iceland, Israel, Kazakhstan, Lebanon, Liechtenstein, Macau, Moldova, Morocco, Norway, State of Palestine, Switzerland, Taiwan, Tunisia, Yemen, North Korea, Iran, USA, Indonesia, Venezuela, Vietnam, Lesotho, Pakistan, Bangladesh, Ghana, Egypt, Russia, San Marino, South Africa, Ukraine, Uzbekistan, Kyrgyzstan, Tajikistan, Turkmenistan, Kenya, as well as all EU countries;
You have 60 days from the opening of the account to use the bonus money.
As for how to withdraw the profits you generated, you can use debit/credit cards, bank wire, and Skrill.
Is Tickmill Welcome Account what you're looking for?
After everything we've just mentioned about this promotion, should you apply for the Tickmill Welcome Account bonus? Is a $30 reward worthwhile of your time and effort?
Well, considering that it's coming from a tightly-regulated broker and it has pretty flexible conditions, there's no reason why you should deny the offer. Besides, it actually is free money and you're not risking anything.
So, why not?!