For those reading this from the US, you might need some clarification – this is about soccer. Football is the most popular sport around the world, with every country having some form of football league through which local teams compete. However, there are some very prolific football leagues, teams and even players who exemplify the sport and make it the spectacle it is.
As any marketer knows, you get to people's hearts by hitting at what they love. Since the people love football, it is understandable why forex brokers would want to associate themselves with the sport. In such deals, the FX brokers get the right to use the football team or player's images to promote their content, while the other party gets a new sponsor. These relationships have given us some very significant sponsorship deals of late, some worth noting more than others.
InstaForex and Liverpool FC
InstaForex first began their relationship with Liverpool in July, 2014. The partnership deal made InstaForex a Liverpool sponsor in Asia and the Commonwealth of Independent States (CIS). We are not sure of the exact amount, but Finance Magnates reported that it was a multi-million dollar deal.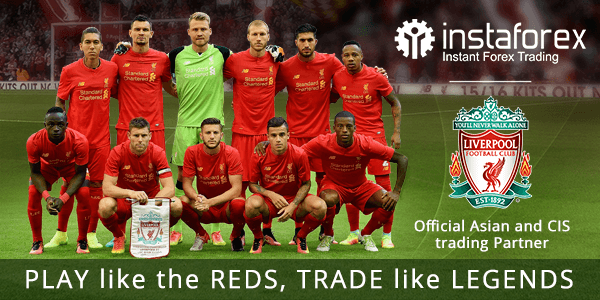 At the time, InstaForex had just been named the Best Forex Broker Asia Pacific by International Finance Magazine and as the Best Forex Broker Eastern Europe by IAIR Awards that same year. Meanwhile, Liverpool had finished second in the Barclays Premier League standings for the 2013/14 season behind Manchester City. Naturally, the two seemed like a good match since they were both winners.
The partnership was a 2-year deal, during which time InstaForex held several contests for its clients to see a Liverpool game live. Some of these include the Spring in Liverpool and Heading to Anfield campaigns. Last year, Liverpool extended their partnership with InstaForex for two more years, and we can expect to see more of these exciting campaigns coming up soon.
Later on, in 2015, InstaForex went on to partner with Italian football team Palermo FC in another major deal. This was another major sponsorship deal as Palermo FC is a major team in Italy's Serie A league, further extending the image of InstaForex across Europe.
ITRADER.com and Manchester City
Manchester City is one of the world's most successful football teams, and now they are in partnership with iTrader.com. Meanwhile, the broker has been receiving some very good reviews as seen at ForexNewsNow ITRADER review here by quite a significant number of traders.. The Senior Vice President of partnerships at Manchester City hailed the partnership, commenting on ITRADER's reputation on integrity and performance.
The deal was struck last year just as the 2016/17 premier league season was kicking off, and that provided ITRADER clients access to some very exclusive perks.ITRADER became Manchester City's Official Online Trading Partner, and the deal would cover regions of the world such as Africa, Europe, and the Middle East. Clients of ITRADER from some countries in these regions would get special perks as a benefit of the deal. In addition, several raffles were held throughout the football season that offered prizes including tickets for live games, merchandise, and hospitality.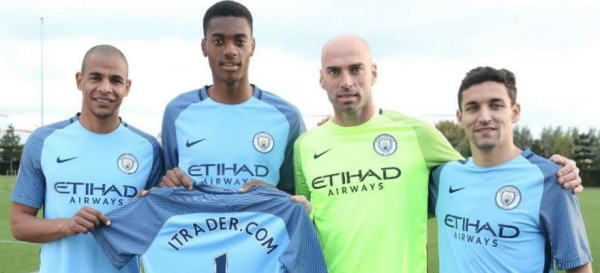 In return, ITRADER would have access to Manchester City's images to use in their marketing campaigns. In addition, the two partners would coordinate to create a website. The details of the deal are unclear, and we do not know the value of the deal, or the length of it, but you can bet it was quite significant.
IronFX and FC Barcelona
FC Barcelona is one of the world's most prestigious football clubs, and they have been consistent winners in the Spanish La Liga. IronFX is also a major forex brokerage, with more than a thousand employees worldwide and many clients from all over the world. They made a partnership deal in March, 2014, for a 3-year period ending March 2017. The deal supposedly had IronFX paying FC Barcelona about 3 million euro every season, totalling 9 million euro for the duration of the deal. IronFX would, in return, have the right to use the FC Barcelona brand in their marketing campaigns.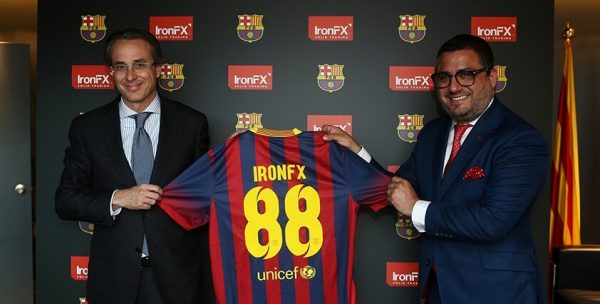 However, as soon August, 2016, the IronFX logo was removed from the FC Barcelona website, although the FC Barcelona logo remains on the IronFX website. It is not clear why this happened before the period stated in the contract, perhaps there was an exit clause, but it now seems the partnership has come to an end.