XM Deposit Bonus
*XM Zero Accounts are not eligible to receive Deposit Bonuses
*Clients registered under Trading Point of Financial Instruments Ltd are not eligible for the bonus.
It is important to make trading deposits with reliable brokers. It is even better if they give you additional deposit bonuses. The new XM Deposit Bonus gives additional significant boost to your  trading deposits. And what is more – there are no hidden terms attached.
Get ready to trade on MetaTrader 4 or MT5 with your increased account balance!
XM Deposit Bonus Description
The new XM Deposit Bonus system offers every account holder a 50% and 20% balance boost on the deposits up to $23,500 or equivalent in other currency. This is quite an attractive offer if you are looking to deposit around 1,000 USD on your forex trading account with XM Forex Broker. What is also great about XM Deposit Bonus deal is that you will not only be rewarded for the deposits of 1,000 USD, but if your deposit is larger, the extra deposit value will be rewarded with 20% deposit bonus from XM Forex.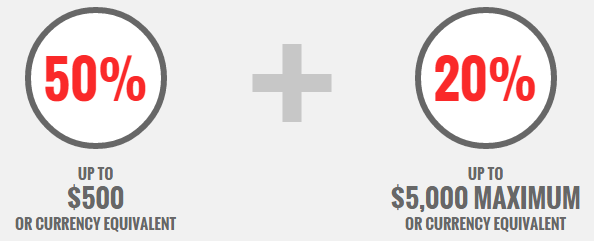 The calculations of your upcoming bonus are pretty easy and are shown in the table:

But what is more to the XM Deposit Bonus – there is no difference if you are making your first deposit or already trade with the XM for years. Any account holder can get his own XM Deposit Bonus!
Also, this offer is not a one-time deal! So, if you decide to deposit $500 and in a few days another $500 you will get a $250 boost to your account two times. But be aware that the maximum bonus amount you can receive is equal to $5,000, which is a lot of money, if you ask Top Forex Brokers.
The other good point of the XM Deposit Bonus is that it is multi-account bonus. So, if you make a deposit to one account and than transfer part of your money to the other account -the share of your bonus will be transferred too! So, the system will calculate the share of deposit that you transfer and will transfer the same share of the bonus! How cool is that?
The XM Deposit Bonus cannot be withdrawn, but you will be able to withdraw any profits from your account, and use your bonus for trading. So do not hesitate, get your bonus now and show how good you are using MetaTrader 4 or XM Web platform now!
Top Forex Brokers recommends you to open an account with XM Forex Broker and be rewarded with an amazing 50% deposit bonus from XM to seize more opportunities in the foreign exchange market. If you are not sure about trading with XM, you may try its No Deposit bonus 30 USD offer and test drive this broker.