RoboForex Classic Bonus
There are tons of different bonuses in the Forex trading market. Whether it's deposit bonuses, cash rebate promotions, or even contests between traders, Forex brokers can definitely make the trading experience more exciting with these promotions.
Among them, deposit bonuses are arguably the most popular and widely used. Many brokers try to make their clients' trading experience more pleasing and more lucrative by increasing their initial deposit sizes, whether it's by nominal amounts or by certain percentage rates.
Today, we'll take a look at yet another deposit bonus, RoboForex Classic Bonus. If you want to know what this bonus is all about, keep reading this overview.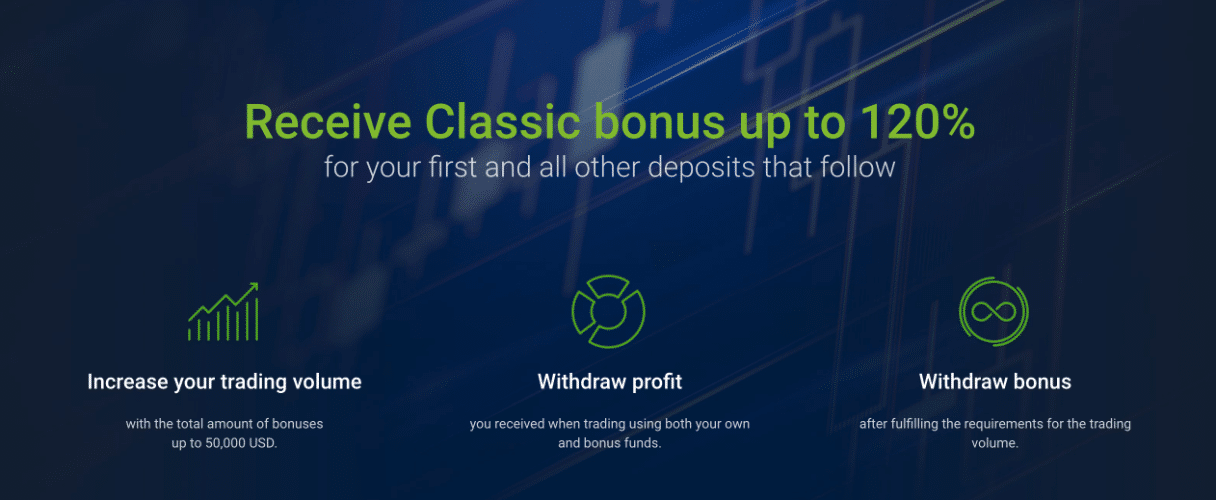 Deconstructing the broker
First things first, if you are to trust this promotion and use it in your trades, you need to have solid proof that RoboForex is a reliable brokerage. And sure enough, it's pretty easy to determine that.
If you head over to RoboForex's website and scroll all the way down, you'll see that the broker owns a couple of pretty sturdy licenses. One is from Cyprus – Cyprus Securities and Exchange Commission (CySEC), and the other is from Belize – International Financial Services Commission (IFSC).
Both of these licenses strictly monitor RoboForex's actions and ensure that you're getting the most reliable and beneficial trading terms and conditions from it.
What's the Classic Bonus all about?
On RoboForex's website, there's the Promotions section that contains various different bonuses and promotions, whether it's a hefty 1,000,000 USD anniversary bonus or a constant cashback promo. Among them, there's the Classic Bonus that distinguishes itself with a pretty lucrative offer.
Let's take a look at this Classic Bonus and see what it's all about. As the relevant website section notifies, the RoboForex Classic Bonus promises a hefty 120% bonus on your deposit.
For example, if you deposit 1,000 USD on your RoboForex MT4/MT5 account, you'll get an additional 1,200 USD on the same trading balance from the broker. Pretty impressive, right?
Wait until you see the conditions for getting the bonus – they're even more impressive. So, here's what you need to do to sign up for the RoboForex Classic Bonus:
Sign up for an MT4/MT5-based cent or standard accounts (only these two work) on the website;
Upload two requested documents to verify your identity;
Make a deposit to the newly-created account and get a bonus of up to 50,000 USD.

And that's it, no additional applications or requests is necessary. Now, we'll list some of the main details of this bonus:
Everyone can participate in this bonus, and not just the newcomers to the RoboForex platform;
You can get the bonus for multiple deposits, not just the first one, as long as it doesn't exceed the 50,000 USD total sum;
You can generate profits with the bonus money and then withdraw it without any limitations;
You can even withdraw the bonus money itself, if you meet all the trading volume requirements: you need to have traded half the amount of standard lots of the bonus money you receive. For example, if you get 1,000 USD as a bonus, you need to trade 500 lots (closed transactions) to withdraw the bonus money;
The bonus is available indefinitely.
Once you make enough profits that you want to withdraw, you can easily make a request for it and have your money transferred to any of the available platforms. In fact, RoboForex features tons of payment methods on its platform, be it credit/debit cards, wire transfer, or e-wallets.
Is the RoboForex Classic Bonus any good?
As we saw in this review of RoboForex Classic Bonus, the terms and conditions for this promotion are pretty lucrative. Theoretically, you can get 50,000 USD as a bonus from the broker, which is just astonishing to think about.
RoboForex itself is a properly-regulated broker that ensures the safest trading sessions for you. Moreover, it doesn't have additional requests for you to provide its Classic Bonus, which is always a welcoming sign.
So, should you get the RoboForex Classic Bonus? Absolutely yes!