MultiBank FX 20% Deposit Bonus Review
Extra cash on the account is never out of place, be it a bank account, credit account or just a streaming service account. So why would it be any different for a Forex account?
In this article, we will glance over the MultiBank FX 20% deposit bonus and showcase what exactly their offering solves for the traders and what kind of benefit they can expect from this promotion.
However, we will not dedicate any time to discussing the broker itself, as we've already done so in our MultiBank FX review.
The MultiBank FX 20% deposit bonus is pretty self-explanatory when you first look at it. Depending on the amount that you deposit, you will get 1/5th of that amount as additional cash to use while trading.
However, make sure that you have chosen the correct trading account type, as this bonus only applies to the Maximus account. There are two others so make sure you don't mix them up.
Now that we've more or less outlined what type of funds you should expect from the bonus, let's dive into the terms and conditions of getting and using the said bonus.
MultiBank FX 20% deposit bonus conditions
The first condition for getting the bonus is that you need to be a new customer on the MultiBank FX platform. If you already have an account and you make a new one, the broker will simply detect that you're using the same IP and will most likely block you.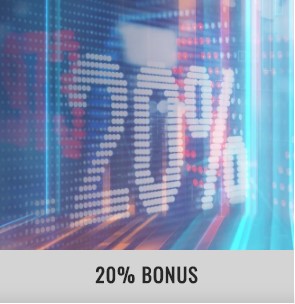 Another condition is the maximum amount you can receive, which is $5,000. This means that any deposit you make above the $25,000 mark will not give you an additional bonus, that is the absolute cap. There is no minimum though for the bonus. But you can use the minimum deposit of the account itself, which is $50, meaning that the least you can get through the bonus is $10.
In order to maximize the bonus, you will have to use it within the first 3 months of getting it. This means placing risky trades, making bold moves and maximizing your profit. But after the 3 months, the bonus amount will be reducted from your account.
To be honest this part of the MultiBank FX 20% deposit bonus review made us question the company's decision. But it only takes a moment of hindsight to remember that almost every brokerage does this and that it's one of the most common ways to administer the bonus on a new customer.
It's real money the broker is giving to you. It doesn't want to just let it go for nothing right?
Can you withdraw the bonus?
No, the bonus is not withdrawable. In fact, if you ask for withdrawal within the first three months of getting it, it will immediately be taken away by the brokerage.
But the good news is that it's losable, and nobody will ask you to compensate them. Therefore, there is indeed room for larger risk, but consider that the bonus is just 20% of your account, so don't go too crazy with the trades.
Is the MultiBank FX 20% bonus on deposit worth it?
This bonus needs to be considered as something temporary, rather than forever. It not clear whether or not it can be "tried again" after the 3 month period is over, but that 3 month period should be more than enough time to get the benefit out of it.
Sure it's much smaller than the 100% deposit bonus, but the good news is that it's losable. This means that if you go below the bonus amount, you can still build it back up through better-calculated trades, and better risk management.
Overall, this bonus is a solid promotional piece from MultiBank FX and deserves a try from both beginners as well as veterans.