FBS 100% Deposit Bonus
The trading industry is full of brokers with lucrative trading terms and conditions, whether it's spreads, leverage rates, or execution policies. And they're all extremely important for your profitability in the market.
However, there are other no less appealing features that elevate your trading experience. One of those features is a deposit bonus. Many brokers offer deposit bonuses to increase their clients' trading funds and let them generate as much profit as possible.
But how do you determine which offer is trustworthy? Well, it's good that our team of experts at Top Forex Brokers is here to help you out. Today, we'll do the review of FBS no deposit bonus and help you decide whether it's for you or not.

A broker you can trust
Before we go to the actual bonus, it's worth mentioning that FBS is is one of the highly-acclaimed brokerage firms in the entire industry. First things first, FBS owns a financial license from the International Financial Services Commission (IFSC) of Belize, which ensures that every product or service FBS offers is as safe as it can get.
What's more, this broker features additional safety features like negative balance protection and customer compensation fund. These ensure that should you lose money or have a dispute with FBS, there's always going to be a safe compensation pool to fall back on.
A hefty bonus, and the conditions to get it
Now that we've established that FBS is a trustworthy broker, it's time to do a proper review of FBS no deposit bonus. As you fire up the broker's website and go to the Promotions section, you'll find a huge variety of promotions, be it trade parties, welcome bonuses, or even a car lottery.
Among those promotions, there's the 100% deposit bonus, which holds a special place on FBS' website. Interested in what this bonus is all about?
Well, the moment you fund your live trading account, you'll get a 100% of the deposit amount credited to your balance. That's right! If you deposit, say, 500 USD, you'll have 1,000 USD to trade. Sounds great, right?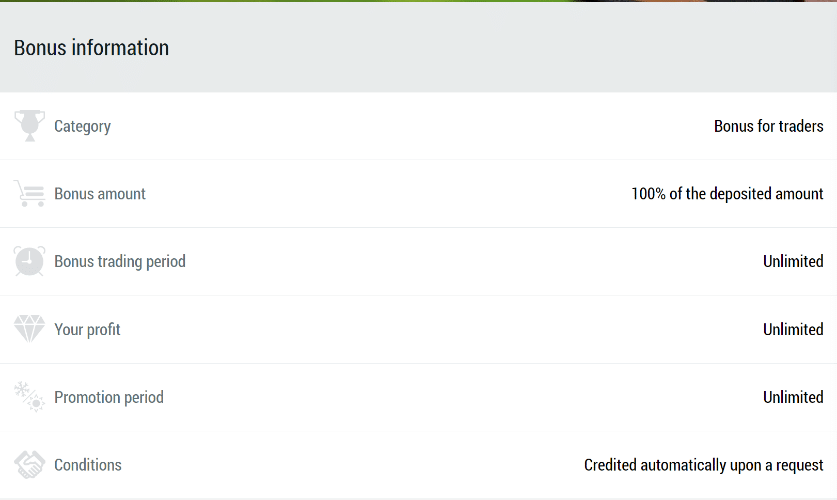 What's even great is that the conditions for getting the FBS no deposit bonus are flexible. Out of 6 different trading accounts, you can choose either of those and still get a 100% bonus. Besides that, here are some of the main features of this bonus:
There's no bonus trading deadline; you can use your credited bonus money whenever and how long you want;
Not only that, but the promotion itself will last indefinitely, meaning whether you start trading with FBS now or many months from now, you'll still be able to claim its deposit bonus;
FBS doesn't restrict the amount of profit you can generate with your deposit bonus money. So, if you can make thousands of bucks with your trades, it's entirely yours!
Finally, it's also worth noting that you don't need specific documents or additional details to get this bonus. You literally click the request button and get it from the broker, assuming that you've already created an account within the regular framework.
When you set up your account, apply for the FBS no deposit bonus, and generate profits with it, what's the next step? Well, the next step is to withdraw your funds. And for that, FBS features 6 different financial platforms, including credit cards, Skrill, and Neteller. And the transaction is executed within minutes.
Should you use the FBS no deposit bonus?
As you can see from this in-depth review of the FBS no deposit bonus, the terms and conditions for this promotion are more than lucrative. Besides that, the broker itself is a highly-regarded player in the industry. In fact, FBS is one of the main official trading partners of FC Barcelona, which speaks volumes of the credibility of the broker.
Therefore, we can easily recommend this bonus to our readers!