MultiBank FX demo contest review – is it worth your time?
Forex brokers like to announce competitions on their platforms for various reasons. Some may want to attract new customers while others want to build a much better relationship with already existing ones.
In this MultiBank FX demo contest review we will try to determine which type of trader this competition is designed for. Furthermore, we will dive into its intricacies. Things such as the prizes, the conditions, and the registration process will all be covered here.
However, we will give you info about eligibility straight away, just so you know if this contest is for you or not.
Who is eligible for the MultiBank FX demo championship?
Judging from the conditions of the contest, it's safe to say that only new customers are welcome there. For example, the broker states that the account needs to be fresh, and if they find out that you have another one registered with the same IP, name, credentials and etc, you'll be automatically disqualified.

This indicates that the broker is trying to attract new traders to its platform from other brokerages, or just raise a whole new list of beginner customers trying to make some money through the contest. These types of promotions benefit the beginners most, as they don't really need to have that much experience, they just need to risk it all and try their best to double their accounts.
But regardless of how beneficial this MultiBank FX demo championship may be for traders, it needs to be considered if it's worth pouring time into it. That much is determined through the trading conditions and the rewards. Let's talk about them next.
What are the prizes?
There are three winning positions in total. The people who manage to reach 1st, 2nd and 3rd places through sheer trading volume have the option to win the following sums of money on cash:
1st place – $7,000
2nd place – $3,000
3rd place – $2,000
Considering other competitions, where the largest prize is no more than $1,000 it can be considered that MultiBank FX demo competition is indeed worth your time.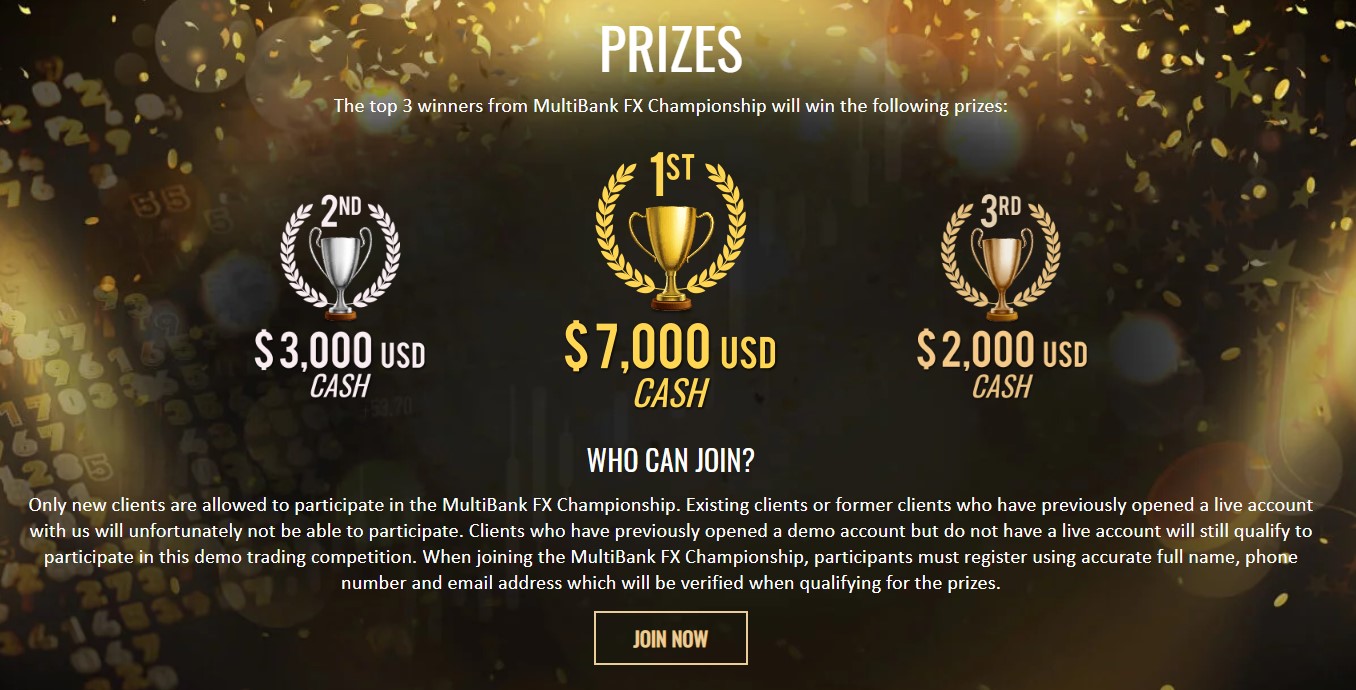 However, the large prize doesn't come with its difficulties. One of such difficulties is that it will be a global championship, meaning that you will have a lot more competitors than you'd have in a smaller market. This could be a disadvantage for beginners, but almost everybody just free-rolls it on these competitions anyway.
What are the conditions to apply?
As already mentioned, you will have to have a fresh account with the broker. Once you've applied on the platform, you can indicate that you want to participate in the competition.
In order to apply, you'll have to use the registration form which is not unique in any way. It's your run of the mill email address, mobile phone number, country of residence and etc.
Once the application process has been completed, a sales representative of MultiBank FX will contact you within 5 or so working days and confirm your participation. If the call doesn't happen, make sure to contact support and let them know that you're interested in the contest.
Otherwise, error may lead to disaster and you may be disqualified for not confirming anything. Also, keep an eye on the email, the confirmation may come via that method as well.
What you can use during the contest
What we found out during this MultiBank FX contest review was that you can download the competition software immediately. It's going to be branded as MutliBank FX Mt4 Demo account. You'll have to log in with the credentials that you'll be provided with and wait for the contest to start if it's too early.
You will be notified a few days before the competition starts so that you're better prepared.
The tools at your disposal will be some signals and quite a hefty amount of leverage of 1:500.
The minimum trading requirement will be 1,000 lots round trip and your account will be credited with $100,000.
As long as you have that many lots traded on the account, it doesn't matter if your final total is less than $100,000 as long as other participants had a similar situation. In that case, there is still hope to win the whole gig.
How to collect the reward
If you're one of the lucky three to win the contest, this is the procedure you should expect. Once the contests end on October 25th, you will have to wait around two weeks for the results. Once the results are live, you will be contacted within two or three working days by a sales representative and notified about your victory.
Once you have this information the broker will request that you provide them with some form of ID verification document as well as a 3-5 minute video describing your experience of the whole ordeal, why you liked it and etc.
This will be solely used for promotion purposes by the broker and you will have to agree to it beforehand.
That's pretty much all that you need to know about the contest. Now hurry up, the registration process ends on September 29th, and the contests itself starts on September 30th. You will have around a month to win the whole gig, which is quite enough considering the number of funds you will be given.