Our honest AxiTrader review – should you trust the broker?

The foreign exchange market has long become one of the largest segments of the overall trading industry. It actually has a traction of almost 6 trillion US dollars per day, which is far larger than any other trading market.
Due to that scale, the industry is full of different players with different offerings and requirements. On the one hand, traders want to buy securities at a lower price and sell them more expensively, which generates profit. On the other hand, service providers, also known as brokers, want to do the same: sell assets expensively to the clients and buy for them at a lower price.
The competition of interests at this level is pretty natural and there's nothing wrong with it. However, it is definitely wrong of brokers to trick their clients and drag them into financial manipulations, a practice that's pretty rampant on the internet these days.
Fortunately, there's no shortage of trustworthy brokerages and with a  little research and help from reviewing firms like Top Forex Brokers, you too will be able to determine the exact nature of a broker. For now, we'll be focusing on an Australian-born financial brokerage, AxiTrader.
Australia is a hotbed for Forex trading right now and a big part of that is one of their local success stories: the AxiTrader Forex broker. After launching in Sydney in 2007, they've built an exceptional track record and gathered a loyal following of Australian users. Moreover, the company has managed to use its local success as a springboard to expand operations internationally, opening offices all around the world and bringing big numbers of traders from the UK, Middle East, Europe, Russia, and Eastern Asia under their wing.
We'll be putting AxiTrader under our examination today as we try to understand what they bring to the table and why they seem so attractive to so many traders.
Initial overview
A fair warning before we go further: there aren't many international FX brokers that we think deserve as much praise as we're giving AxiTrader in this review.
Let's start with the service. It can be hard for a business to sustain a high level of service while they're in the midst of major growth and expansion across the world. It stretches resources and puts pressure on the amount of time you can spend working with each individual customer. But, despite plenty of change over the years, AxiTrader's service has remained at a very high level.
Part of that seems to stem from a love of efficiency that they appear to bring everywhere they operate – specifically to their website.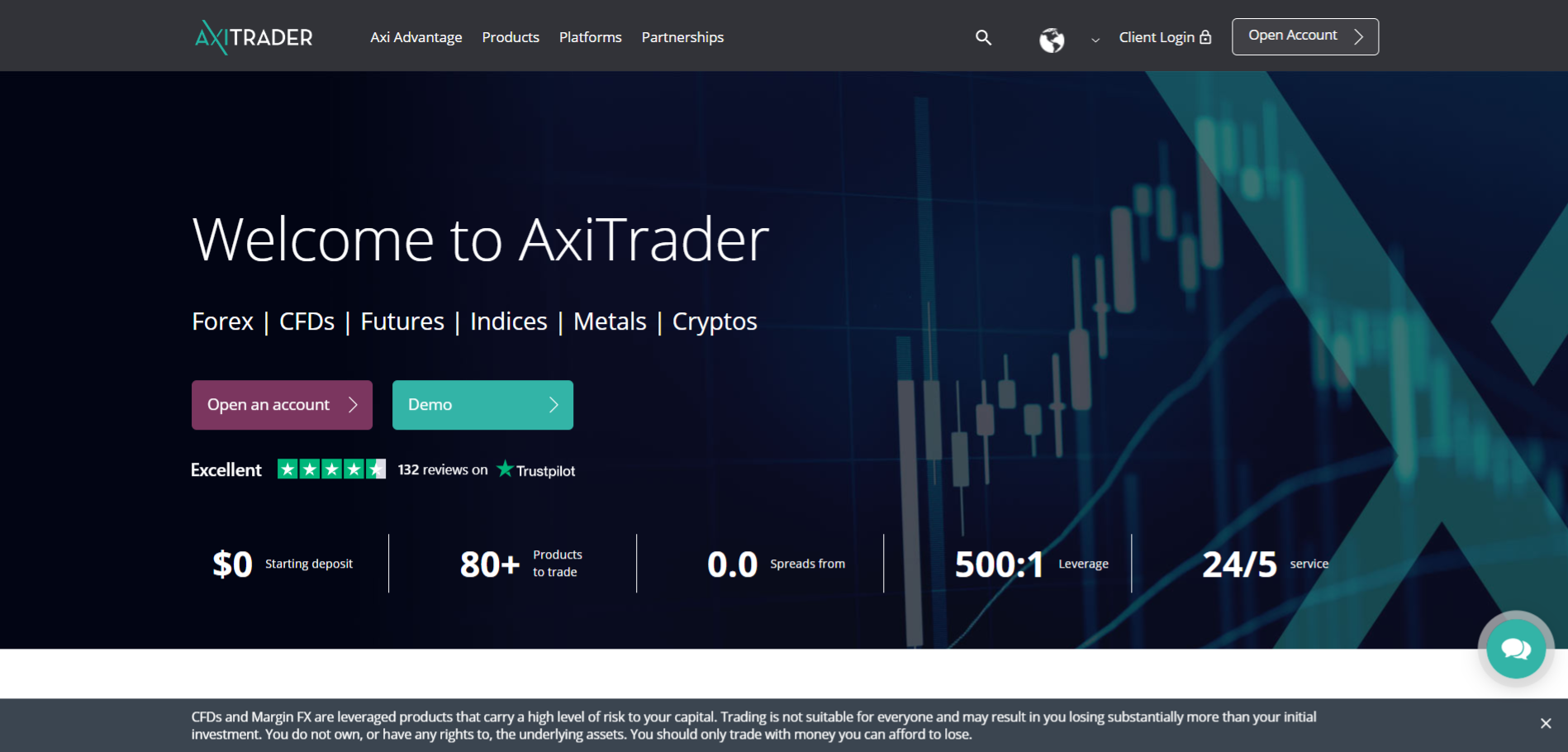 Initial axitrader.com review
When we opened up AxiTrader's website, we were greeted by a simplistic interface that may not be as pleasant to the art-aficionado, but it'll definitely do the trick for traders. The design doesn't look too overpowered with unnecessary visual effects, only the most important elements are put in there.
This, in turn, leads to better navigability. Traders can enter the website and in just a click away, they can find any kind of information about the broker's trading terms and conditions, as well as its licensing and other legal implications.
AxiTrader also has a decent array of account packages: there's two live and one demo account. What this means is that a trader with any kind of experience can start exchanging their preferred assets on this platform without too much hassle.
Then there's trading software. Being on the market for more than 13 years has taught AxiTrader that having the polished trading platform is an essential requirement for any broker. That's why the AxiTrader MT4 is the main software people can use here. MetaTrader has long been an industry standard and there's just no way of going wrong with it.
But there are also other pieces of software present here: the broker offers the MT4-based WebTrader, which is a more simplistic and less power-hungry software that runs on any web browser. And there's also AxiOne and PsyQuation for anyone who prefers these platforms.
The license
After that, we'll review the legal materials for AxiTrader. License is one of the surest ways of determining the broker's credibility. And with AxiTrader, one can be sure that they're doing the right choice, here's why:
First off, the broker has a full-on SVGFSA license from the St. Vincent and the Grenadines financial regulator. This license is one of the most popular and sturdiest legal pieces in the financial world right now. And even if it were alone on the platform, it would still ensure that there's no AxiTrader fraud going on.
However, there's definitely more! Since AxiTrader was based in Australia and has a major headquarters there, it also has legal obligations to the Australian Securities and Investment Commission (ASIC). If this detail needs any explanation, here it is: Australia is one of the most powerful countries in the world. There's literally no way of scamming clients and getting away with it when the ASIC license is present. On top of that, we also have the FMA license from Lichtenschtein, one of the most financially stable European countries.
So, when it comes to licensing and restricting any kind of suspicious activity, the combination of SVGFSA, ASIC, and FMA licenses definitely does its job.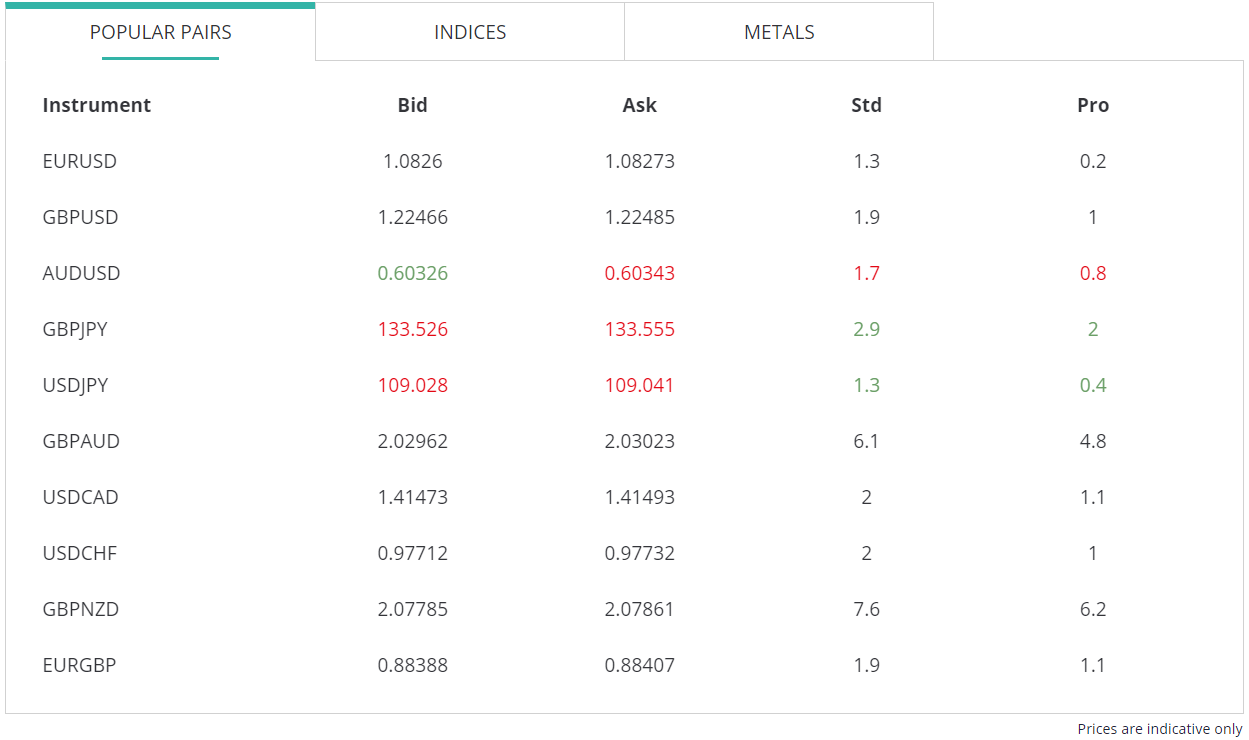 Trading terms and conditions
On the final note, we'll be discussing the actual numbers and financial requirements on AxiTrader. The first important element is the leverage and margin that accompanies it. On AxiTrader, traders can use a 1:500 leverage to increase their initial positioning power by 500 times. This inadvertently means increased profits, but also the losses, that's why the broker allows clients to choose the most suitable leverage ratio.
Then there's spreads that go as low as 0 pips. What this means is that traders can, on many occasions, buy and sell assets within the exact same prices, which is definitely a lucrative proposition to any trader in Forex, stocks, or any other market.
Then we move to the financial platforms. We were quite impressed when we saw an infographic where all the payment methods were listed. Ranging from the most traditional (bank/wire, credit cards) to the most unconventional financial platforms (Neteller, Skrill, Fasapay, etc), the broker has all of it. And what's more, transactions are commission-less (below $50,000).
The website
When checking back to put together this AxiTrader review, we found the website (www.axitrader.com) to be extremely easy to navigate, no matter what part of the page we went to. Sure the homepage isn't the most beautiful site in the world, but it loads quickly and it is easy to find your way around, which are the most important details from a functionality perspective. The developers have put together a nice menu which makes finding information super simple.
Putting all their information out there gives a sense that this is a trustworthy and reliable broker. You see all the selling points but also clear displays of the risks of trading which, if you look at it from an AxiTrader opinion, suggests there's nothing to hide. Honesty is always the best policy – especially when the subject is the financial wellbeing of a person depositing money with your company – so we'd like to say a good job to AxiTrader on their slightly ugly, but open and easy to use the website.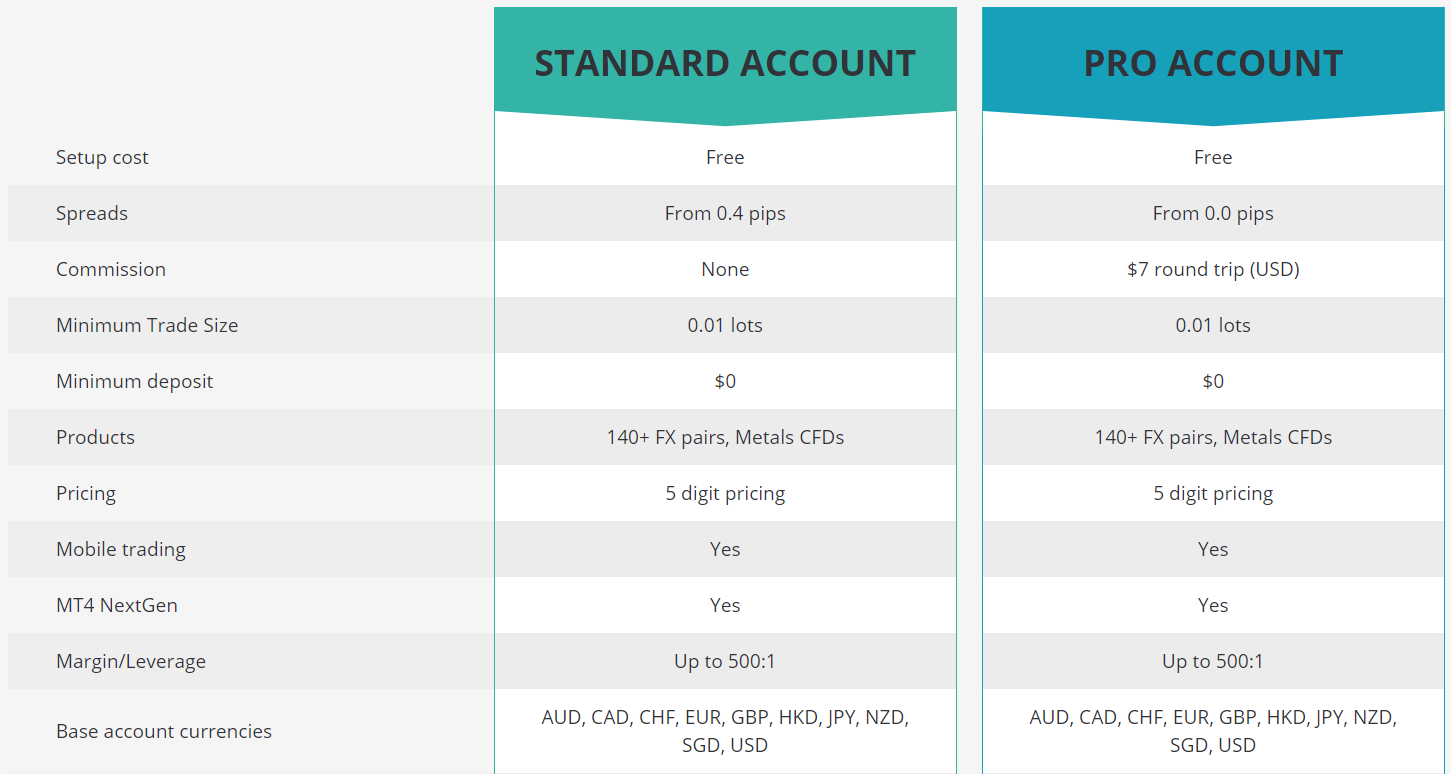 Account types and Platforms
The broker offers two types of accounts to their users: the AxiTrader MT4 Standard account and the MT4 Pro account, with each one having certain benefits depending on what a trader wants.
All Standard accounts come with full and free access to the MT4 platform, as well as automated trading, mobile trading, flexible charts and tools for analyzing the market, the full range of markets and enhanced connectivity. Users with this type of account will have access to 80 currency pairs, no commission trading, as well as no minimum deposit requirements (unless they start working with a promotion).
Those who choose to go the Pro road get access to spreads as low as 0.00, instant execution, no requotes, low commission, ECN style deep liquidity, third-party advisors, low swap rates, high-security settings, strategic flexibility, positive price improvement, lower latency, high-speed trading, as well as free VPS services.
While the differences between the two account types might not seem significant, the key is in the detail. For example, you could go for a Standard account so that you pay no commission on trades, or you could choose a Pro account that charges a commission but gets you slightly better spreads – the decision will end up being based on the requirements of the user. And, hey, you could always swap to a different account if you needed to.
Demo Account
The broker outlines a number of general services on the homepage, but one of the most important is the Demo account and there aren't many brokers offering a demo account this flexible.
The AxiTrader FX brokerage allows new users to access a Demo account, which is filled with virtual funds they can use to practice trading. This allows these users to prepare for live trading through a real-time simulation of the real world market, without having to risk their own money upfront. Demo users get 30 days to practice trading and there's no obligation to upgrade to a live account before the person is ready.
Another great detail about the AxiTrader Demo account is that users can access it from their mobile devices. This isn't something always seen with other brokers and it lets AxiTrader clients learn how to trade more effectively and much faster than those who trade with comparative Demo accounts from some other brokers.
In general, users report their AxiTrader opinions of the Demo account to be extremely positive and full of useful experiences that prepared them for live trading. If more brokers offered a service like this, more people would be able to experience the markets before getting involved in them, making them more proficient at trading and giving them a better chance of earning money.
AxiTrader scam and market education
Something unique that AxiTrader seems to be doing is showcasing to the rest of the world what an honest broker looks like.
While they don't have detailed guides on how to avoid scams, the fact that they have detailed descriptions of their services and actively try to provide potential users with all kinds of information about themselves serves as a great example for what a scam broker would not do and why you should be avoiding any broker that does not freely talk about their services.
This leads to another great service that the broker has to offer: their in-depth educational materials which give users the opportunity to understand the Forex industry at the highest level. They provide video tutorials, in-depth analysis, guides on how to use technical analysis and other kinds of analysis, teach their users how to utilize the platforms that they have provided for them and so much more. The AxiTrader rating is brought sky-high by having such a detailed educational service.
Spending some time with these tutorials is likely to provide most people with enough knowledge to be able to understand the markets better and make better trades, whether they're entering it for the first or the tenth time.
It's been said many times before that educated users are likely to make better decisions than those who are entering the market after only getting some trading experience from Demo accounts. But if you combine the two – deeper knowledge and demo account experience – you're more likely to become better at trading than if you've only chalked up one of those experiences.
Tradable assets
AxiTrader deals with a good number of products and tradable assets within different classes, including:
Bullion, Metals, and Commodities CFDs
Gold and Silver CFDs
Oil CFDs
Indices CFDs
Bitcoin CFDs
In the flagship Forex part of their business, users have access to more than 80 currency pairs (major, minor and exotic) to pick and choose from. Having a large range of options gives the opportunity to achieve trading goals across a more diverse trading portfolio.
While CFDs can seem unfamiliar and scary to inexperienced users, the fact that the broker does its best to encourage education means that users should get over that hump and become informed quite quickly. And once they're comfortable there's a lot to pick from in the CFD field, with the AxiTrader range going from traditional metals (gold, silver) to commodities (oil, gas, coffee) and even Cryptocurrencies – Bitcoin and several other cryptos were introduced in 2018.

Is AxiTrader trustworthy? Licensing and customer reviews
One of the best qualities of AxiTrader is the fact they have more than one financial operating license, and that those licenses are from some of the most respected financial regulatory bodies around the world.
The company was founded and is registered in Australia, so they have a license from the local regulatory body ASIC. Australia has some of the strictest laws regarding broker operation and information disclosure, so from a trader's perspective it can be seen to be reassuring to know that they have to comply with the laws, maintain trust and transparency or else face large fines – even one strike might result in a customer exodus and even a revoked trading license from ASIC. That there have been no reports of the broker cheating their users or taking their funds suggests the broker is highly reliable and can be trusted to operate on the highest level in Australia. AxiTrader regulation extends to the Middle East (DFSA license), New Zealand (FMA license) and the UK where it operates under the FCA within the strict space they operate for FX brokers. Having multiple licenses is part of the reason AxiTrader has been viewed by traders as being a highly trusted broker.
AxiTrader customer reviews
Although we always appreciate things like a broker holding a number of licenses from trustworthy regulatory bodies, we can't help but remain distrustful if we are can't find other ways to confirm the company has a good reputation.  Fortunately – in this case for both AxiTrader and ourselves – there are plenty of online reviews out there.
We were able to find an AxiTrader wiki, detailing the history of the company and the general reviews provided by the users over the years, which is worth noting because a significant number of those reviews were negative. That said, for any broker that's been around for more than a decade you'd expect a good number of bad reviews.
Experience tells us that negative reviews are more often the result of traders making bad decisions during market fluctuations and losing significant amounts of money as a result. And while some understand that losing is a part of trading Forex, others do not. These people tend to go online and complain about the broker, despite the fact that the broker did nothing wrong and money gets lost simply because the trader made a poor decision, or just got unlucky.
It's not a good feeling to lose money trading, but the underlying point here is that these reviews are still up which suggests the broker understands that there's no way to please everyone. It's better – and easier – to be honest, and recognize that when it comes to trading there'll always be disgruntled clients so there's little point in trying to cover anything up, especially things that were written years ago and have little relevance to the way the business currently operates.
What is inspiring to see are the thousands of positive AxiTrader reviews online. It takes something a little bit special to encourage a person to put the effort in to actually sit down and write a positive review, which takes effort, so that's a good endorsement of the business. A lot of the reviews mentioned the lack of the AxiTrader minimum deposit, others talk about the great customer support, more mention the positive relationship they have dealing with the broker.
Comments like these are why we believe AxiTrader is one of the best brokers currently operating in the industry and one that should be considered by all traders who operate in Australia and the UK.
Trading terms and conditions offered on AxiTrader
Knowing the products is one thing but understanding how a service works are more important. Below is a list of how some of the fundamental parts of AxiTrader's service work on a daily basis.
Margin and Leverage
As is standard for FX trading, AxiTrader requires all its clients to maintain minimum margin requirements, but what that requirement actually is depends on the trade you're entering into. Just know that every position you open will have minimum margin requirements and every user is required to adhere to them by maintaining an account balance above the margin requirements, including any losses that have yet to be released.
The broker offers margin trading which can pose a high risk to inexperienced traders but is attractive because it can offer high returns. If margin trading isn't something that sits within a person's risk profile, AxiTrader also provides leverage trading with a maximum leverage of 1:500. This level of leverage can allow traders to make incredible amounts of money in a very short period of time, but it can also result in them losing a lot of money if even one trade is done in a reckless way with too much risk at stake.
So, can AxiTrader be trusted to protect their users in situations where they might be in over their heads? Thankfully, the answer to that question is yes.
Most users will have natural limitations on the maximum leverage and margin related to the account balance they have. The broker also provides a degree of protection to their users (all outlined within the client agreement) with things like stop losses and margin call – although if a trader is hitting those barriers it's too late to prevent all losses and the action is more preventative. Where AxiTrader is able to be more proactive is the free trading tools it offers, such as PsyQuation and Autochartist, which are designed to help traders minimize their mistakes and offer better trade suggestions, thereby preventing them from entering into inappropriately risky trades.
In any case, risk warnings are present all over the website on the subject of margin and leverage trading so the ultimate decision to trade or not sits with the individual.
AxiTrader withdrawal and deposits
If you're going to be doing business with a broker, you should know how you'll be giving them your money – and getting your money back.
First up, the funding. AxiTrader has about ten different ways to deposit money into your trading account, with the current options outlined below:
Credit Card
Debit Card
Neteller
Skrill/Moneybookers
Local and International Bank Transfers
BPAY
China Union Pay
WeChat
Bank Wire
With the exception of the bank wire option, all these payment methods are usually completed within 24 hours of initiating the transfer and most incur no fees.
Withdrawals are requested through the broker's secure client portal, with the withdrawal options being pretty much the same as deposits in terms of method, timeframe and lack of fees. Best of all, because withdrawals are self-service transactions, you won't have to jump through any hoops to get your money out.

Autochartist
To help try and bring their traders another edge, the AxiTrader Forex broker provides several complementary add-on tools for the MT4 platform. One of the most popular and effective is Autochartist, a program that permits users to automatically chart the markets and more easily understand the current market trends.
This tool offers automatic intraday market change updates, plus some interesting updates on what the market might be doing within the next couple of hours (sentiment indicator). While not especially easy to use when you first start out, it's a tool that quickly becomes essential, providing extra information on a market activity that most indicator tools and charting tools aren't able to provide with the same speed, efficiency, and degree of automation.
Customer Support
One of the most important aspects of any broker is their customer support – the first line of defense when people get in touch after something has not gone the way they expected it. While the AxiTrader support team won't be giving you any market recommendations or providing any hints on trading, they will be able to help you with technical problems, facilitating deposits and withdrawals, and other general issues.
The quality of the customer service boosts the overall AxiTrader rating simply because it's consistently good – they respond quickly, solve issues and are unfailingly polite. They run a 24-hour global support network that directs to different offices around the world (the two main centers are AxiTrader AU and AxiTrader UK) and they offer multi-lingual service in more than a dozen languages. Email support is also available, as is an online chat facility through the website.
AxiTrader bonus
AxiTrader runs regular promotions that are worth looking out for if you like things such as extra trading credit, complementary trading tools like PsyQuation and Autochartist, free online education, VPS services and a bunch of other limited-time benefits.
They usually have a promotion of some kind running at any given time, so it's worth asking what's available to you.

Is AxiTrader legit?
So, what's the final verdict on the AxiTrader Forex broker? Is this a legitimate broker that lets people trade as they wish, instead of how the broker might prefer them to trade? Yes, it is.
AxiTrader has built a respected reputation over the past decade or more and has no doubt helped many traders achieve their own goals in the Forex trading industry. They have useful services, a lot of added extras, are officially licensed, have plenty of favorable reviews and give good old fashioned support.
The bottom line is that we'd be proud to say that AxiTrader is the broker we would recommend to a trader, whether they're beginners or advanced. On this platform, they will find offerings that don't go too overboard but are nonetheless very lucrative. The leverage of 1:500, 0 pips, no minimum deposit requirements – these are but a small portion of offerings that will elevate your trading experience and lead you to much larger profits!