Everyone has a competitive streak in themselves, am I right? Facing challenges and having a clear goal or something to strive for can bring out the best in us and show what we are truly capable of. Best Forex contests intend to do exactly that – Forex traders are competing against each other, showing their abilities and trading styles. The top contestants are of course rewarded at the end of the competition but the other participants always walk away with plenty of new knowledge and experience which is very useful at the end of the day.
Constant learning and exposure to the Forex market is a way to success, so next time you see an advertisement for a Forex demo trading tournament or something similar, do not glance over and ignore it. Many of them are worth paying attention to because you never know what you can learn from them and what impact those newly acquired skills will have on your future as a Forex trader.
If you do not want to compete with other traders, you can browse No Deposit Bonus category and pick the best free bonus for start! Also, you can claim one of two best no deposit bonuses below.
This list is intended to make your quest easier if you are searching for the best Forex championships around, so let's take a closer look.
1. MultiBank FX demo contest
Multibank FX demo contest is a great competition for the newcomers to the Forex industry and Multibank FX in particular. This contest offers generous prize of $7,000 to the winner! The competition is ran on the MT4 Demo accounts, so if you find this software suitable for you – go ahead and start competing right away!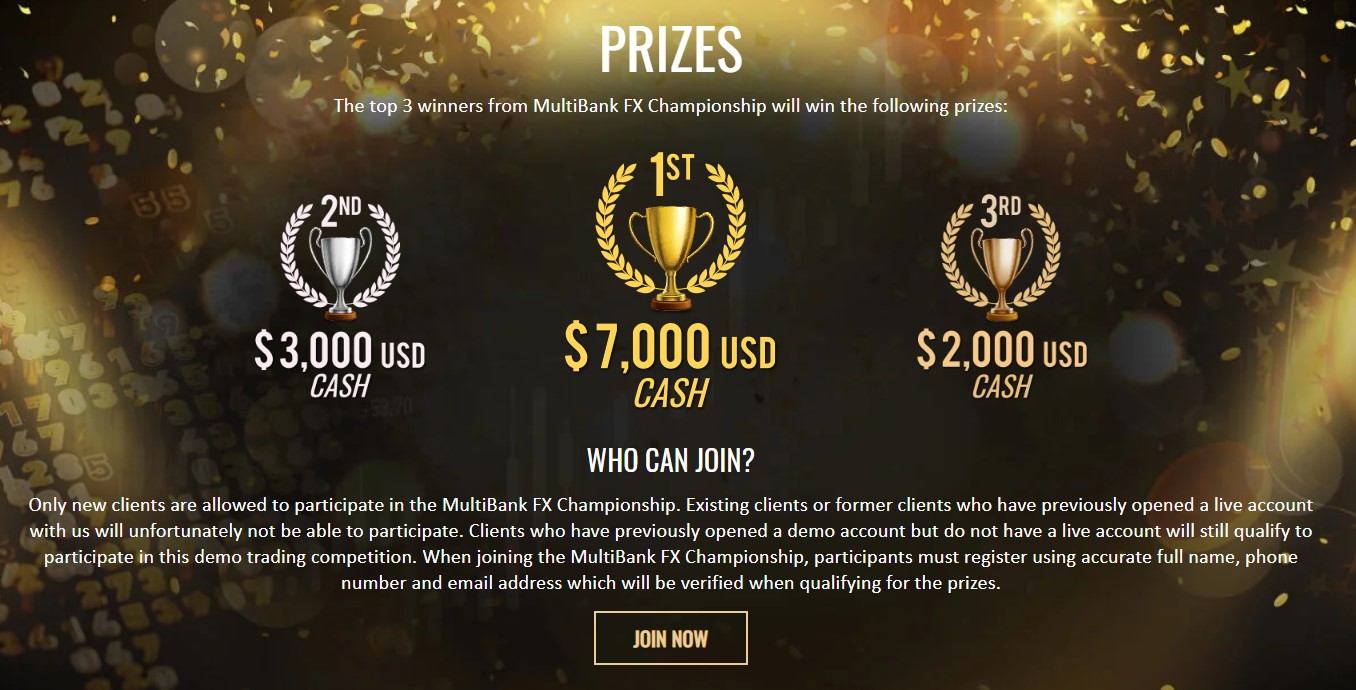 2. RoboForex Demo Contest
RoboForex offers a variety of top Forex tournaments. Whether you want a daily challenge or something long term, this is a place for you. You have an ability to choose between daily, weekly, or monthly contests and all of them require an entry fee. Of course, you have to be a member of their website. The prize pool is distributed among the highest ranked top ten traders at the end of each contest, regardless of the challenge you decided to join.
The funds you win will be then distributed to your account and you can withdraw them at any time as long as all the requirements are checked and in order. You will be competing with a demo account in this instance so it is a great learning opportunity. You can test your skill in a risk free environment and track your progress overtime. Also, traders have the freedom to join at any time they want.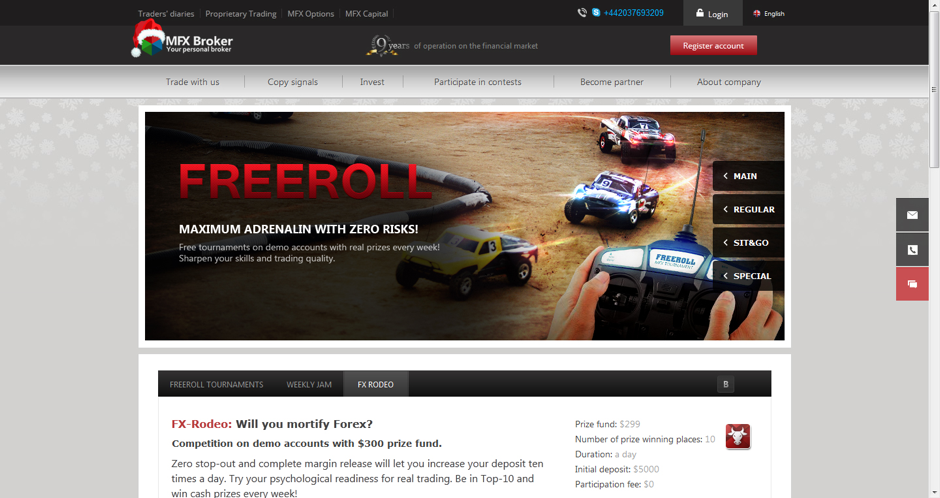 3. MFX Broker Freeroll Championship
MFX Broker offers two kinds of contests to their registered users – FX Rodeo which is a daily challenge and Weekly Jam that lasts from Monday to Friday. Weekly Jam can be regarded as the best Forex tournament of this duration. A participant is offered $10,000 of deposit to their demo account at the beginning of each round and they have an opportunity to win $500 at the end of it. FX Rodeo is a quick and exciting challenge which requires your complete focus and the price is attractive as well. The initial deposit is $5,000 and the award is $300. You don't have to pay any fee in order to be a contestant but you will have to create an account on MFX Broker's website.
4. LiteForex Contests
LiteForex holds two kinds of competitions – Fighting and Top 10 Forex. Fighting is a weekly challenge that begins every Wednesday and it lasts for seven days. Your objective is to trade and earn as much profit as possible in a week. The prize pool is $1,500 and it is divided among the first ten traders on the list. Top 10 Forex is also a weekly challenge but the prize pool is different.
If you decide to choose this one, you will be competing for a $2,500 in the prize pool. However, it is more challenging than Fighting because you are required to make profitable transactions with specific currencies you have been assigned. That gives an interesting twist and makes this challenge more attractive altogether. Of course, the competitions are held with demo accounts and you are required to create a new account if you are not already a member of LiteForex.
5. InstaForex Contests
Another place where you can find contests of different durations is InstaForex. Daily, weekly or monthly… It is up to you to make a decision and start trading. Their Lucky Trader contest is often seen as the top Forex championship on various lists. It lasts for two weeks and the prize pool for a single round is $3,000. That amount of money is divided among the top traders.
Real Scalping is another contest worth your attention. It is a monthly challenge and every participant gets the initial $20,000. Those who have the biggest deposit once the challenge is over are pronounced winners. If you are interested in any of these challenges, head to the website and register. You need to have a InstaForex account if you wish to participate.
Feeling lucky? Go on with InstaForex contests!
6. Alpari Formula FX
If you are ready to take off your training wheels and progress from demo to live contests, you should check out Formula FX. Yes, you will be trading with your actual funds but you will also have a chance to win real money to your account.
Formula FX is a weekly challenge open to Alpari members. There are twenty winners at the end of each round and the prize pool is $1,620. Your aim is to have a highest rate of return percentage. A winner can withdraw their award whenever they wish to do so. It is a great place to start with live contests and test the waters of live trading challenges.
7. OctaFX Supercharged
This Forex contest is a bit different because participants have an opportunity to win cars and various Apple devices. A prize changes in every round. A single round lasts for four weeks and you can join whenever you want. If you want to compete for these prizes, you need to have an OctaFX account and put $150 as your initial deposit. A trader who has the most points at the end of the contest will be a winner. Supercharged brought some freshness to the traders who love to participate in these kinds of challenges and it may even be the best Forex contest 2023.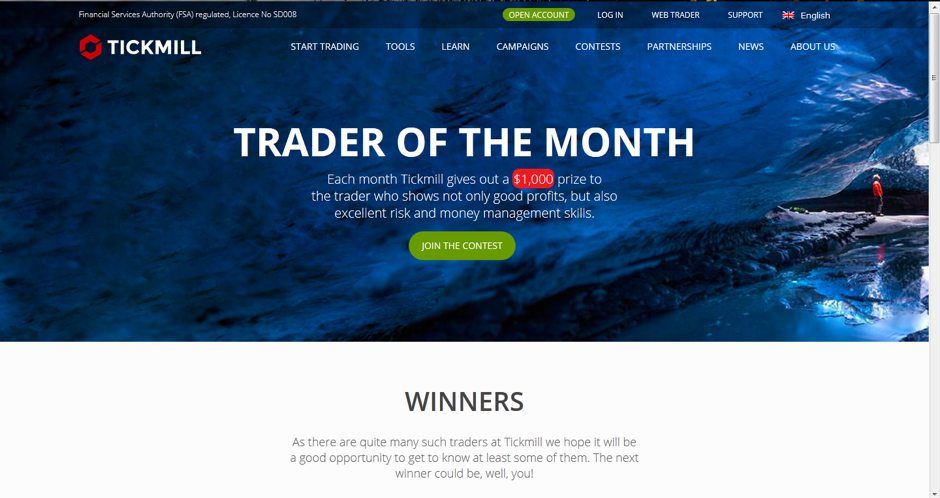 8. Tickmill Trader of the Month
This contest is a bit different than the rest I have listed here. All Tickmill users are automatically in the running for the monthly prize. The winner is selected by a jury and he or she will win $1,000 to their live account. So how do you compete then, you might ask.
Well, the said jury picks a trader who not only showed outstanding skills and earned the most profit, but they also analyze their trading style and methods as well as the risk they are willing to take in order to be profitable. The only downside to this is the fact that you will be competing against a large number of traders but that can surely motivate and inspire you even more.
9. Mayzus Scalping Wars
If you love to trade with a lot of energy and you are bored when the market is not moving, give Mayzus Scalping Wars a chance. It is a contest for demo accounts and it is held on a weekly basis, from Monday to Friday. Each trader will receive virtual $10,000 and their primary goal is to be as profitable as possible. Five winners will be announced at the end of each round and they have an opportunity to win up to $500 to their demo accounts.
The majority of traders who participate in competitions enjoy this sort of tournament and Scalping Wars is a truly great Forex demo contest 2023. This is also an excellent learning opportunity if you want to know more about scalping and how it actually works. Many traders shy away from this style of trading but you never know, it might suit you better than the method you are using at the moment.
10. Grand Capital Drag Trade
This is another fast paced demo contest on this list. Drag Trade is really short since it lasts only for an hour. This is a good thing since you will be able to see the results pretty quickly. You can compete in this contest every Friday from 5:00pm to 6:00pm Moscow time. And you can walk away with great prizes. Top ten places are awarded and the winner will receive $200. There are no fees for those who want to be a part of this challenge and you need to register prior to the start of the challenge.
Special Edition – DMM FX Live Forex Contest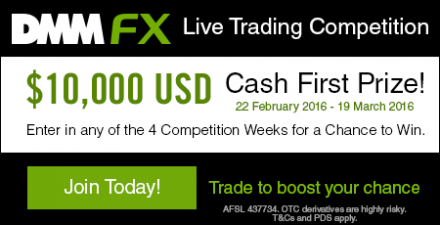 Are you looking to feeling that a regular contest would be just a waste of your time? It can certainly be if you are experienced enough.
This is why you are provided with a great chance to trade on a live account and participate in the contest within the same time.
Sounds good, doesn't it?
Participating in this contest is simple as 1, 2, 3, just follow this steps:
Open a Live Account with DMM FX
Deposit at least 200 AUD / USD / EUR or 20,000 JPY
Trade and win up to 10,000 USD in cash
Act before it is too late, the contest lasts only until 19th of March. This offer has expired. Browse through Forex Championships category.
If you do not feel that contests are the right way for you to go, there are always Forex deposit bonus and no deposit deals. For those of you who want to start trading without investments, we would advise the best free FX deal can be claimed via button below.