Sun CFD Forex Broker is a trading company that positions itself as the platform designed for traders of all levels, from complete beginners, to experienced ones. At the first glance, the website of the broker is quite informative, meaning that customers can find valuable information that might influence their decision. While dealing with online trading platforms, the first and probably the most important thing is holding a license. The main webpage of Sun CFD claims that the company is fully regulated by CSSF (Commission de Surveillance du Secteur Financier), however, this information is far from the reality. CSSF has itself published a warning saying that Sun CFD pretends to be established in Luxembourg but in fact, they are not regulated by them. This is already a red flag, as the company greets its customers with false information and they definitely can not be trusted with your money and time.
Unfortunately, we were not able to find any information about leverage, which means that either it is very high, or Sun CFD FX brokerage is a scam. As for spreads, the platform mentions that they have competitive spreads, but the exact number remains unknown. The site claims to have a user-friendly and intuitive trading platform that has full web and mobile support, however, we do not have any idea whether it is a Metatrader 4, Metatrader 5, or something else. The minimum deposit requirement for customers is $50 and there are no additional fees.
Sun CFD does not say anything about the bonus and promotional offers, which leads us to believe that they do not have any. It will be no surprise to say that we were not able to find information about types of accounts as well. Customers are able to trade CFDs and Forex including indices, shares, cryptos, and indices.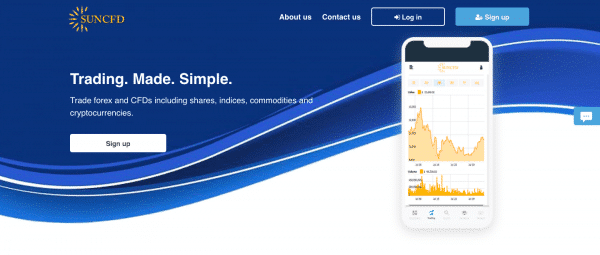 Is Sun CFD Legit?
No, we can say for sure that Sun CFD is not legit. They are providing customers with wrong information, claiming that they are fully regulated and licensed, while the facts prove the complete opposite. As we already mentioned, this forex broker says that they are licensed by CSSF, while CSSF itself warns traders that they have nothing to do with them. Not having a license is already a bad fact as if something inconvenient happens (e.g stealing money) you will not be able to do anything and the company will not face any negative legal consequences. Additionally, lying about having a license is worse than anything.
Sun CFD Review – Trading Features
In order to have a better understanding of this company, we decided to provide you with additional trading features in this Sun CFD review, so it will be easier for you to decide whether this platform is trustworthy or not.
Spreads & Leverage
The website is quite poor in providing its customers with important features such as spreads and leverage which are crucial to your decision-making process. The platform mentions that they have competitive spreads, but the exact number is unknown. The same goes for leverage, and it is almost impossible to evaluate the risks of using Sun CFD. Hiding such kind of information may mainly be influenced by two factors: either they are very high and do not correlate with the industry's standard, or this is a fraudulent company. It is up to you to decide which of these are true.
Account Types
It will be no surprise to say that we do not know the exact information about account types. The website says that it is possible to open a live account in a matter of minutes and immediately start trading. However, the majority of reputable brokerage companies offer their customers different types of accounts and they all come with their own specifications. Seems like this is not the case for Sun CFD. That's another reason why the majority of Sun CFD reviews are negative on the internet.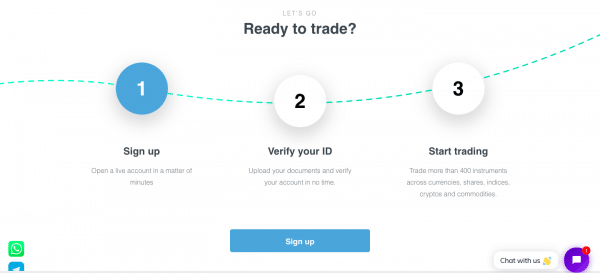 Minimum Deposit
The minimum deposit requirement for a trader to start his trading journey is $50 which is quite attractive and correlates with the industry's average. But we can all agree that this alone is not enough as there are a lot of other indicators that one should keep in mind. We have no reason to believe that this money is not going to be stolen.
Bonuses
Reputable and reliable brokerage companies always have bonus and promotional offers available on their website but Sun CFD does not seem to have any. This is strange as bonuses are a great way to attract new customers to your platform and keep the existing ones as well. However, considered all things mentioned above, it was no surprise that there was not any bonus, however, adding extra value to your money is never a bad idea.
All in all, we do not recommend this forex broker to you as its trading features do not correlate with the industry's standard at all. The only good thing is minimum deposit requirements, but we will once again repeat that this alone is not even close to enough.
Sun CFD – Final Verdict
We believe that there are a lot of other trustworthy platforms around the internet where you can get a better trading experience. Not having a license means that the platform can never be trusted with your financial assets and that is the main reason why it might be a good idea for you to think twice before choosing Sun CFD as your trading platform.