RFXT Broker Review

Online trading is an endeavor that requires skill, patience, and persistence. You have to be able to make financial decisions that will ultimately decide the fate of your bank account. Most of the time, it also depends on how good of a trading assistant you have to conduct successful trading.
In the modern technological era, where everyone can do say and do anything, it's especially difficult to find the right broker and trust them with your finances. You have to make sure that they're the real deal and have a sound licensing that prevents them from scamming their customers.
RFXT Forex broker is yet another financial assistant in this sea of brokers that we'll be reviewing today. So, without further ado, let's get started!
Initial RFXT opinion
With the brief overview of the broker and their website, there's not much to be skeptical about – or at least, that's how it looks like. It takes a lot deeper overview and further scrutiny to find some hidden blemishes – if there are any, of course.
First off, the website. Even though it contains comprehensive information about the broker, we have to say that it looks very complicated. There's too much going on internally. With its rich color gamut and overpowering visual effects, the website feels like it was overdone. More about this in the upcoming chapter.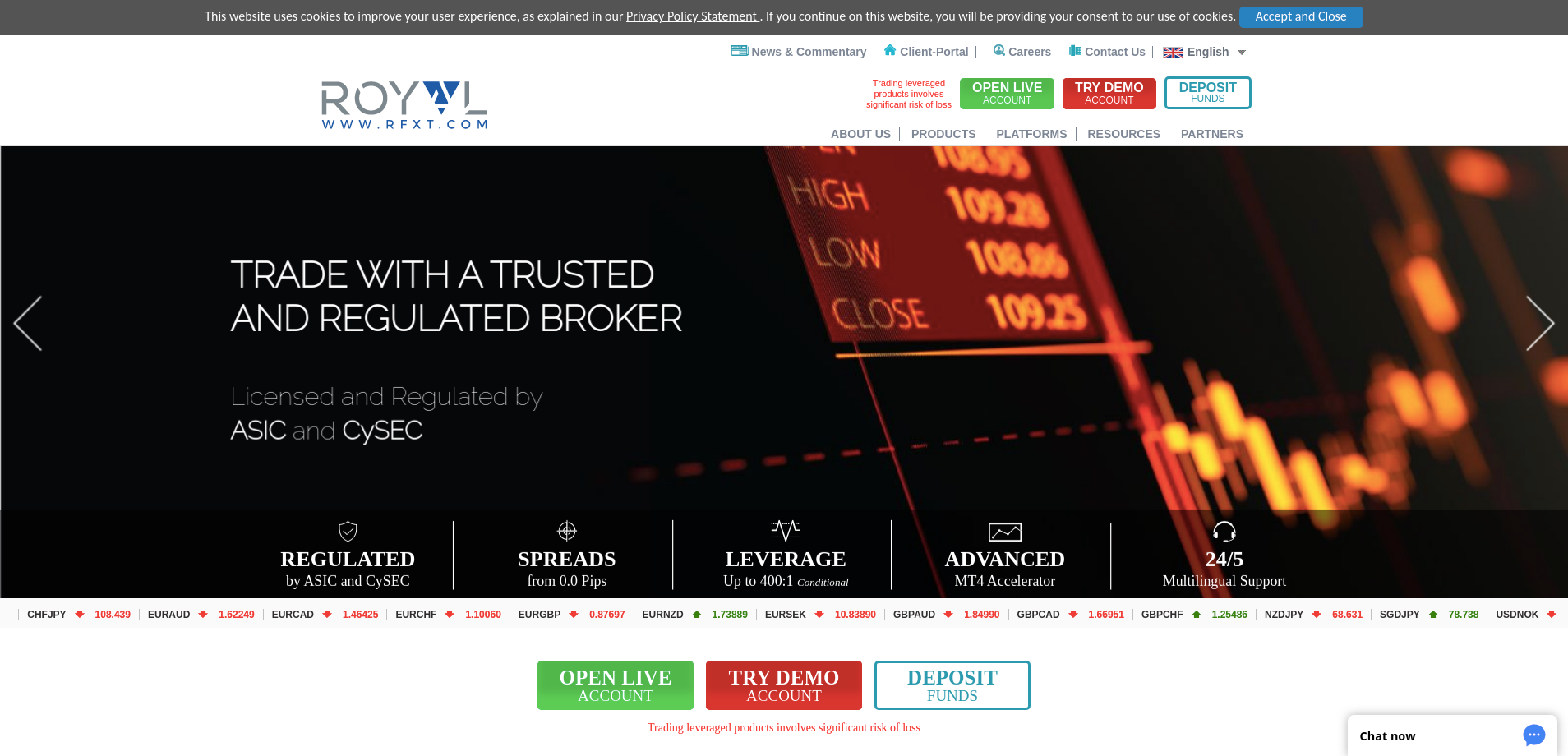 The broker supports the most common online trading platform MetaTrader 4, as well as WebTrader and mobile devices. And when you want to withdraw money, you can just use a bank wire, credit/debit cards, e-payment, or a good-old paper cheque. No PayPal or cryptocurrency, unfortunately.
The regulation also looks strong at first sight. The RFXT broker was established in 2006 under the regulatory oversight of the Australian Securities and Investment Commission (ASIC), as well as the Cyprus Securities and Exchange Commission (CySEC) and Banque De Liban (BDL). Three regulatory bodies might be clearing any suspicions about the RFXT fraud, but when we dive into it a little deeper, we'll find many imperfections.
As for the trading terms and conditions, again, the broker has some impressive market offerings. RFXT offers its customers 5 types of accounts to fully include traders from all backgrounds.
The minimum deposit requirement varies from one account to another and starts with the Classic account's $50. The maximum leverage is the same across the board and reaches 1:400. While the spreads can go as low as staggering 0 pips. Again, we'll discuss these numbers down below.
Pretty trustworthy, right? Not so fast! As we said earlier, there are some hidden flaws lurking underneath these details. Let's now uncover them by starting with the website.
Overpowering website
We mentioned above that the website contains almost every detail about the broker that is important for the customers to know. Right after you head over to the first page, you'll see regulatory remarks, as well as trading numbers and conditions, and live Forex data. This is definitely a strong suit for the broker.
However, we also noted that the interface looks very complicated. The website is full of rich and contrasty images with saturated colors – especially blues, that are diverting the eyes from what's actually important. Abundant visual and transition effects also complicate the design and make it look amateurish, which is interesting to note because the company was founded in 2006 and should already have a lot of experience in providing what customers want by now.
As for the trading platform, the RFXT broker offers the MetaTrader 4 and WebTrader, as well as iOS/Android applications, which is a good thing because it lets traders use these platforms anywhere they are.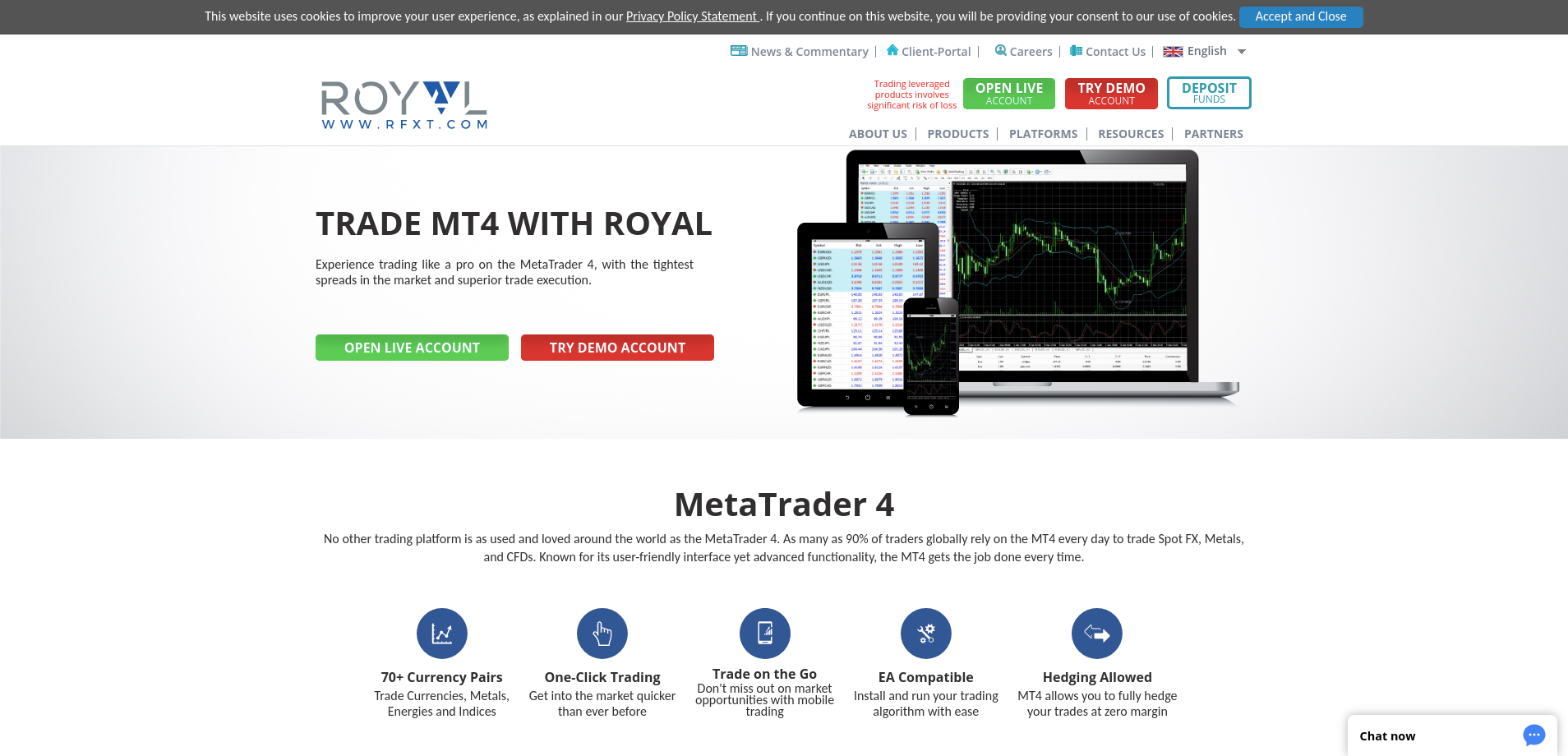 Now, let's switch again to the downside. The RFXT withdrawal uses pretty obsolete payment methods such as credit/debit card, wired transfer, a bit newer e-wallet, and way older paper cheques. These methods have proven to be slower in transaction times and having lots of safety issues. It would be much better if the broker supported PayPal or Bitcoin which are much faster and safer.
Overall, we would rate the RFXT website with 3 out of 5, just because it has good information management going on, as well as a decent trading platform.
Does regulation necessarily mean RFXT can be trusted?
Let's now focus on licensing and find out, why we think a comprehensive regulatory issues don't really mean what they're claiming.
As we know, the broker has been licensed by the financial regulatory body of Australia (ASIC), as well as Cyprus (CySEC), and Lebanon (BDL). Three regulatory bodies and with Australia among them might seem to many novice traders a trustworthy feat. However, with more scrutiny, we can disprove these initial impressions.
First of all, even though Australia is a developed country, it still is located at the farthest end of the world with not much political prowess. Besides, the country is known for its liberal legislation towards gambling and other risky financial endeavors. So, we can safely assume that Australia isn't the best option when it comes to choosing the strongest financial licensing body.
And with Cyprus and Lebanon, things are much more obvious than Australia. Cyprus is a small island in the South-Eastern part of Europe with disputing Turkish and Greek sides and political instability. As for Lebanon, a middle-east small country with no political prowess whatsoever, cannot be considered a credible economic regulator that can oversee the financial activities of a worldwide broker.
Plus, the broker doesn't mention a single word about the support for the US citizens, which leads us to believe that the RFXT FX broker isn't allowed to provide service to the citizens of the United States. This further proves our suspicions about the company's fraudulence.
As far as the rating goes, we can give the broker 2 out of 5.
Trading terms and conditions
Now, let's move to probably the most important and anticipated part of our review – the numbers. We mentioned in the initial review that the broker offers some of the most impressive trading conditions on the market, which may be tempting for some traders, but is definitely a suspicious detail for us. Let's start on a more positive note.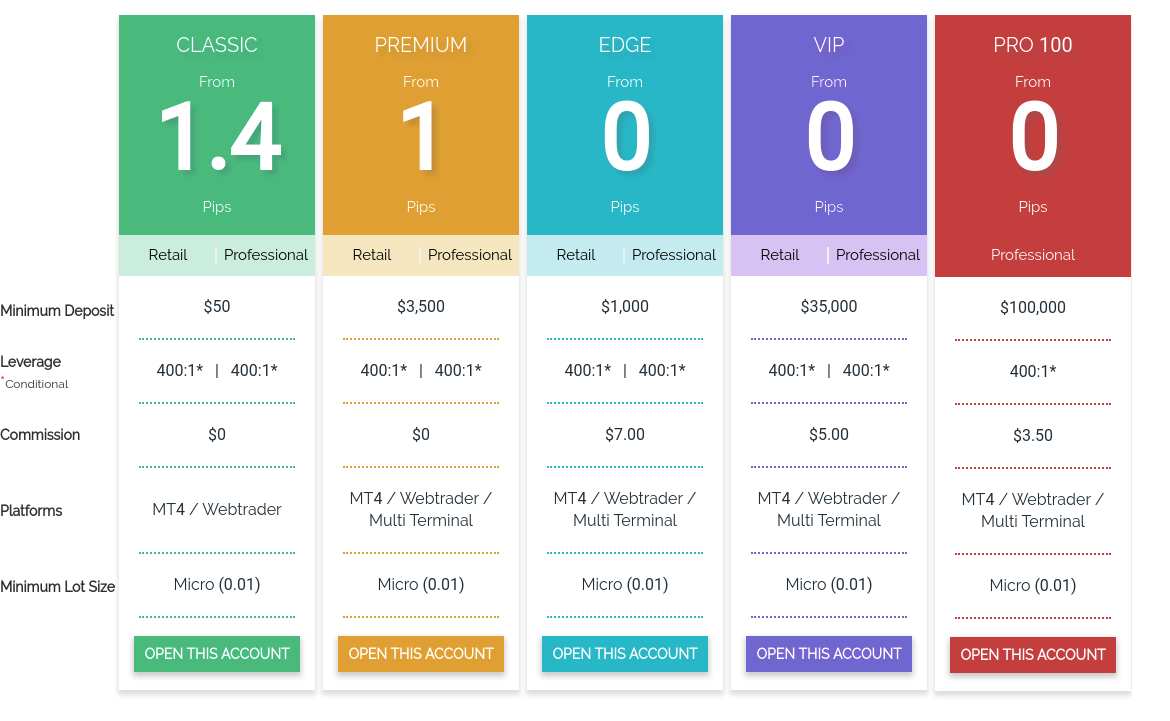 The company offers 5 trading account types: Classic, Premium, Edge, VIP, and Pro 100. Every account has its perks and advantages, but there are some basic conditions that are the same across the board. The diversity of accounts gives traders from various experience backgrounds to take full advantage of the platform.
The company requires the beginner traders, who choose the Classic account, to make a minimum deposit of $50. On the other hand, the veteran traders in the Pro 100 account have to make a $100,000 deposit. So, there's a big range of commitment going on here.
The maximum leverage, as we've already mentioned, is the same 1:400 for all account types. Considering the market average of 1:200, this amount of leverage offers lucrative profit prospects to the traders. However, there might be another vantage point to this number: the RFXT scam could be real and the company might be trying to lure the potential customers in with these flashy numbers and conditions.
This hypothesis is further enforced by the incredible spread indicators. The Edge, VIP, and Pro 100 accounts can enjoy virtually no spread in various pairs, which is impressive considering how much profit and stability can be harvested from it. But, on the other hand, it could be another handy trick to manipulate new customers into subscribing to the broker's services.
Overall, we suspect that the RFXT broker can be designing a Ponzi scheme and tricking new customers into a financial burden. For this, we'll give the broker 2 out of 5 rating.
Should you trade with the RFXT broker?
In this RFXT review, we discussed every important detail about the broker that needs deeper scrutiny. With some impressive and tempting trading conditions, as well as seemingly sound regulation, the RFXT broker might seem a creditworthy company that you can trust.
However, we have a hypothesis that the broker boasts with its flashy numbers in order to manipulate customers into its platform and then endanger their financial stability.
The company might be regulated by Australia's, Cyprus', and Lebanon's financial regulating bodies, but with a close inspection, these licenses don't really mean an awful lot. The company can effectively conduct its brokerage services and expect no legal oversight from these countries whatsoever.

As for the trading conditions, there might be no spreads, high leverage possibilities, and affordable deposit requirements, however, when it comes to choosing a trustworthy broker versus the one packed with beautiful numbers with no assurances of any sort, we'll always choose the former one.
Better be financially safe and sound than expect lucrative outcomes from the company who doesn't really look the real deal.
So, in conclusion, we would strongly advise not to choose RFXT broker as your main trading assistant – or, at least be extremely cautious!