Pepperstone is a Forex and CFD broker for a wide range of consumers. It caters to a more experienced segment with its advanced functionality, as well as customers who are just getting into trading. The company was founded in 2010 and is based in Melbourne, Australia. It also has offices in Europe, Asia and US. The main objective of Pepperstone is to offer its customer good overall experience of trading. The company focuses on having low-cost spreads and executing the trades quickly to attract customers. In addition, it has a helpful customer service and support.
Regulation
In Australia Pepperstone is regulated by Australian Securities and Investment Commission, while in the UK and the member countries of the European Economic Area, it is regulated by the Financial Conduct Authority. Depending on the location of the customer, the funds put up for trading might be held in different banks. For the residents of UK and EEA, the funds are deposited at Barclays in a segregated client account i.e. client's funds will not be mixed with company's own funds. For Australia and the rest of the countries the money is deposited in National Australia Bank in the same way.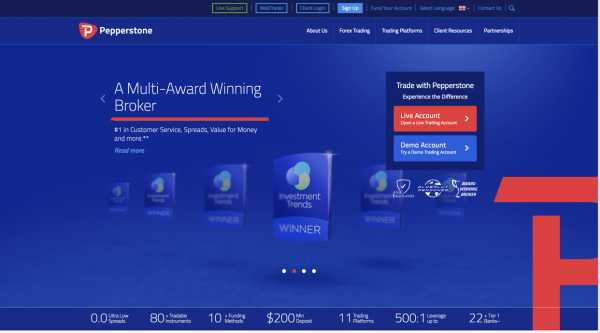 Traded assets
There are various types of assets that can be traded on Pepperstone. The main one is, of course, Forex. In addition to currencies, the platform offers access to index CFD, precious metals, energy and cryptocurrencies. We will break down each one separately.
Forex
The original profile of the company was to be a Forex broker. It was later that all the other products were added. In times of high liquidity, the company claims to have a spread of 0.0 pips for certain currency pairs like EURUSD. In addition to low spreads, the platform offers low latency which is extremely important when it comes to trading. In fact, this could be a sole deciding factor when choosing a Forex broker.
Index CFD
"Pepperstone provides ultra-low latency execution from a deep pool of liquidity sources, with no dealing desk or execution manipulation," – states the company's website on CFD trading. With the modern technology, Pepperstone has optimized CFD trading for large investors. CFD trading can be a solution for many traders who want to diversify risks with uncorrelated assets.
Precious Metals
Access to precious metals like Gold and Silver can be crucial if the markets start to become too volatile. These assets have been used for a long time to hedge investments as their prices are relatively stable even if the whole market experiences a turmoil.
Energy
"We offer both major oil markets: West Texas Intermediate Crude oil and Brent Crude Oil. Both provide access to two of the leading products in order to access the global oil market," – states the company on energy trading. In addition, the company also offers Natural Gas.
Cryptocurrencies
These virtual coins have gained immense popularity because of the unprecedented gains they experienced in the past few years. Consequently, it is not surprising that many traders want to hold them in their portfolios. While they could be a little more volatile and risky than traditional assets, they are still desired by many investors around the world. Pepperstone offers access to Bitcoin, Bitcoin Cash, Ethereum, Dash and Litecoin trading. All cryptocurrency trades occur against the US dollar.
Trading Experience
The main aim of the company is to provide customers with the best trading experience. It achieves this in multiple ways. First of all, the company offers access to many different types of assets. Registered users will have access to 77 different investment instruments including Forex, cryptocurrencies and various indices. Low spreads also play their role in attracting customers. Users are also not limited in the ways to fund their trading. Currently, it is possible to fund the accounts on Pepperstone with bank wire, debit and credit cards as well as online wallets like Skrill or Neteller. Payments through Union Pay and Bpay are also accepted.
Pepperstone prides itself in the support it provides for its users. There is a 24 hour live chat facility that could be extremely helpful for traders who want to have their questions answered immediately. The platform also offers webminars and trading lessons which could be attractive for beginners and sometime even experienced traders who want to learn about the updates and changes in the trading methods.
In conclusion, Pepperstone has put a lot of effort into developing a platform that is as suitable for experienced traders and institutional investors as it is for beginners who want to learn more about trading. Effective customer service and low spreads make the services offered by the company very competitive on the current market.