Olive Markets Forex Broker is an online Forex broker that offers financial services to traders from all around the globe. They have a team of over 150 financial consultants, with over 250 staff members that provide support to clients. According to their website, this broker has been accredited as a zero-risk and provides secure investment funding along with great customer service satisfaction.
We decided to re-check all these facts and find out whether Olive Markets is actually what it claims to be. The first and the most important aspect while evaluating the trustworthiness of Forex brokers is the license. The good news is that this company actually owns a license, but the license is from GLOFSA, which is not a top-tier regulator.
Moving on to other things, the leverage at Olive Markets is up to 1:300, while spreads start from 0.3 pips on EUR/USD. The spreads can be considered pretty competitive compared to other brokerage companies. Customers have the ability to trade with the powerful trading platform – MetaTrader 4, which is the most used platform for investors of all levels, from beginner to professional.
The reason behind this fact is that MT4 allows traders to have their own personal charts with the opportunity to use over 50 analysis tools. MetaTrader can be downloaded on several devices such as PC, Android, or IOS, which gives you the ability to trade from any place, at any time. Having this platform available is definitely a big plus, but let's also review other important things.
The minimum deposit requirement is $100, and Olive Markets FX Brokerage has plenty of bonuses for you to add extra value to your current bankroll. If you decide to sign up for this website, you can choose from 3 types of accounts including Silver, Gold, and the VIP. Each of these gives you the ability to trade Forex, Commodities, Shares, Indices, and Cryptocurrencies.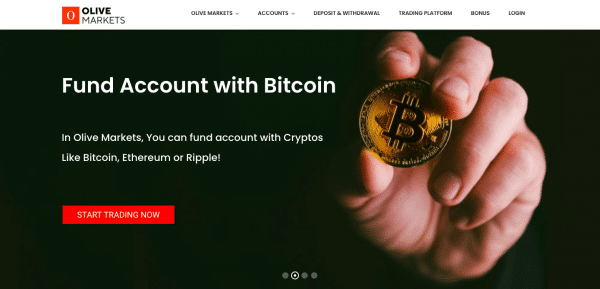 We believe that when you trade online, you might have some trouble with the process that needs additional help. That's why the presence of customer support is super important, however, the live chat option is only available for weekdays. Customers can either call on their phone number or send an email. Finding a live chat option was a little tricky and we were not able to do it until we did not read that it was available at the bottom-right corner of their page.
Is Olive Markets Legit?
We can say that Olive Markets is a legit Forex broker, as it owns a license. However, the license is from GLOFSA (also known as Global Financial Services Authority), which is not among the top-tier regulatory agencies. Although the broker is licensed and regulated, the services that it offers still might not be as trustworthy as the regulatory agency is not among the best-known agencies around the world.
It is always better to trade with Forex brokers that own licenses from top-tier regulatory bodies around the world.
Olive Markets review – Trading Features
We can all agree that being regulated and having a decent license is a very big plus, but this is not everything. You must be very careful before you choose your Forex broker, as there are a lot of things that one should keep in mind. That's why we decided to provide you with further information on trading features offered by Olive Markets, so you will make your decision based on all the important indicators.
Leverage & Spreads
The leverage offered by this broker is up to 1:300 which is a little above the industry's average but can help you make 300x higher investments with a lot less capital. However, it should be noted that the leverage is very high, specifically for beginners, as it can drastically increase the risks of Forex trading. The good thing is that the leverage is compensated by low spreads which are highly competitive and differ depending on which type of account you decide to use. For the VIP it is 0.3 pips, while gold and silver offer 0.7 and 1.0.
Account Types
As we already mentioned earlier in this Olive Markets Review, the traders of Olive Market have the possibility to choose from 3 different types of accounts, including silver, gold, and the VIP. Each of them comes with its own specifications and requirements, for instance, they have different amounts of spreads, as well as minimum deposits, and minimum trade size. The website also has a demo account option available, which means that you can easily test out its services for free, without actually risking any of your financial assets. In order to open an account, you have to follow simple steps, then verify your identity and upload the required documentation. After that, it is possible to start trading with your favorite assets.

Customers can either fund their accounts via bank transfer, credit card, or cryptocurrency. You can fund your account via several digital coins including Bitcoin, Litecoin, Ethereum, and Ripple. It is also possible to use other cryptos, you just need to contact their customer support representative, who will help you right away.
Bonuses
Bonuses are not very common for Forex brokerage companies, as the majority of regulations restrict them from attracting new customers through promo codes. We were surprised to discover that Olive Markets has quite a rich bonuses section, including welcome bonus, crypto bonus, account transfer, and referrals. The information about bonuses is not available straight away unless you decide to click on the "apply now" button, which is strange. The standard welcome offer is a 15 % bonus for newcomers and is available for all types of accounts. Moreover, if you decide to fund your account with digital coins, you will have the ability to earn a 5% extra bonus on all investments.
However, this is not all. You can easily invite a friend to Olive Markets and enjoy a $100 bonus, while your friend gets a 15% bonus too. These promotional offers look quite generous, however, all of them come with their terms and conditions, and we advise you to read them before applying for any of these offers.
All in all, we can say that Olive Markets has some good trading features – their spreads and leverages look pretty attractive, however, the leverage might not be beneficial for experienced traders. The minimum deposit is normal and there are bonuses available. However, the website is pretty poor in providing clients with valuable information, some of them are hidden in places and you can't get the details until you decide to sign up, which is uncomfortable. From what we've seen there are a lot of other platforms offering better conditions to their clients, so it might be a good idea for you to visit them as well.
Olive Markets – Final Verdict
Finally, Olive Markets is a potentially good Forex broker, as it is licensed, but, it should also be noted that the license does not come from a top-tier regulator. Also, having a license alone does not mean much if you can not get a good trading experience. We think that some of their trading features might need a little improvement, as well as the website itself that fails to be informative – it is not possible to find the information you're looking for easily. For now, we believe that there are a lot of other Forex broker companies that have more valuable and extra features, that might be worth your time and attention.
FAQ on Olive Markets
Which assets can I trade on Olive Markets?