MFM Securities Forex Broker is an online platform that claims to be an international broker company, offering financial services to traders from all around the world. They are serving institutional and retail clients worldwide, however, we decided to check if the facts they have stated on their main website are true or not. The first and probably most important thing while dealing with Forex brokers is whether they can be trusted with your financial assets or not.
The main webpage of MFM Securities suggests that the company is regulated by VFSC, meaning that it is registered at an offshore location, where Forex businesses are not strictly regulated. If you are the customer of such a broker it means that you are open to all kinds of risks and the way the company handles your money remains unknown.
The maximum leverage this broker offers goes up to 1:500. As for spreads, the lowest we were able to discover was 1.8 pips on EUR/USD. The trading platforms MFM Securities FX Brokerage uses include both MetaTrader 4 and MetaTrader 5, both of which are very useful for traders.
The reason behind this fact is that these platforms are flexible, giving you the possibility to access Forex charts anywhere and anytime. Using these, you can trade from different devices such as mobile, PC, and tablet, which is quite comfortable and a big plus, in general.
The minimum deposit amount is set to $15. If you are a bonus lover, then you can discover different kinds of promotional offers under the separate "promotions" section. As for the accounts, customers have 3 options while signing up – you can either choose a Micro, Standard, or Prime account. With these, traders have access to 5 asset classes including Indices, Stocks, Forex, Cryptos, and Commodities.
One important thing while dealing with online platforms is customer support and how fast you can reach them. If something inconvenient happens and anything bad occurs during the trading process, you must be able to resolve the issue as soon as possible. MFM Securities has a separate help center, where you can find answers to your questions. Moreover, the website also has a live chat option, where we were able to access customer service. Other than that, you can also contact the support team via phone or email.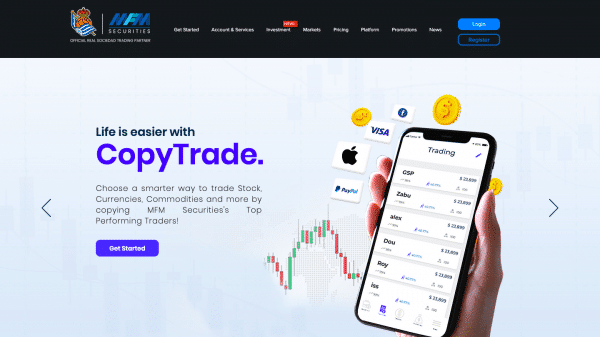 Is MFM Securities Legit?
No, MFM Securities is not a legit Forex company. Firstly, it is owned and operated by MFM Securities (Pacific) Limited and says to be registered in St. Vincent and the Grenadines. Since this is an offshore zone, it is not overseen by any financial regulatory body or governmental agency.
Additionally, the website states that the company is regulated by VFSC (also known as Vanuatu Financial Services Commission), however, after we checked the online registry of the agency, we could not find MFM Securities in their list of licensed companies, meaning that they are unregulated.
If something inconvenient happens and customers lose their money, they will not be able to do anything about it, as there is no financial company that can take legal actions and protect you as a client. We advise you to always go for brokers that are fully licensed and regulated by reputable agencies, so you do not have to worry about money or privacy issues. There are a lot of trustworthy companies available on the market, and you can trade with them instead.
MFM Securities review – Trading Features
Choosing a Forex broker might not be an easy task, especially if you are a newcomer to this industry. There are a lot of things that one should keep in mind, and that's why we decided to provide you with all the important trading features offered by MFM Securities. Below, we will discuss all the important information you should keep in mind.
Leverage
MFM Securities says that it has leverage up to 1:500 – this might be quite generous for experienced traders, while beginners might have some trouble with it. High leverages generally include high risks of losing a significant amount of money and it can even leave you in debt – if you are a newcomer, we recommend you to go for lower leverage.
We also need to mention the fact that some financial regulatory bodies even restrict the maximum leverage allowed in Forex trading – for instance, ESMA (also known as European Securities and Markets Authority) caped leverage at 1:30 in order to protect investors from losing their funds.
Spreads
The spreads are different for each type of account. For example, the Standard account offers spreads from 1.8 pips on EUR/USD, which is high compared to the industry's average and not attractive in general. Competitive pricing gives brokers the ability to have an advantage over others and attract more customers to their platform, however, it seems like MFM Securities decided to not put much effort into this.
Account Types
As we already mentioned earlier in this MFM Securities review, you can sign up with 3 types of different accounts that include Micro, Prime, and Standard. They all come with their own specifications and requirements, for instance, a Micro account has no commission fees, while Prime has a 5$ commission per lot and Standard has a 10$. With Micro, you can only trade with FX and Commodities, and the prime offers Shares, Cryptos, Commodities, and as well as Forex currency pairs. In order to open an account, you have to fill in a simple online form and verify your identity.
MFM Securities also has a separate VIP offering which includes different prices, priority support, and exclusive event invitations, however, the minimum funding is 1000000 USD which is quite excessive and makes it questionable if it is worth it at all.
As the website claims, the most popular account type is corporate which lets you trade all asset classes with expert personal service and other benefits. It normally takes up to 2 days to approve a corporate account if you provide the website with all the required documentation on time.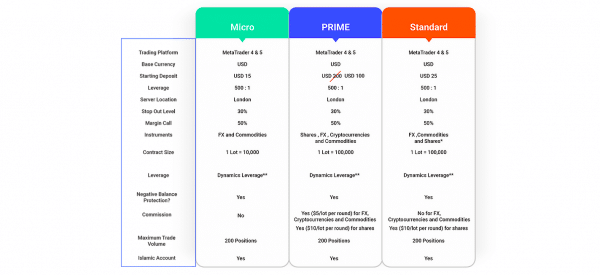 Minimum Deposit
The minimum deposit requirements also differ, depending on which type of account you decide to use. For micro, it is 15$, while prime and standard offer 100 and 25 USD relatively. We need to mention that these prices are pretty competitive, as they correlate with the industry's standard and are not as high as some other brokers might offer. However, this alone is not enough for us to recommend MFM Securities to you, as other indicators should be looking attractive as well.
Bonuses
Bonuses are pretty common for offshore Forex brokers, as it gives them the ability to attract new clients to their systems, by adding extra value to their current deposits. However, it is very important to note that a lot of regulatory agencies restrict brokers from offering traders bonuses and the majority of leading Forex brokers do not offer traders bonuses and promotions.
The promotions section of MFM Securities is quite rich, as it has 3 separate windows including bonus offerings, contests, and the loyalty program. Currently, MFM offers a two-tier bonus on your deposit, which gives you $5000 on top of your investment amount – this is a great possibility to start trading with more capital.
This bonus comes with its own terms & conditions, which limits the maximum amount of credit bonus and we advise you to read it before signing up for it, as it may store some valuable information (meaning that some parts of it might not be in your favor). Additionally, the bonus amount can not be withdrawn, and it can only be used for trading.
MFM has ongoing contests giving you the ability to win generous amounts of rewards that might be cash or gold bars. The loyalty program is not working yet, as the website says that it is "coming soon".
All in all, trading features offered by MFM Securities do not look very attractive to us. The company might have some good indicators – for example, the existence of bonuses is a big plus and might attract a lot of traders. Minimum deposit amounts are also attractive, but other than that leverages along with spreads do not correlate with the industry's standard and involves high risks of losing funds. What we are trying to say is that it is not worth risking your money, time, and attention, when there are a lot of other reliable companies, that offer some better conditions to their clients.
MFM Securities – Final Verdict
After reviewing every little detail of MFM Securities, we would not recommend MFM Securities to our readers, simply for the fact that unlicensed Forex brokers can not be trusted with your time and money. While it is true that the website might have some good qualities, it does not have much value when you are constantly worrying about privacy issues.
As we already mentioned, offshore locations are very suspicious, and in most cases, home to fraudulent companies. Our kind advice is to avoid such platforms at all costs and go for the ones that are considered more safe, reputable, and reliable for experienced traders.
FAQ on MFM Securities Review
How do I trade on MFM Securities?