IEXS Forex broker is a part of Vision Integrated Exchange that was founded in 2019. As written on the official website of the brokerage company, the company is aimed at introducing innovations to clients, integrating various systems to make the trading process more attractive for customers. The company tries to distinguish itself from other companies with its quality. As we have gone through the website, we found a lot of flaws on the broker's website. In this IEXS review, we will provide a comprehensive analysis of the broker and explore the features of the brokerage company, determining whether you should trust the IEXS FX broker or not.

General Broker Information – Is IEXS Legit?
IEXS started operating several years ago so the company is still a fresh entity, which is in the development process. As we found from the website, the brokerage company is registered in England, authorized, and regulated by the FCA. The latter is a famous regulator when it comes to Forex brokers, but it also has limitations. The license is an integral part of every brokerage company. It ensures safe activities and in the case of misconduct, you can always appeal to the regulator. We could not find tangible information about negative balance protection and AML policy on the website. It seems that clients' funds might be ill-protected, which is one of the main reasons why we do not recommend the broker to our customers. As for awards, the company states it has received several prizes for its activities.

IEXS Trading Accounts – What are They?
On IEXS there are 3 types of accounts available: Standard Account, DMA Account, and IEXS Clearing Account. Standard Account is a general live account that both novice and experienced traders use when they sign up on a broker's website. There is no comprehensive information about the Standard Account on the website, what are the conditions as well as requirements, which we think is a disadvantage for the brokerage company. The process of creating an account is similar to other websites.
Another type of account is a DMA account. Brokers that provide direct access to Forex trading are rare. In this case, all trader's orders to buy or sell currency immediately go to the currency exchange and are made at the best price. In addition, the trader gets rid of additional commissions, which is also important. Another advantage is the ability to trade not only a limited number of currency pairs but also other liquid assets.
The third type of account available on IEXS is IEXS Clearing Account. This only is typically suited for experienced traders. Opening a demo account is also a possibility. You will be granted $100,000 virtual money on your account that you will be able to use for simulated trading, thus enhancing your experience.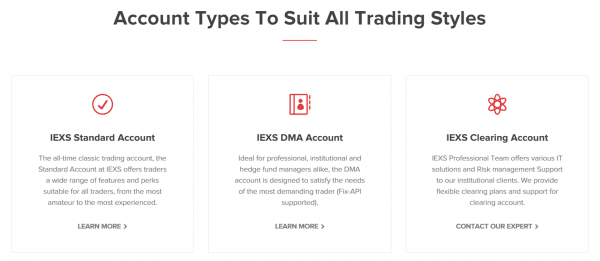 IEXS Trading and Non-Trading Fees
The information about trading and non-trading fees on the IEXS website is pretty vague – users will have a hard time finding additional information on what they need to consider before opening an account. The minimum deposit required to create an account is $100, spreads start from 1 pip. There is no information on whether swap-free accounts are available or not. Seemingly, there is no additional fee to maintain an account, as well as, inactivity fees, which we think might be a little suspicious.
In addition, we did not find a single piece of information about other fees as well. Usually, suspicious brokers have low commission rates; some may even claim that they charge no commissions whatsoever. A trading platform always needs a steady source of income, yet the broker claims it has none. Therefore, it may charge hidden fees or have fraudulent sources.
IEXS Trading Assets and Conditions
IEXS currently offers the following assets for trading: shares, Forex, metals, energy, and index. Each of these trading assets has its advantages as well as disadvantages and it is completely up to a particular trader what he or she is going to choose. The maximum leverage can be up to 1:50. Some of these assets have a lower rate of leverage, spreads, and conditions, so you need to read the conditions in advance before you choose one of them for trading.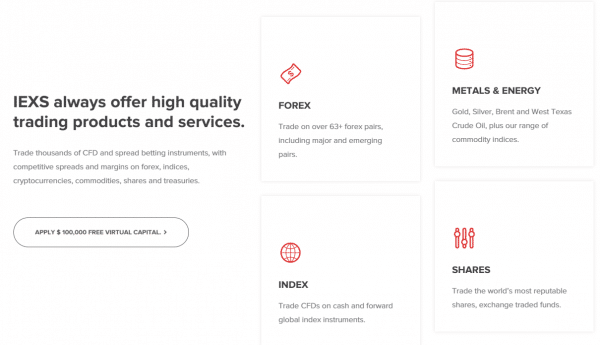 IEXS Trading Platforms
IEXS currently offers the following trading platforms: MetaTrader 4 and MetaTrader 5. The latter is an improvement from its predecessor. We should also point out that both of these trading platforms come with different tools that traders can use. The mobile version of these platforms are also available on iOS and Android devices, so users will have no problems accessing the following feature. The web version is also provided. Generally, it is advised to have a strong computer or laptop before you decide to use these platforms because they require good specifications in order for the platform not to lag during the process of trading.
IEXS Deposits and Withdrawals
At the present moment, the broker offers its customers to replenish and withdraw money only through credit cards and bank transfers. There are no other available options, which is a disadvantage for the brokerage company. We should point out that transactions have almost no commission fees, but depending on your location rates could vary. Cryptocurrency transactions are not supported. It is also strange not to see Skrill or Neteller payments because the majority of brokers use these payment methods to attract more customers. Generally, deposits are instantaneous, but withdrawals could take up some time – normally up to 7 working days. The minimum deposit to open an account is $200, as we have already mentioned above and the maximum amount is not limited. As for withdrawals, there is a minimum amount of $1 that can be withdrawn from the website, but the maximum amount is not restricted as well.
IEXS Educational Section
IEXS does not have any specific educational section that registered or non-registered users can make use of. The only thing that you can discover is a market calendar or market news, that has nothing to do with webinars or tutorials, that would make your trading better. We think that it is a disadvantage of the broker not to offer its clients an educational section. In addition, we did not find a blog, where users can find additional information thus the whole section of the broker is flawed.
IEXS Customer Support
IEXS customer support can only be contacted through email, which is different for every section. We could not find a live chat nor an online form that can be used to communicate with the website. In addition, the information can only be redeemed in the English language – no other ones are supported on the website, even though it says that other ones are provided too. Furthermore, the answers through email are delivered within 24 hours – you should not expect to get solutions to your queries within few minutes, which is the case in the existence of a live chat. Customer support is user-friendly for sure, but frequently answers are delivered late.
IEXS Final Verdict
Going through the overview of IEXS we have finally come to the conclusion – can IEXS be trusted? While the company is licensed by the FCA, we think that the broker is not recommended for our clients. First of all finding, relevant information on the website is difficult, let alone the absence of the features such as an educational section. In addition, there is no live chat, which users can use to contact customer support. Overall we would advise our readers to register on other brokers' websites.