Forex.com Review
Choosing the right companion for your trading endeavors, whether it's in Forex, stock market, or anywhere else, is one of the most essential tasks any trader should undertake. We cannot stress enough how beneficial a legit broker can be to your trades.
Unfortunately, the ease of creating an online platform with appealing features allows scammers to trick lots of clients. It's unbelievable how believable (no pun intended) their offerings can be, yet with a little market knowledge, one can still differentiate legit brokers from scammers.
The same internet, that allows fraudsters to scam people, also lets the victims speak out and openly expose such brokers. It's incredibly easy to find negative reviews about brokers that have damaged people's financial well-being.
By doing online research, traders can detect scam brokers and choose more legit ones. Our team at Top Forex Brokers, in our turn, wants to make the decision process a little bit easier and offer our honest broker reviews regularly.
When it comes to Forex.com Forex broker, its reputation precedes itself. The company is one of the most proficient Forex brokers on the market. Considering this, it is absolutely worth discussing its trading terms and conditions, software support, and lots of other trading aspects. So, without further ado, let's get right into the review.
About the company – first impressions
We were closely examining the Forex.com brand to see if it would pass our credibility test. And it seems to us the broker actually did it. Forex.com, at a first glance, feels like a completely legitimate website, owned by GAIN Capital UK Ltd. As we progressed with Forex.com review, we found out that the parent company of Forex.com has a pretty legitimate FCA license, further strengthening our positive opinions about the broker.
GAIN Capital UK Ltd is the operator of the Forex.com website, located in London, United Kingdom. It is also worth mentioning that GAIN Capital UK Ltd is a subsidiary of GAIN Capital Group, headquartered in the US and listed on NYSE. This explains why US clients are allowed to benefit from Forex.com products.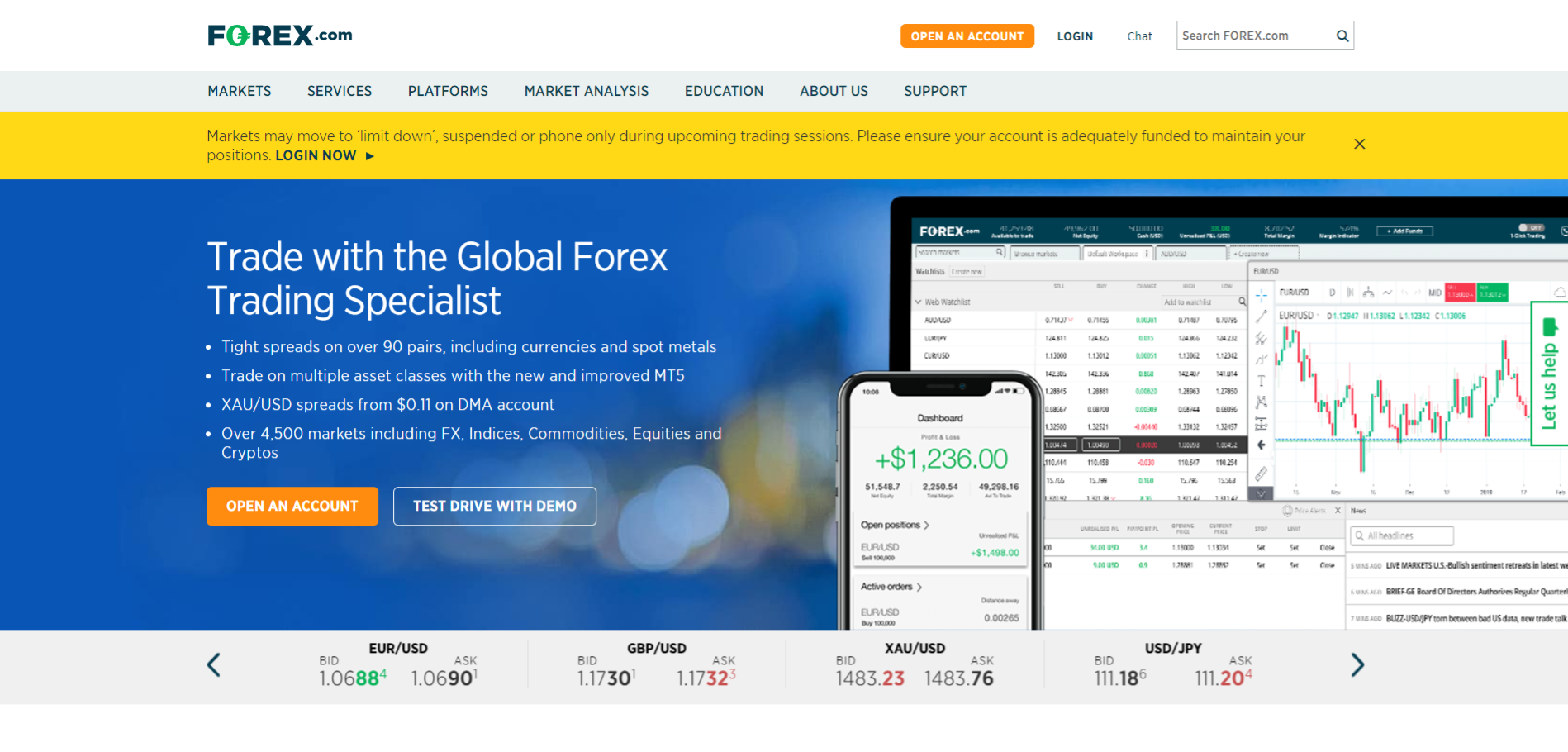 The website overview
The very first impressions about the broker's credibility struck us when we entered the website. The interface looks and feels polished, free of any unnecessary visual effects. And even the presence of some minor decorations like full-color wallpapers didn't seem out-of-place to us.
We were also interested in how the informative aspect of the website fared. And to our content, it was also spot-on: the website is divided into seven different sections, each containing crucial, as well as minor, details about how trading is actually done on Forex.com.
We were also very impressed by the market research tools and educational content available on the website. Each of those individually, as well as combined, prove the legitimacy of Forex.com as the licensed brokers are required to have such sections.
The next section that we reviewed is the account packages. And just as we had expected, the broker still delivers a top-notch experience for its clients: there are three live accounts on the platform, all with distinctive features and offerings, and also a demo account. This last one is particularly important for beginners who want to polish their skills in trading.
Finally, we examined the pieces of trading software. Here, the main software choice is the Forex.com MT5, which, it goes without saying, is by far one of the most sophisticated, yet simplistic trading platforms in the industry. Traders can also get an MT4 account or go for a Web-based MetaTrader, not to mention the smartphone solutions as well.
Start Trading Forex With Forex.com
Can Forex.com be trusted for its licensing?
Next up, we moved to the licensing part, which is probably the most important aspect of any broker review. As the broker says in its About Us section, it was registered on the Cayman Islands and was licensed by the Cayman Islands Monetary Authority (CIMA). This is one of the most popular and quite influential legal pieces that ensure high financial standards for Forex.com clients.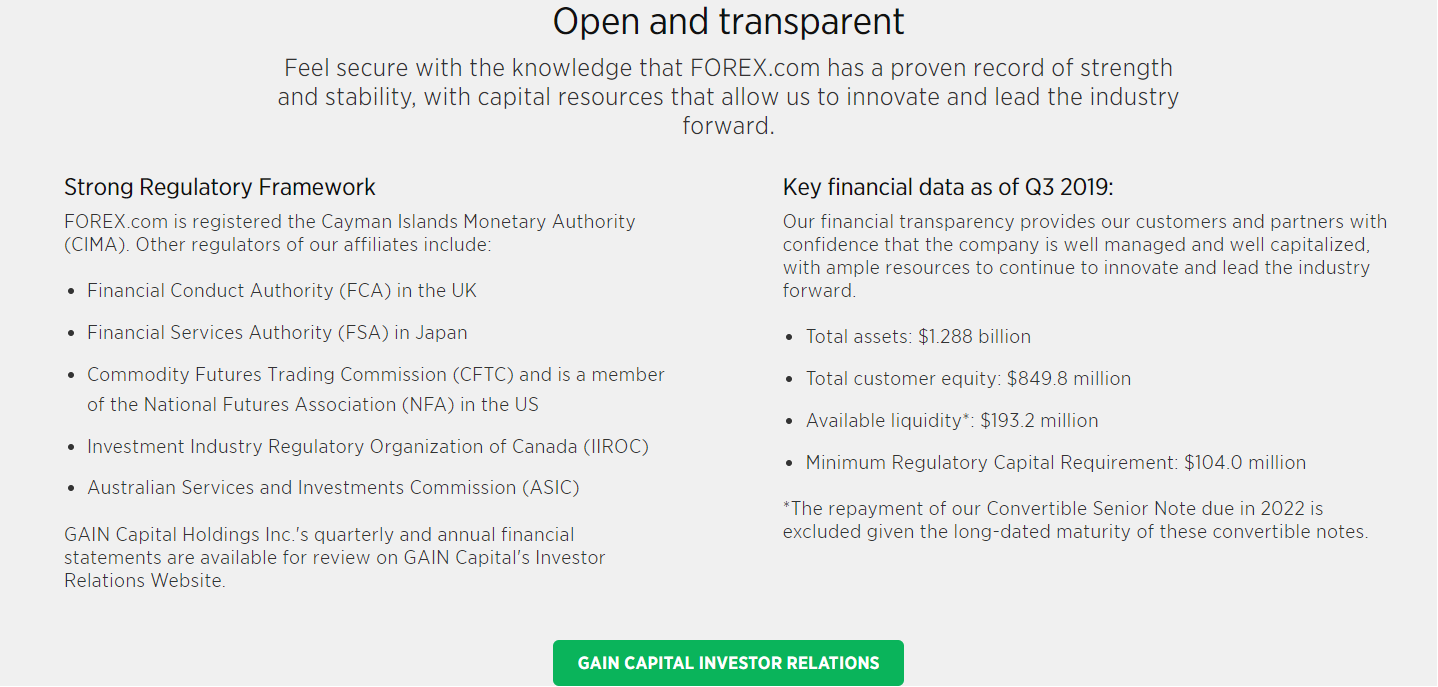 Yet we also have to mention other regulatory institutions that extent their oversight to the broker. First off, as we have already said, the broker is managed by Gain Capital Group operating in the US. This means that the broker also has some legal obligations to the Commodity Futures Trading Commission (CFTC) and the National Futures Association (NFA).
Plus, there are all sorts of other affiliates with their own pieces of the license, ranging from the FCA (the UK) to the ASIC (Australia). This was enough for us to disprove any Forex.com scam suspicions that have ever floated in our minds.
Trading features
The last segment of our initial overview was the actual features for trading Forex, stocks, and all sorts of other securities. First, we examined spreads and leverage, this last one also coupled with margin.
The broker is really considerate with its offerings, not going too overboard while not being too modest either. The most shallow spread you can get for Forex pairs is 0.8 pips, which is quite a decent offering from the broker. As for the leverage, traders can choose the maximum of a 1:200 leverage ratio. This one, like the spread mentioned before, is a lucrative offer and promises big payouts.
Then we moved to the review of bonuses. At this point, there's only one promotion active on Forex.com: it's a 20% Welcome Deposit bonus that increases new clients' funds by the indicated amount. However, we have seen some past promotions that also had quite a lucrative prize pool. Therefore, we're inclined to believe that trading with Forex.com is both safe and filled with amazing gifts.
After that, we examined the available financial platforms. Unfortunately, it's the only section that disappointed us a little bit. The Forex.com withdrawal and deposit solutions only contain bank wire and credit/debit cards. We would've been much happier if we saw some other providers like PayPal, Neteller, and perhaps some cryptocurrencies, however, to the defense of the broker, even the existing traditional platforms are pretty polished. We'll discuss this in the upcoming chapter.
All in all, we're pretty satisfied with the initial overview of the broker. Our first impressions are that Forex.com is a regulated, trustworthy broker with impressive trade offerings to its customers. Now, let's go deeper into the points that we just made and examine them closely.
Forex.com review – a polished website
We'll maintain the reviewing order and start off with the website review. As noted in the earlier chapter, the interface is really polished and there are no distracting elements to be found. The blank white background with some color fills here and there help the content put there really stand out. Sure, there is some moderate level of imagery present on the website, but those really do complement the overall feel of the website.
Informative side
Then there's the section division of the platform. On Forex.com, there are seven individual tabs: Markets, Services, Platforms, Market Analysis,  Education, About Us, and Support. Each of the sections contains crucial information about trading terms and conditions, tradable assets, platforms, and all sorts of stuff.
The one section, namely – Education, is particularly important to mention here. You see, every regulated broker is legally obliged to provide educational content to their clients, while also noting frequently that trading is very dangerous and not many people get lucky to yield profits.
Yet unfortunately, more and more scam brokers are starting to take up the same practice, which begs the question: how can one differentiate scam brokers from the legit ones? Well, in our experience, scammers' educational content doesn't look as sharp and informative as the real ones. The articles are written in a poor language and the information provided isn't nearly enough to go ahead and actually start trading.
With Forex.com FX  brokerage, there was no such thing to be noticed: the content was spot-on; every important trading term and feature was explained clearly, and we didn't feel like the articles were written by some hired third-party copywriters.
Account packages and how to register on Forex.com
Now that we have proved that Forex.com fraud suspicions are nothing more than just suspicions, let's go straight to their services. Before trading, one has to open an account at Forex.com. Generally, Forex.com gives the trader the following choice:
Live Account (Standard, Commission, and Direct Market Access)
Demo Account

The live account becomes accessible once the trader meets the minimum deposit requirement of $100 or the equivalent amount in GBP or EUR. Additionally, the trader has to select between the three real trading accounts – the first is the Standard account, the second is the Commission account, while the third one is the Direct Market Access (DMA) account.
All three of these live accounts have quite an extensive list of perks and advantages. For example, the DMA account, the most sophisticated and elite one in the list, is a great way for experienced traders to go directly to the market makers, also known as liquidity providers, and strike deals with them. This way, the execution time shortens significantly, not to mention the spreads that get minimized even further.
On the other hand, the demo account enables the trader to practice without committing a single penny. Yet there is a time restriction to mention. The demo account is available only for 30 days after being opened. However, the account can be prolonged if the client contacts customer support beforehand.
Setting up these accounts is just as easy as registering on social media. The broker doesn't demand an awful lot of private information from its potential clients. There are two major steps: the first one is to enter basic personal details, whereas the second one is to fund the account with a minimum deposit, which we'll talk about further down below.
There is also a separate non-conventional account the trader may open at Forex.com. To be more precise, the broker offers its own service of online international money transfers. This can be used in conjunction with the trading account, or solely for the money transfer purposes.
Open 30 Day Demo account at Forex.com
Trading Software
Earlier we mentioned that Forex.com offers multiple platform solutions. Besides MT4 and MT5 available in desktop, mobile, and web-based variations, the broker as well provides its own software. We heard a lot of positive Forex.com opinions in terms of platforms and decided to check how do they live up to reality. Spoiler alert: Forex.com platforms did not disappoint@
We say platforms, as there is not one single proprietary software, but two: Forex.com Web-platform (also in the mobile version) and desktop Advanced Platform. Both platforms provide access to almost 1000 tradable assets, the library of 70+ technical indicators, various chart types and timeframes to suit individual preferences.
In addition, they offer an integrated market analysis and platform customization. The highest degree of customization, however, is reached when using the Advanced platform. The broker allows the trader to create new technical indicators, change the whole look of the dashboard and more. During our test, we did not notice any performance issues. Almost no slippage, order execution is fast.
Although the broker makes a strong emphasis on their own software, MetaTrader 4 they provide is also good. It is familiar and loved by traders for its great functionality. The MT4 experience at Forex.com is rewarding, especially considering that there are no restrictions on automated trading. One can easily profit from using the EAs as much as they like. The only constraint of MT4 to mention is that cryptocurrencies and shares are not available on this platform.
These functionalities become accessible on Forex.com MT5. The two pieces of software, MT4, and MT5, are complementing each other and filling each other's voids. In short, the software experience on Forex.com is flawless.
Customer Support
When the trader faces some issues while using the broker's services, good customer support becomes invaluable. This is the case for Forex.com, as it did well with delivering high-quality client support.
Forex.com developed numerous FAQs to answer all types of possible questions. They are quite resourceful, but in case the issues go beyond the scope of the FAQ – no need to worry. The trader can simply contact the Forex.com customer support agents at any time via phone, email or live chat.
Are security and reliability the broker's strong suit?
Next up, let's talk about the license, shall we? So, is Forex.com safe? Fortunately, the users of Forex.com are served by a broker that has not one, not two, not even three, but multiple more licensing materials restricting its financial activities. The first and most important piece of the license is the one coming from the Cayman Islands.
The CIMA (Cayman Islands Monetary Authority) license is quite rightfully deemed legit and creditworthy. Lots of different financial companies that operate globally are effectively bound by the financial rules and guidelines of the CIMA license, making sure that scams and Ponzi schemes are completely out of the question.
But the CIMA license isn't the only regulatory material present on Forex.com. Since the broker is under the control of Gain Capital Group, which happens to be operating in the US, the broker also has legal obligations to the US commodity Futures Trading Commission (CFTC) and the National Futures Association (NFA). This means that Forex.com is eligible to provide service to US citizens – something that the absolute majority of brokers cannot offer.
Besides, we also have a bunch of Forex.com affiliates that are regulated by the FCA (the UK), ASIC (Australia), and many more financial institutions. Under FCA purview, for example, the brokers have to comply with the rules that govern the protection of the clients' funds. For this reason, traders do not have to worry about their money security. All the clients' money is held in segregated accounts, to prevent any unauthorized use.
Besides regulatory requirements, Forex.com offers extra fund protection by providing the Financial Services Compensation Scheme for eligible clients. The latter covers up to £50,000 in case the company becomes insolvent. Additionally, Forex.com does not carry out any proprietary trading activities.
So, can Forex.com be trusted? Well, if these licensing materials cannot provide a 'yes' answer to that question, then we don't know what will!
Open Trading Account Forex.com
Are Forex.com promotions really that great?
Getting closer to the finish line, let's focus our attention on trading terms and conditions now. The importance of trade offerings cannot be overestimated as they decide the lucrativeness of a trade. And on Forex.com, you can be sure the trading numbers will ramp up your trading experience by a significant margin.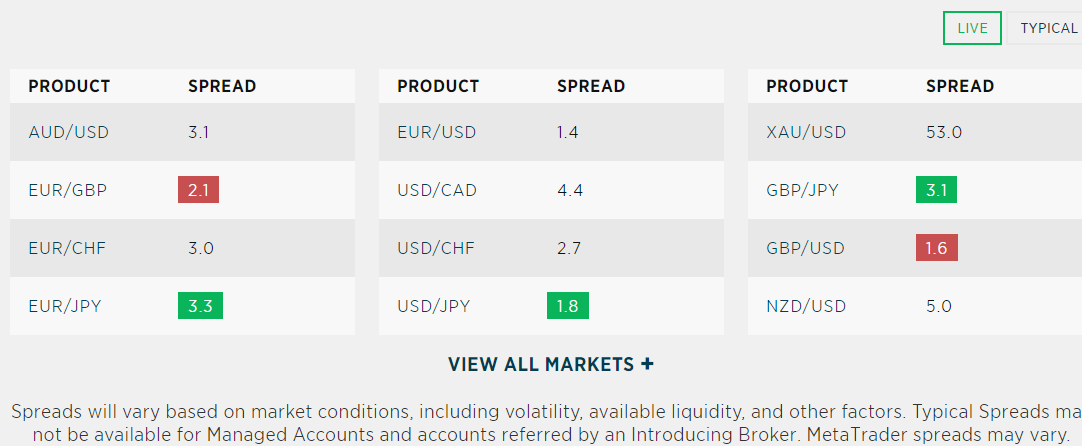 Starting off, let's talk about the spread and leverage. Spread, for those of our readers that don't know about its functions, is the difference between the bid and ask prices. When a trader buys a Forex pair or other security, they do that at a slightly larger price than they'd be able to sell the same pair. Spread acts as some sort of commission for the services provided by the broker. Now, it goes without saying that the lower the spread, the better for traders. And with Forex.com, spreads go as low as 0.8 pips – an attractive offering for any trader.
As for the leverage, Forex.com FX brokerage still doesn't fail to impress us. To offer a short explanation of the leverage: this is a feature that allows traders to increase their trading position by getting a loan from the broker. On Forex.com, the maximum leverage goes as high as 1:200. This means that when a trader wants to open a position for 100,000 US dollars, they only need to deposit $500 to their account.
Those 500 bucks will then be taken by the broker as collateral, which is otherwise known as the margin. In this case of a 1:200 leverage, the margin requirement is 0.5%. We also have to stress the point that leverage and margin aren't the safest tools in trading: while they certainly increase the chances of a higher profit, they do the same with the losses.
Realizing that, Forex.com hasn't gone overboard with its leverage offering, keeping it simple and modest with a 1:200 leverage.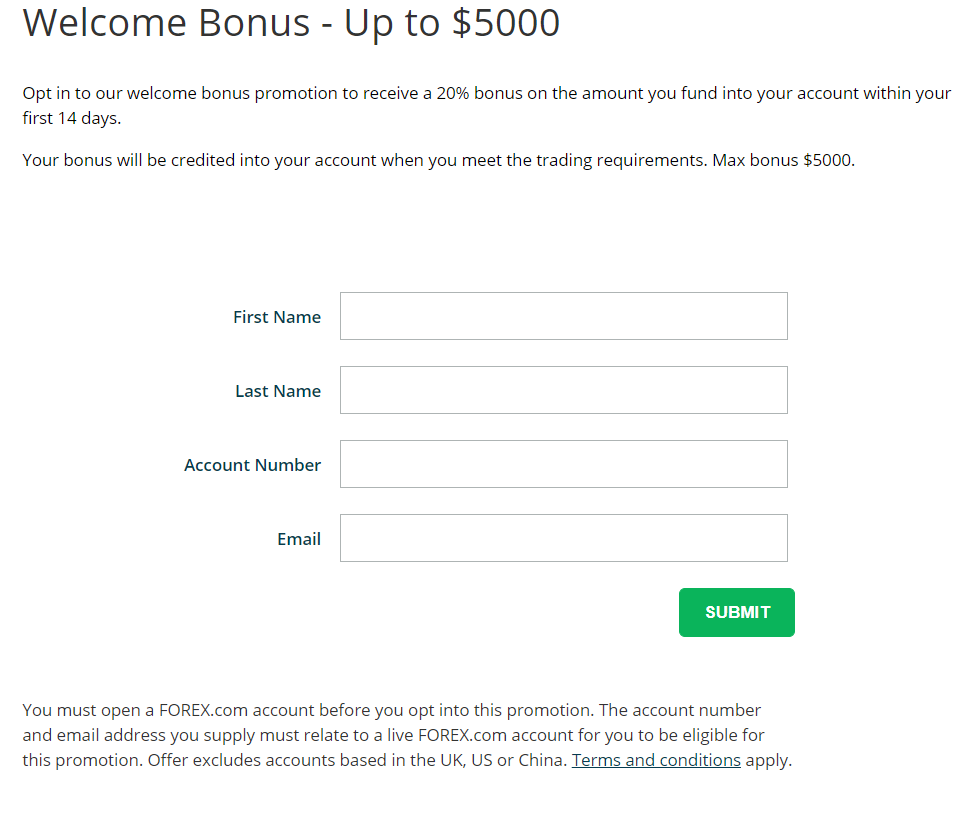 Forex.com bonus and deposit requirement
Moving on, let's talk about the Forex.com promotions and how they elevate the trading experience on the platform. At the moment of writing this review, there is only one promotion, the Welcome Bonus. This promo takes the newcomers' initial deposits and adds another 20% on top, with a limit of 5,000 US dollars in total.
Yet from time to time, the broker adds additional bonuses to its platform, making trading Forex, stocks, and other securities much more fun.
When it comes to the minimum deposit, Forex.com still manages to stay at a moderate margin. Its $100 minimum deposit requirement isn't something that the majority of traders would protest as the actual trading is associated with significantly higher position sizes.
Besides, beginners can avoid making a deposit completely by opting for a demo account. It may seem like an inferior trading package, but in real life, demo trading can benefit any inexperienced trader by giving real-life experience to them. Therefore, the platform is accessible to all traders with various experience levels.
Forex.com withdrawals and deposits
Another important part of this Forex.com review is to check their payment system. Unfortunately, as we have already mentioned in the earlier part of this review, the broker fails to stand out with its payment platforms. We discovered that the broker provides only two types of payment options – credit/debit cards (Visa and MasterCard) and wire transfers.

The reason why we're not impressed with these platforms is that they are pretty obsolete in the industry, lacking all the incredible features that PayPal and crypto payment solutions offer. However, to the broker's defense, we have to admit that even in light of this, the actual deposits and withdrawals are still very convenient.
For instance, the deposit transaction times are brought down to zero. That's right: there are no time delays in the deposit processes. On top of that, traders can put a minimum of $50 and a maximum of $10,000 on their account. That's for the credit card payments, whereas the wire transfer takes a little more time and usually completes in 1-2 days, while there are no minimum or maximum deposit caps.
Usually, Forex.com withdrawals take significantly longer than deposits to manage. However, at Forex.com all withdrawals are fast and smooth. The client has to wait up to 1 business day for the withdrawal requests to be handled.
On top of all that, the transactions, both deposits and withdrawals, are commission-less, meaning the traders get what they've actually sent/withdrawn.
Forex.com Opinion: Conclusion
Trading safe and efficiently is one of the priority targets for a good trader. Forex.com can help achieve these goals with its funds' safety measures, great platforms, and favorable trading conditions. In this review, we found out that whether we're talking about trading terms and conditions, the website, or licensing, all of these features are streamlined and really thought-out.
We first reviewed the website and software support of Forex.com. It revealed to us a fine-tuned website with a clean and simplistic design, yet one that doesn't sacrifice its informative side. All the seven different sections on the website contain crucial information about how trading on Forex.com is done.
Then we moved to the licensing part and found out that the broker is regulated by the CIMA of the Cayman Islands, while its affiliate companies have their own obligations to the US, UK, Australia, and many more countries. This ensures that in the case of the Forex.com fraud is really happening, the broker will be held responsible for it.
Finally, we examined the actual trading numbers and financial platforms. The leverage of 1:200, spreads at 0.8 pips, bonuses, margins, and other features reassured us that when actually trading with Forex.com, traders will have the opportunity to yield massive payouts – that's, of course, if they make right trading moves.
The only downside of this broker to us was the lack of diverse payment solutions. The traditional platforms such as credit cards and bank wire just don't cut it in this technologically advanced financial world.
However, we don't let one flaw influence our whole Forex.com opinion, which is as follows: this is a licensed broker that has operative branches in lots of countries. Its trading terms and conditions are really lucrative and promise to any trader a great trading endeavor. Therefore, we recommend Forex.com to any of our readers!