AccuIndex – The fastest growing broker
Should you trust this Forex broker? Let's find out.
Kicking off your Forex trading career with a reliable service provider is such a privilege for some traders at the initial step. A trustworthy broker means stability in your trades, as well as assurance that while the market is risky, the broker will do anything to maximize your profit potential.
Unfortunately, finding such a brokerage has become quite difficult over the years. Nowadays, the online domain is full of copycats that claim to have top-tier regulations and lucrative trading features, yet they're actually plotting against you in real life.
With this review of AccuIndex Forex broker, our team at Top Forex Brokers is providing you with yet another in-depth look into the broker's trading platform. We'll discuss everything from the AccuIndex regulation to its customer service, so, make sure to follow us along.
Initial impressions of AccuIndex
Before we delve into a detailed overview of the broker, let's take a quick tour of what we'll discuss in this review.
Established in 2017, AccuIndex is a Forex trading brokerage, although it doesn't stop at just providing currencies to trade. On its website, you can clearly see that the trading instruments range from Forex pairs to Exchange Traded Futures and everything in between, which adds an extra layer of flexibility to the platform.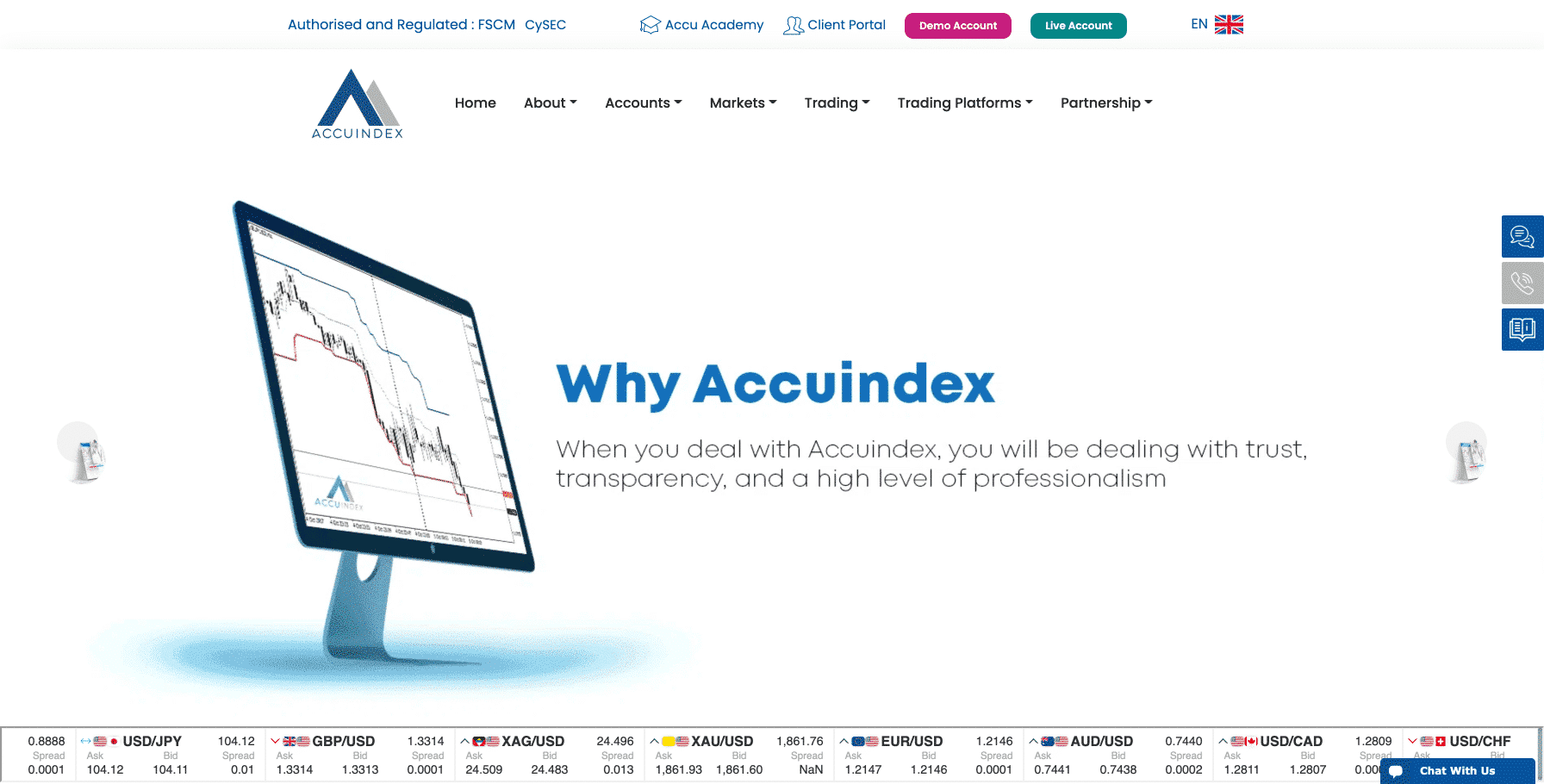 Alongside those trading assets, AccuIndex also offers you pretty beneficial trading terms and conditions. For instance, AccuIndex spreads go as low as 1 pip, which is decent, yet also realistic charge from the broker. Besides that, there are no other in-trading fees you'll need to pay at AccuIndex. The only other charges are overnight swap and inactivity fee, which you can avoid easily.
We'll also discuss the maximum leverage rate found on this platform, as well as a top-notch execution policy. In the same section, we'll take a look at the available deposit and withdrawal methods – how many different methods there are and what are the transaction conditions that apply here.
After that, we'll move on to the next section, which is to ascertain AccuIndex's reliability. As a Cyprus-based Forex brokerage, AccuIndex owns a financial license from the country's main regulator, the Cyprus Securities and Exchange Commission (CySEC). Yet, that's certainly not the only regulatory material you can find on this platform. We'll discuss this section further down below.
This section will also include various fund protection mechanisms available on the broker's website. This includes negative balance protection, account segregation, and customer compensation fund.
Finally, we'll get to the Accuindex.com review. First, we'll discuss the overall feel and design of the website, as well as how easy it is to obtain information about various trading features.
After that, we'll review the available account offerings. Currently, there are two standard accounts, as well as demo and Islamic accounts, which makes AccuIndex's account platform decently diversified and flexible for all types of traders.
In this section, you'll also discover which trading platforms you can get with AccuIndex. As of right now, the broker offers you MetaTrader 5, which works on both desktop and mobile platforms and boasts incredible trading functionalities.
To put it in a nutshell, this brief overview already bolsters AccuIndex as a reliable service provider in the Forex market. Now, let's dive deeper and learn more about it.
Are AccuIndex promotions legit?
When traders start looking for a Forex broker, they usually check various trading terms and conditions, such as leverage rates, commissions, and execution policies. And the motivation is pretty straightforward: they want to know how profitable they can get with this particular platform.
With AccuIndex promotions, you can rest assured that your profitability is the main concern of this broker. First off, let's talk about which financial instruments you can trade with the broker.
As noted before, AccuIndex is a Forex broker and its main trading assets are currency pairs. However, it goes well beyond Forex and offers you assets from the following classes:
Bullion
Energy
Indices
ETFs
CFDs
Now, the fact that you can choose from the variety of trading assets means that you can better diversify your portfolio on this platform. By choosing assets that aren't directly connected to each other, you can secure the stability of your portfolio from unexpected market developments just a bit more.

And we're not even talking about the trading features that accompany these instruments. As we have found during our review, AccuIndex's leverage rate goes all the way up to 1:400. What this means is that if, say, you have 250 USD on your account balance, you'll actually be able to open a position for 100,000 USD with the AccuIndex Forex broker.
However, it's also worth noting that when it comes to the EU jurisdiction, where the broker's activities are regulated by the CySEC, AccuIndex's leverage goes up to 1:30. That's because the regulators here are more proactive about reducing the prospective risks of this feature.
Then there are the existing commission rates. AccuIndex manages to do away with the majority of fees from its platform, only leaving the ones that are absolutely necessary. Among the existing fees, the most important one is a bid/ask spread, which, according to the website, goes down to 1 pip.
Now, some traders share a mindset that the lower the commission rates, the better. And to some extent, that's true, however, you should keep in mind that a broker is a regular business that needs funding to keep running. And it's always better to know everything about its commission charges, regardless of how high they are, rather than be fooled by the claims that it doesn't feature commissions at all.
That's why AccuIndex spreads are more than acceptable for us. Besides, the only two commission rates you can find on the platform are the inactivity fee and overnight swaps. However, if you don't leave your account inactive for a long time or don't trade overnight, you'll be able to avoid these commissions easily.
Other than that, there are no fees or charges, whether it's account-maintenance fees, instrument fees, or deposit/withdrawal fees. This makes AccuIndex and its platform so much more beneficial.
When it comes to the execution policy at AccuIndex, you can find a number of useful order types on the platform. Whether it's market orders, pending orders, or stop/limit/trailing orders, you can take full advantage of AccuIndex's top-notch execution policy here. And we're not even talking about the average speed of execution, which is 0.1 seconds.
Now, when you create a live account with AccuIndex – and we're going to tell you exactly which accounts you can sign up for, – the next step is to make a deposit on it. And even for AccuIndex withdrawals, you can use the same payment methods we're going to list here, namely:
Wire transfer
Credit cards (Visa, Mastercard)
Neteller
Skrill
CashU
Whether you're making deposits or withdrawals, the process will usually take a couple of days to complete, although some methods have immediate executions, making them extra useful for many traders. Besides, you're not paying any commissions for neither of these payments.
Can AccuIndex be trusted? – A regulation review
Moving on, it's now time to assess how reliable AccuIndex really is, i.e. talk about its regulation. While we have already noted that traders are mainly interested in trading terms and conditions, it's more important to determine how reliable that broker is. It may be offering you rainbows and sunshine but underneath the surface, it might be plotting against you.
So, is AccuIndex scam the real deal? Let's find out. The brokerage was established in 2017 in Cyprus, with the headquarters located at 1 Ayias Zonis Street Nicolaou Pentadromos Centre Block B, Limassol 3026. And as a Cyprus-based brokerage, AccuIndex owns a license from the Cyprus Securities and Exchange Commission (CySEC).

Even as a standalone piece of regulation, the CySEC is a pretty creditable license. It's actually considered one of the Tier-1 regulations in Forex because of its monitoring powers and its ability to hold the brokers accountable for higher financial standards.
But in this case, it's not the only EU-based license that affects AccuIndex's offerings. The CySEC also comes with the guidelines and directives from the MiFID and ESMA – two of the most influential frameworks in the EU, as well as in the global Forex market. They adjust the maximum leverage cap to 1:30, as well as prevent their subjects from offering bonuses to their European clients.
Alongside the CySEC license, our AccuIndex broker review also shows another license from Mauritius, the Financial Service Commission (FSC). Although it's not as powerful as the CySEC, the FSC still oversees the broker's activities on an international level and ensures fair play on its part.
In a joint effort, both the CySEC and FSC obligate AccuIndex to offer you some of the most widespread fund protection mechanisms on its platform. These include negative balance protection, account segregation, and fund compensation.
All of this considered, it's pretty easy to see how reliable of a broker AccuIndex really is and how easy it is for us to recommend it.
How does the software support fare?
Finally, let's move to the logistical side of things. First, we'll talk about AccuIndex's website and its overall design. It's worth noting that during our Accuindex.com review, we were positively impressed by the simplistic layout of this website. Everything feels natural and not forced, and, what's more important, you can find any piece of information there without too much of a hassle.
Informative aspect aside, Accuindex.com is also steeped with flexible trading opportunities. As we have already discussed this earlier, the broker offers two live trading accounts here: Standard and ECN. The minimum deposit requirement for a standard account is 100 USD, whereas the ECN account requires a hefty 5,000 USD deposit.
But this is more than understandable: ECN is a very elite trading platform that lets you directly communicate with liquidity providers and receive their quotes without any mediation. This means that you can get much faster execution speeds and tighter spreads, although the whole process is extremely difficult and requires a lot of experience from you. Besides, the commission on the ECN account is higher than on a Standard account.
Besides the retail accounts, the AccuIndex platform also offers you the ability to choose a swap-free account if, granted, you're a Muslim and your faith prohibits you from trading based on the interest rate. In that case, you can easily turn the retail account into an Islamic account, which will effectively do away with swaps, although other terms and conditions will remain the same.
On top of that, there's also a demo account, which lets you trade virtually based on the live market conditions. This way, you won't have to spend a buck on your trading accolades; it's just going to be you practicing your skills and knowledge in a virtual market.

Moving on, let's talk about which trading platforms you can get at AccuIndex. As mentioned earlier in this AccuIndex review, the broker offers you MetaTrader 5 as its primary trading platform. What this means is that you get to use one of the world's most actively-used platforms, and its flexible instrument collection, as well as the ability to install thousands of technical/economic indicators in it, makes MT5 a great trading tool for you.
Moreover, you can trade both on your desktop and mobile devices, which adds another layer of flexibility to the overall experience. All in all, trading with AccuIndex is as profitable of the experience as it is safe and reliable.
Is AccuIndex legit? – Final thoughts
So, with everything we've just said about this broker, would we recommend it to our readers?
Well, let's have a quick round-up: as we've discovered in this review of AccuIndex Forex broker, the broker offers you to trade multiple different trading assets, including currencies, indices, and CFDs. The maximum leverage for these assets goes up to 1:400, whereas the minimum spreads go as low as 1 pip.
The legal measures at AccuIndex are also very refined. The broker owns a license from the CySEC of Cyprus, as well as the FSC of Mauritius, both of which ensure that you're getting the safest trading terms and conditions in the market.
And finally, we also found out that AccuIndex features multiple account types for better flexibility, as well as a high-powered trading platform with advantageous functionality.
In conclusion, we can easily recommend AccuIndex to our readers!