MultiBank FX 100% Deposit Bonus Review

It's always better to have some extra cash on your account whenever you're trading on a volatile market like Forex. This is especially beneficial when you want to maximize your profits, which can be done by simply placing larger trades.
However, many traders can't risk it with their own money, which is why MultiBank FX 100% deposit bonus exists pretty much. It's additional funds from the broker's platform to allow traders to take bolder steps in their trading career, maximize their profits, or should a loss occur, not to sweat it too much.
Deposit bonuses are some of the best ways to learn about FX trading while profiting from it at the same time.
Let's learn about MultiBank FX's options on a more detailed level to determine if it's truly something beneficial for the traders.
Also note that we will not focus on determining if the broker is legit, as we've already done so in our MultiBank FX review, which you can easily glance over.
MultiBank FX deposit bonus conditions
In order to get your hands on the bonus, you will need to be a completely new customer. This means that it's a promotion oriented on gaining new traders rather than the retention of veterans. But don't think that veterans don't get such promotions at times as well.
In order to get the 100% MultiBank FX deposit bonus, you will have to register on the Maximus account type, which is just one of three and has the smallest minimum deposit out of all of them.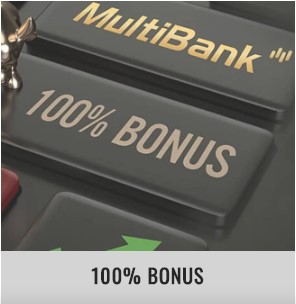 The maximum amount you can receive from the deposit bonus is $20,000, but that doesn't mean you can't deposit more funds on the account, that's just the cap of funds the broker is willing to give you.
However, you need to keep in mind that $20,000 is quite a lot for a broker to dedicate to a new client's account. Because of this, they were forced to make the bonus non-losable. What does this mean?
This means that if you lose all of the funds that you've deposited initially, the bonus you were given will be retracted from your account and you will be left with nothing. The bonus is there for you to simply use it in the leveraged trades and benefit from it only during profits.
For example, let's imagine you deposited $500, and got $500 as a bonus. During your trades, you made a wrong decision and lost $500 in just one trade. That would immediately signal the platform that you've reached your limit and will, therefore, stop out your account.
MultiBank FX 100% deposit bonus unique features
One of the more unique features of this promotions is that the bonus does not stop just on the first deposit. This means that if you continue to deposit more and more on the account, the 100% bonus will still apply.
The MultiBank FX deposit bonus withdrawals are not very unique in a sense, but it was important we included them in this paragraph. The withdrawals and calculated via a percentage of the bonus, which is then retracted from your overall balance. Let's explain this.
Imagine that you have that same $1000 on your balance. $500 is your money and $500 is the bonus. Now imagine that there's an emergency and you need $100 ASAP. You withdraw that $100 from your account, expecting that you will be left with $900, but in reality, you'll be left with $800, why?
Because the $100 you withdrew is 20% of your whole deposit, and therefore the 20% of the bonus. The broker will then correct it automatically based on how much you've dedicated to their platform. It's a pretty fair exchange when you look at it from this perspective.
What can you trade with the bonus?
When we were finalizing our MultiBank FX 100% deposit bonus review, we saw a very strict implication from the company that said that this bonus is only available for forex and gold trading. To be honest, we weren't even considering it for anything else.
The only other restriction is arbitrage trading, which rarely occurs in the industry anyway.
Is the MultiBank FX deposit bonus worth it?
Yes, looking at it from an industry-standard perspective, MultiBank FX has pretty much covered all of the requirements.
The bonus has very few limitations and quite a lot of flexibility. It's non-losable meaning that you won't have any liability with the brokerage should a trade go wrong.
Overall, it's quite an advantageous, low-risk promotion that allows traders to maximize their profits with the broker.