EverFX 100% Deposit Bonus Review

Being able to trade with a reliable Forex broker is a feat that some people underappreciate. The fact that, the same Forex broker can provide a significant deposit bonus is one of the luxuries not many traders are given.
Today we will be talking about the EverFX deposit bonus.
The new limited time offer of a 100% deposit bonus can be found on one of the best FX brokers out there right not, their name is EverFX Global. But what does it mean to have a 100% deposit bonus? Is it even reliable? In most cases when FX brokers offer such a large amount of bonuses, it turns out to be unreliable or hard to get. But this EverFX bonus is backed by the trustworthiness and professionalism of the EverFX team.
Big Numbers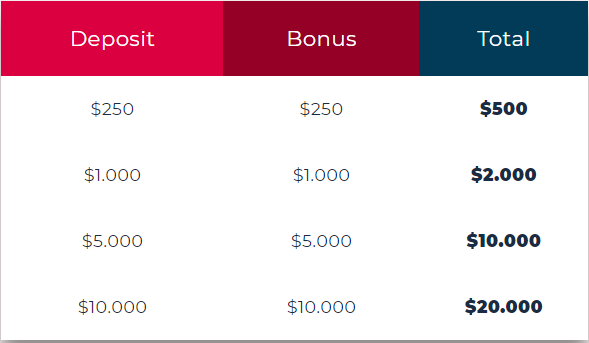 However, we need to clarify one thing first. It is pretty improbable for someone to deposit more than $10,000 in a single day so the broker has opted for a $10,000 cap of the bonus. Meaning that with a deposit above $10,00 you won't get a bonus.
That aside, the rest is just amazing for high-end trading. For example, there is no huge amount of math required for you to know exactly what you'll be getting. The EverFX 100% bonus does exactly what's implied in the name. Meaning that you deposit $1000 you get $1000, simple as that. Look at the picture on the left. As you can see there are 4 categories for bonus eligibility.
We commend this because not everybody is ready for a $250+ deposit from the getgo. Therefore creating a minimum deposit which is still quite large is not a big problem. There definitely are brokers that offer smaller minimum deposits but $250 is not that much.
However, where EverFX shines is the maximum deposit bonus. There are very few if any brokers who actually offer a bonus of $5,000+. The bonus cannot be withdrawn, let's get that out of the way even if it is obvious. However, with the added funds you can boost your trading to a point where you can actually achieve enough winnings to match it.
One Weird Feature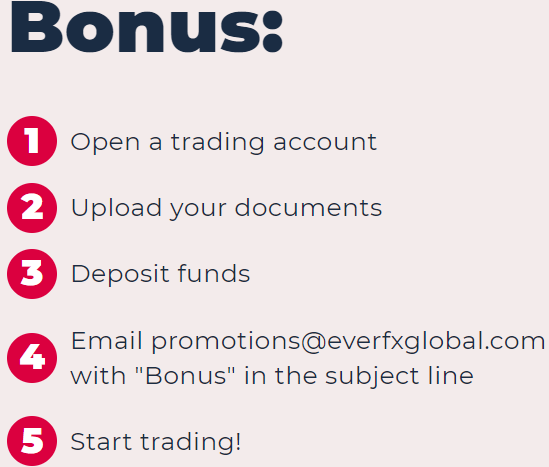 Nothing is perfect we believe. Although the bonus itself is amazing and legit, there is one small feature that we can't wrap our heads around. The way you actually get it. You see the starting process itself is easy enough. You open the trading account, as usual, update the documents with your information nothing too crazy, deposit your funds as you would do anywhere else and finally here comes the weird part. The EverFX global bonus can only be activated if you email promotions@everfxglobal.com with a "Bonus" as the subject.
Why? We cannot understand, after the verification, it would be a lot easier if the platform itself asked you the question if you want the bonus with just simple answers of "Yes" and "No". We know it takes like 5 minutes to send the email, but still, it's an irregular feature.
Conclusion
In conclusion for the EverFX bonus review, we would want to say that it was quite impressive. The deposit bonus, although a limited time offer, is a great addition for the platform. Accommodating new and existing customers was also a great feature in order to keep everything equal.